Whether you're an aspiring artist or simply want to travel the world as a digital nomad, it's going to be hard—especially when you're at it alone. That's why if you can manage to stay connected to a professional community and turn your "day job" into a freelance gig, then consider yourself to be very, very lucky.
At age 27 I found myself running a full-on company that I had co-founded along with my two awesome business partners. I was taking on managerial roles, organizing large-scale translation and content projects, and helping devise the overall strategy and long-term vision of the company. Was this what I actually wanted to do with my life? No. It wasn't. And I was about to get a rude awakening.
My existential crisis came at a seemingly all-time high in my life. Who wouldn't want to be a successful businesswoman at such a young age? I was part of a fast-growing multilingual copywriting and translation agency in Madrid, with a great staff of young professionals from all over the world. Not to mention we had some really cool projects, like translating Spanish food magazines and writing Madrid city guides. (Yes, I'm tooting my own horn here).
So what was the problem?
I like to move around. A lot. Just to feel normal, I have to train hard for at least three hours a day in all types of dance, from ballet to contemporary. I also love (and seriously need) to do random projects, like voiceovers for videos, TV commercials, and all the dance or acting gigs I can find. This isn't really compatible with a 9-5, let alone an around-the-clock job of running a company. Oh, and I also like to spend a lot of time at home in NYC, without having to ask for permission from anyone to travel.
The solution?
Freelancing. I had to let go of all the roles and stability I had worked hard to attain over the years, and come to terms with the fact that I was about to become a roaming digital nomad with no set path and have a difficult time answering the all-too-common question: "So what do you for a living?"
The truth is, ever since I changed path two years ago (I'm 30 now) things aren't really that different. I've since gotten certified as a yoga teacher, did a year-long professional dance training, and been able to do a lot of projects that I wouldn't have been able to do before.
Yet I still live in Madrid. I still do editing and translation work for clients that I've held onto since graduating from college. And of course, I still work for VeraContent, just in a different capacity. It's thanks to these long-term clients that I can make this freelance thing work.
Hard-hitting truth of going freelance – sometimes you'll feel powerless and alone
Here's one of the harshest realities of being a freelancer (at least in my experience in Spain): you can feel powerless when it comes to getting paid.
Many of the clients I do one-time projects for end up taking months to pay, despite my friendly emails and reminders. If you ask rudely, your chances of even getting an answer just go down. Although it's technically illegal for them to take longer than 60 days in Europe, there's really nothing you can do but wait, even if you've already paid 21% tax on your invoice from your own pocket.
Side note: this is in addition to the €300 monthly fee that you're required to pay as a registered freelancer in Spain, regardless of income.
My biggest piece of advice – stay connected to a community and nurture your long-term clients
If you're going to go the freelance route to support your creative passions, one of the most important tips I can share is to cherish your long-term clients and stay part of a community where you can regularly find jobs and projects (that pay in a timely manner). Also remember this: Retainers are gold.
The "artsy" gigs come and go. The dancing and voiceover projects are what I love doing most, but I can't count on them (for now). My writing, translation and editing projects are what actually allow me to eat and pay my bills. And I now appreciate the flexibility and freedom these skills offer me more than ever.
Just to give you an idea, here's a pic of me dancing on the streets of Madrid (my, how instagram can make you look) vs. one of the reality that lets me do this:
INSTAGRAM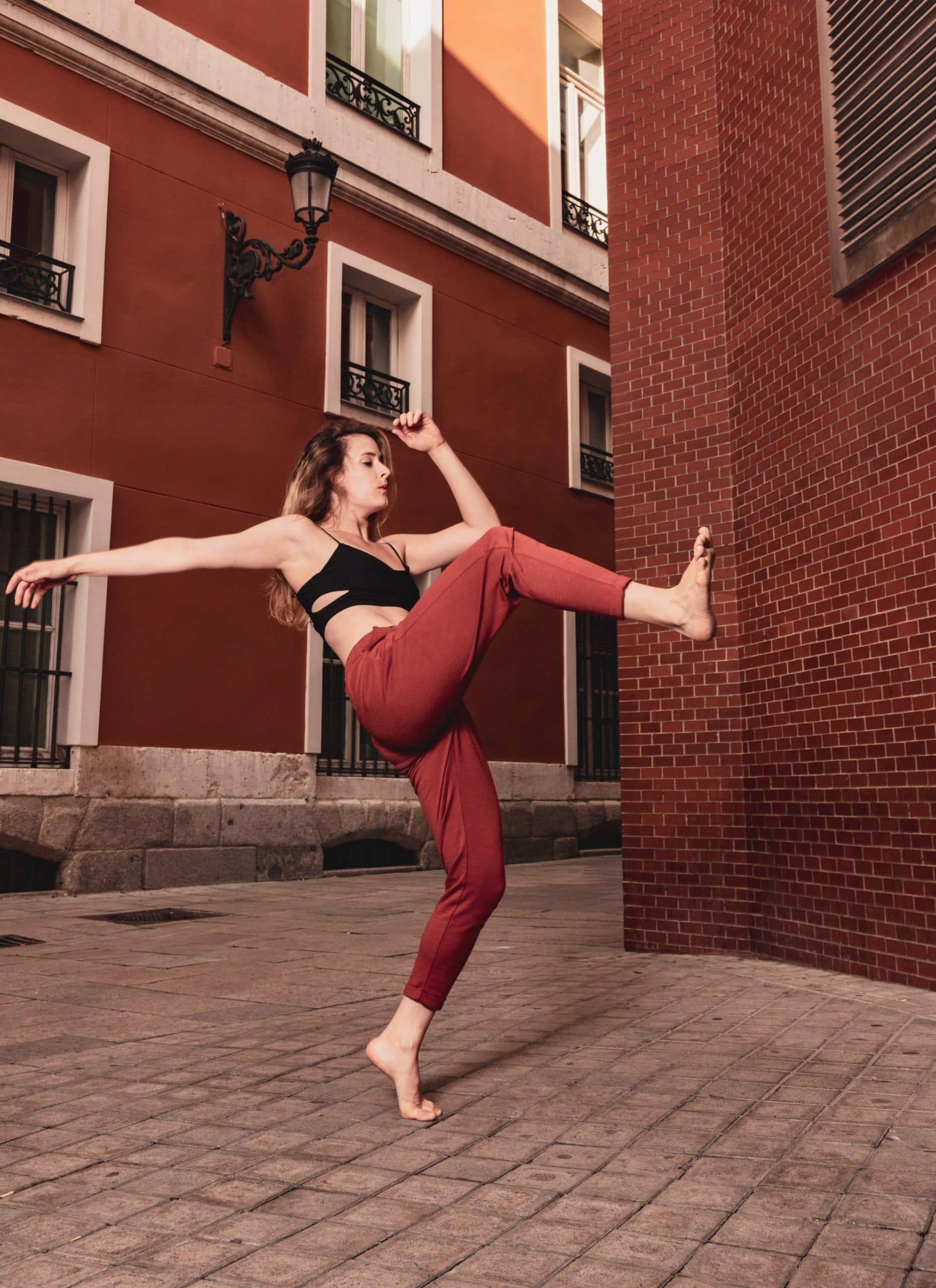 REALITY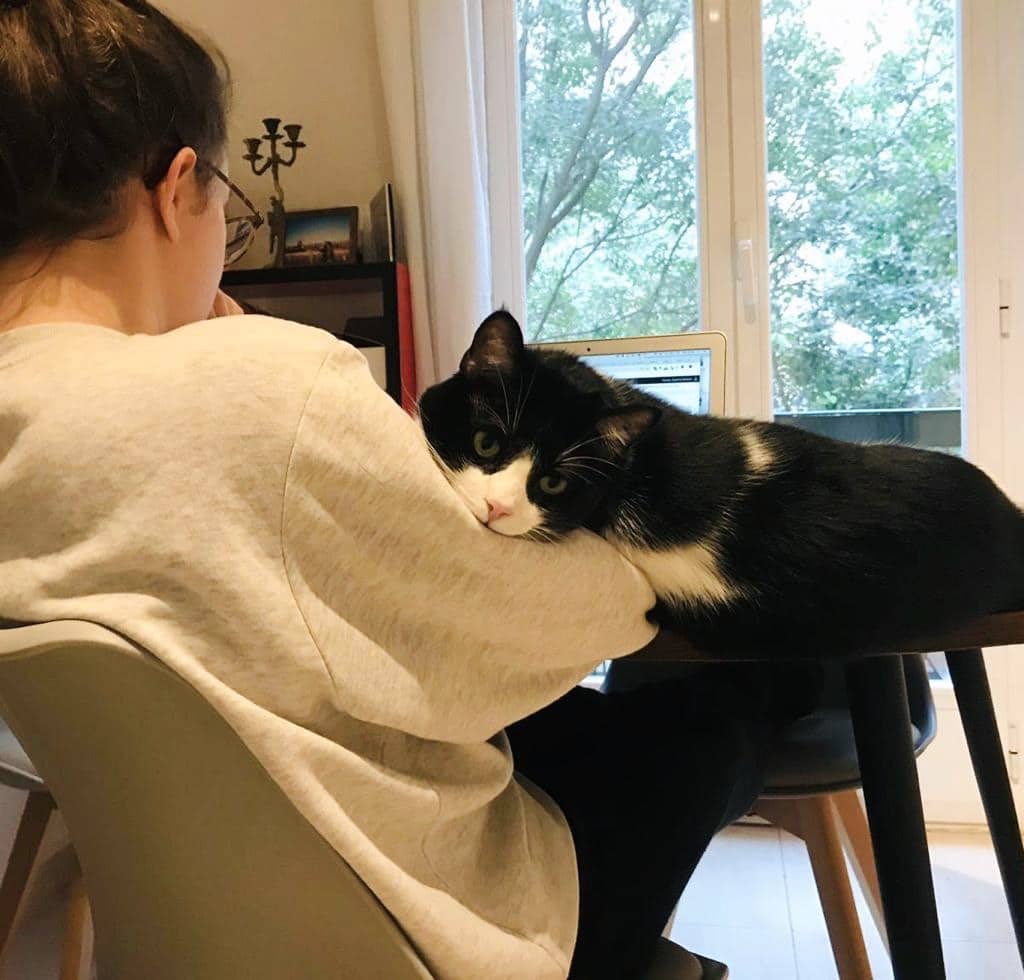 Lots of people do it – so don't worry, you're not that crazy
The more creative projects I take part in and the more artists I speak to, the more I realize that my newly chosen path isn't that uncommon. The other day I was shooting a video in Madrid with two actors from Argentina. It turned out that one worked as a creative freelancer for advertising agencies, and the other in post-production for a yoga app. These freelance jobs give them the freedom to take on the acting gigs they genuinely like (sometimes they're paid, and sometimes they're not—that's the reality of the industry). I could definitely relate.
Here's what my fellow freelancer friend, Melissa, says:
Just recently, one of my co-workers at VeraContent decided to go for her dream of becoming a surfer girl in Portugal (who can blame her?). If you check out her instagram, you'll agree that she's seriously living it up, working at a family-run hostel right on the coast during the mornings, and catching waves in the afternoon, and traveling all the time.
So I asked Melissa to share a few tips she has to make it work:
"I guess I would say the most important thing for me has been to embrace total flexibility and never say no to an assignment. A good story to illustrate that would be a time a few weeks ago when I accepted an urgent assignment from Vera under crazy circumstances…
I had just returned from a weekend road trip. It was about 9pm and my friend and I had stopped on the way home in an abandoned lot so I could practice driving manual (stick shift). Right as I was about to start, Jessie called me and asked if I could translate 3000 words by 8 am the next day. Despite the fact that I was exhausted, distracted and otherwise occupied, I couldn't say no—that's the nature of the freelance lifestyle. So I went home, stayed up until 3 am and then got up at 6 am to finish the job. It was worth it!
Other than that, I think another vital lesson I've learned is to know your own worth. It's been hard for me to stick up for myself when it comes to rates, but I've been working on it. Now I feel more confident in asking for compensation that I think is fair for the quality and experience I provide. I know this will be an ongoing challenge for me as a freelancer, and I think it's probably something that most people struggle with."
You can also check out Melissa's article for more tips on being a traveling freelancer and making it work.
Final thoughts
In a nutshell, going freelance to pursue your creative aspirations or gain more freedom isn't easy at all. It means you'll have to sacrifice a lot of weekends, work at odd hours and continuously search for new projects and put yourself out there. But if you can't handle the 9-5, then it's totally worth it.
In case you're wondering what I'm up to right now, well, I've got a few artistic gigs in the works for September, namely: dancing in a music video, co-starring in a Madrid-based video for a travel app, a voiceover project, and helping choreograph and lead a 200-person flashmob. Who knows what will come after that!
I'm also currently editing Naked Madrid, a popular English-language blog about the Spanish capital that I co-created a few years ago, as well as this very blog you're reading right now, The Content Mix. If you'd like to contribute or collaborate with either, don't hesitate to get in touch with me. I'd love to hear your story as well!
Here's my email: daphne@veracontent.com and IG: @dbiniori

Feature image by Raphael Hauser
Second image by Linda Crisanto