Global brands that invest in international SEO keyword research gain a major competitive advantage in reaching new markets.
If international keyword research isn't part of your global marketing strategy yet, then keep reading to learn what it is, why it's so important, and what tools to use—plus our top tips for getting it right.
International SEO keyword research: More than translating briefs
International keyword research can help your content reach new audiences like never before. But you can't simply translate your keywords from one language into another. Each market requires its own keyword research and strategy.
To do this right, brands have to understand both what audiences are searching for and how they're searching for it. This considers any local vocabulary or slang while also tapping into how an audience thinks when searching for something, and what platforms they use.
Localization is vital to any international keyword research strategy. You have to fully adapt your brand's message according to each specific audience's language, culture and context. This requires working with a native-level speaker or agency based in your target market (more on that below).
See also: What is international SEO and how to do it the right way
How does international keyword research compare with domestic keyword research?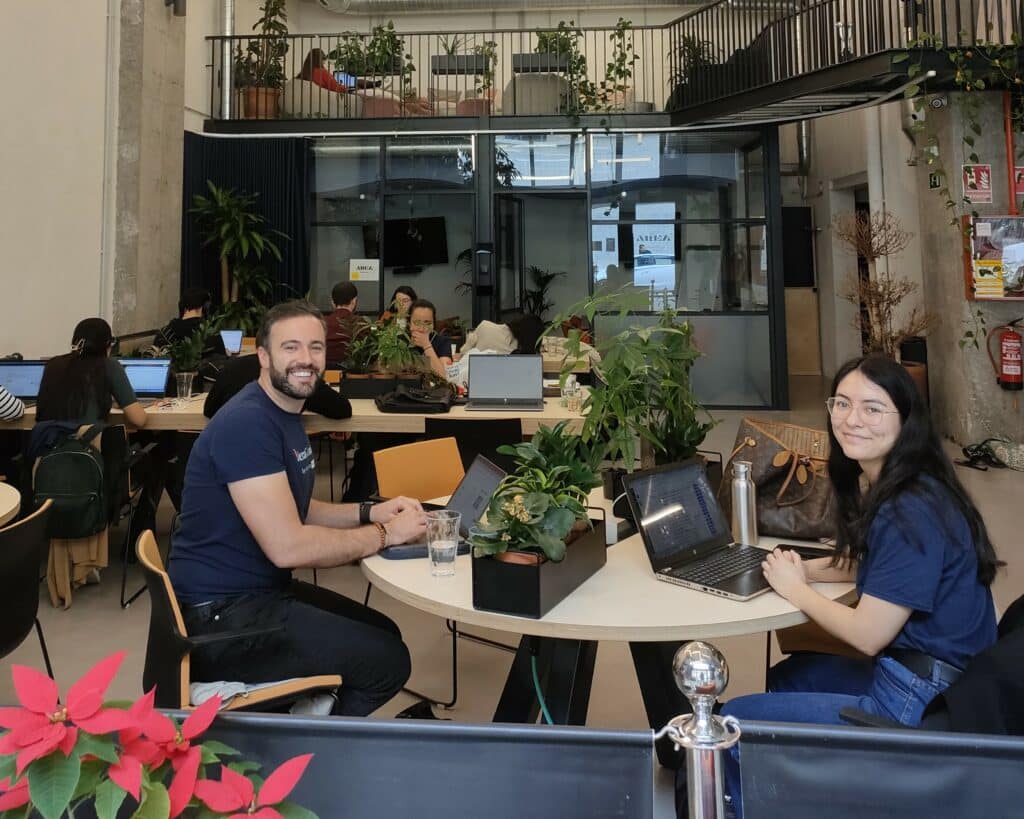 Here are three major ways international and domestic keyword research differ:
1. Different audiences, different needs
Every local audience has their own pop culture moments, slang and values. There might be keywords in one market that don't exist in any other, even between markets that share the same language.
Quick example: Is your Spanish-speaking audience searching for "ordenador" or "computadora" when they're searching for a computer?
When researching keywords for domestic searches, there might be regional differences, but there's much less variation and complexity than with international keyword research.
"I've been working in SEO in Spanish only in Spain, so I've been targeting only Spain. For example, when we are working in e-commerce, we do get a lot of traffic from Latin America. But that traffic doesn't convert. So the question that I often get is, 'Why do we have so much traffic and yet we don't have many conversions?' If I was to optimize something in Spanish, I would probably target Latin America because I feel like there is a whole new world to explore."

– Filipa Serra Gaspar, Spanish SEO Specialist
2. Google might reign supreme in most countries, but not all of them
Most of the world uses Google but it doesn't always make sense to focus on Google's algorithm. It's worth considering what search engines your audience actually uses. Depending on your target market, that could drastically change how (and where) you conduct keyword research.
To give you an idea:
3. English is competitive
Considering English is the internet's most commonly used language, it's a fair assumption that English has a higher search volume for most keywords.
Yet that doesn't mean other languages don't have high search volumes. In fact, it's possible to see nearly the same search volumes for similar keywords in English and another language—but the keyword difficulty will be much lower.
Also, non-English keywords tend to have a much lower cost-per-click (CPC).
This is good news for multilingual marketers! It means the audience is out there searching, but the competition is much less fierce than it is in English.
Freebie: Download our practical worksheet to adapt your brand's content strategy to connect with your target audience.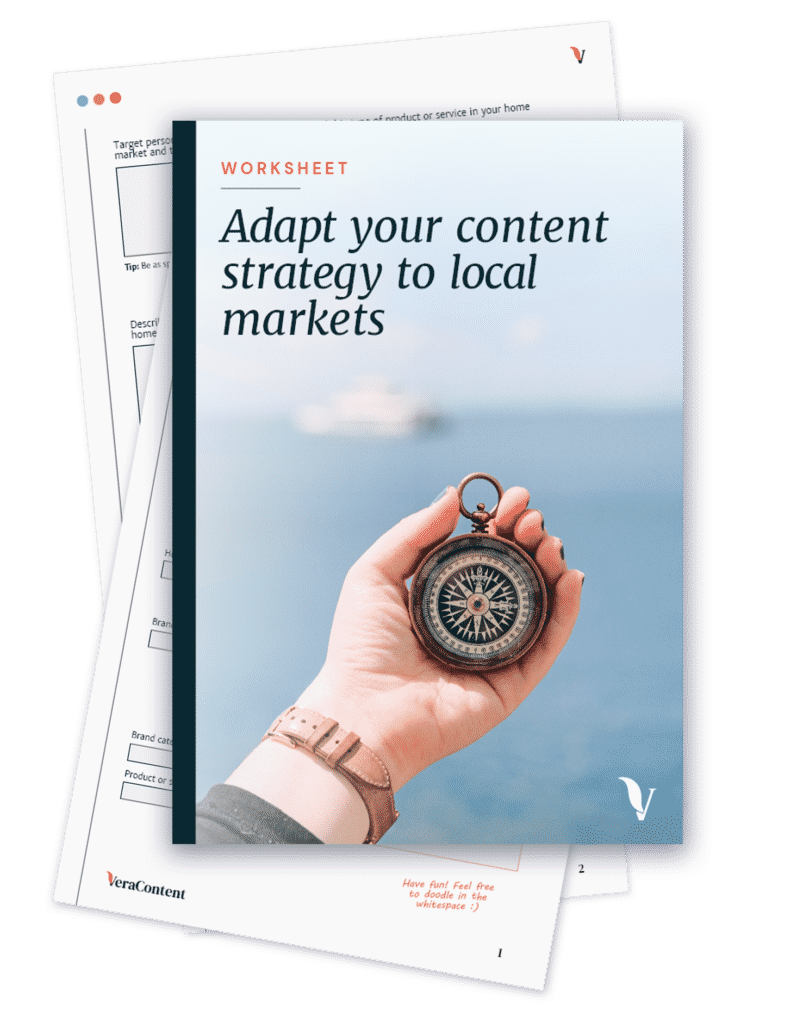 Get your free guide by filling in the form below!
Do you need to be a native speaker to do international keyword research?
Native linguists and translators are invaluable to the international keyword research process. They understand better than anyone what users in their target market are thinking and searching for.
"I have never offered international keyword research because I wouldn't rate my Spanish level as high enough to do a thorough job. Good keyword research requires working out how the person you're writing for would phrase their searches and requires a native-level speaker in my opinion."

– Joshua Saxon, Content Marketer & SEO Specialist
Without that on-the-ground approach, you're likely to miss the mark.
We recommend collaborating with a native SEO expert, either by working with a freelancer or an international SEO agency.
See also: 5 ways to ensure a quality localization – even if you don't speak the language
Which tools are best for international keyword research?
Here are 5 top tools that SEO experts recommend for international keyword research.
1. SEMrush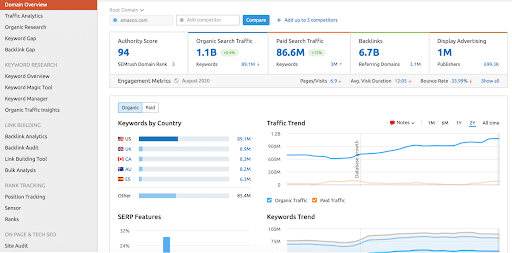 Most content marketers are familiar with SEMRush. It's one of the most popular keyword research tools, and the one possessing the largest keyword database. 
SEMRush works the same way regardless of which language you use. Just make sure to first select the location that you're targeting, for example Spain. Then, the same way you would upload a list of terms in English, you can do the same with any other language.
"It gives you a decent amount of related keywords and questions, and it's easy to move the keywords over to position tracking for reporting. SEMrush has a lot of other useful tools for digital marketing, including specific tools for local SEO, so it's worth the monthly fee for me."

– Joshua Saxon, Content Marketer & SEO Specialist
A few of SEMRush's features include:
Cloud-based
The largest keyword database, with more than 9.4 billion keywords
Competition analysis
Easy-to-read UX, making it simple to switch countries
SEMRush is a great tool, but it isn't comprehensive. SEO experts still need to look at other research methods, such as Google autocomplete—which is another $200 a month on top of a paid plan to access traffic analytics.
Pricing: It's free up to 10 queries a day, but $119.95 monthly for their basic premium plan.
2. Ahrefs Keyword Explorer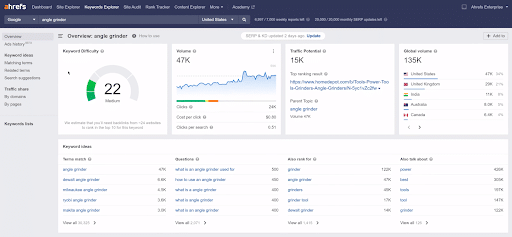 Ahrefs is another top contender for an international keyword research tool. It provides tons of information based on a single seed keyword.
Like with SEMRush, make sure to select the region that you're targeting and simply search for the keywords in any language. It'll then bring up the popularity of the keyword in the region you selected as well as other popular regions. For example, when searching for a keyword in French, it'll often show the keyword's popularity in all French-speaking regions, including France, Canada and Belgium.
Its features include:
Competition analysis, including first-page breakdowns sorted by country
Complex difficulty score, with information on how many backlinks are needed to rank on Google's first page of search results
Data for 10 search engines, including top search engines for other countries like Yandex and Baidu
The interface supports 13 languages, including English, German, Spanish, French, Italian, Japanese, Chinese, Dutch, Polish, Portuguese, Russian, Swedish, and Turkish.
While it's a great tool, some of its drawbacks include keyword suggestion uniformity and limited keyword ideas—especially in the context of international SEO keyword research. The cheapest plan is still quite expensive and doesn't offer ranking data from the past.
Pricing: Around $95 per month for the 'Lite' plan.
3. Moz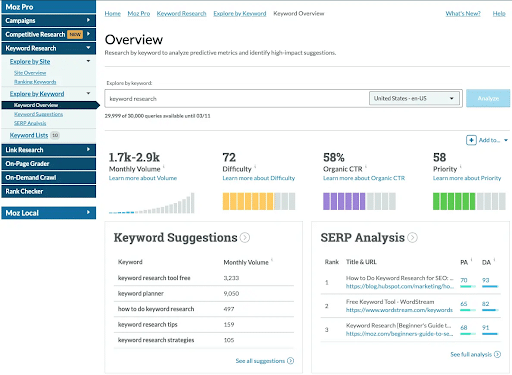 The people behind Moz started as bloggers, and Moz has been a pioneering SEO tool ever since. 
With Moz, you can also specify the location and language. As in the example in the image above, you can specify "United States – en-US."
It offers:
A large and accurate keyword database
Customized reports with SEO suggestions
Competition analysis
A link explorer, which can help with building backlinks and researching competitor backlinks
A website crawling tool that checks your website for errors and missed opportunities
Moz is meant to be an end-to-end SEO solution, aimed at large enterprises with devoted SEO teams. Because of this, it has a steeper learning curve than other SEO tools and can be overkill for smaller companies. While it offers a ton of features that would be useful for international keyword search, it's targeted to US audiences and has a lack of data for foreign search queries.
Pricing: Starts at $99 per month for their Pro Standard plan.
4. Google Keyword Planner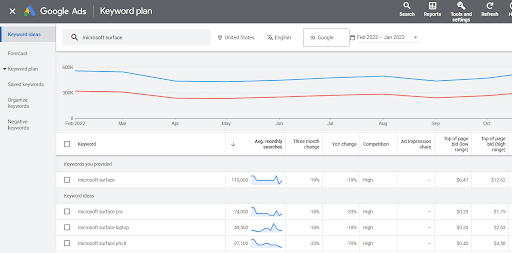 If you want to rank highly on Google, then what better keyword planner to use than Google's own? The Google Keyword Planner allows you to search for keywords in a specific location and language.
Google Keyword Planner includes a couple of great features, including:
Totally free, no matter how many queries per month
Offers integration with Google Ad Campaigns
Allows you to access historical data from up to 12 months ago
Trusted to be accurate and reliable
As a free tool, it won't offer the same robustness of features as other international keyword research tools do, such as competition analysis. Plus, if a business is working in regions where Google isn't the top search engine, it might not make much sense to use.
Still, it's a great add-on tool to use in conjunction with the paid tools.
How to conduct thorough international keyword research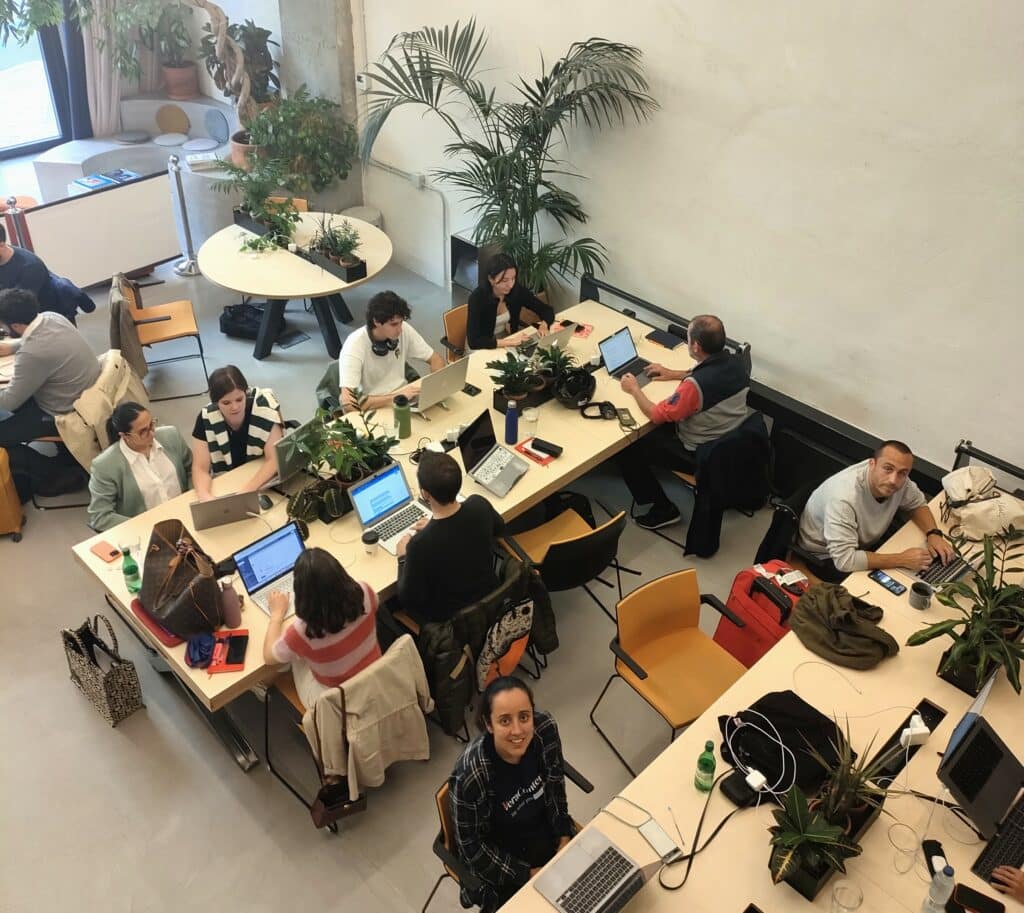 Here's our step-by-step guide on how to conduct thorough international SEO keyword research.
1. Keep relevancy in mind as you research
If your content isn't relevant to users, it won't rank. Google ranks pages based on their relevance to searcher's queries.
First, look at your target markets and your industry. If you're thinking, "I want to translate our keywords into Spanish," ask what kind of Spanish.
See also: Standard Spanish: How to broaden your reach across Spanish-speaking audiences
What countries are you targeting? And within those countries, will your international marketing strategy appeal to different dialects and regional differences? Understanding user intent and needs will go a long way as you brainstorm keywords.
"Search volumes given by any tool is usually just indicative as to its popularity against other keywords to help you work out where to focus. Aside from looking at search volumes and CPC, it's important to speak to your customers and find out what questions they have. Check email threads for questions that could be turned into useful posts, even if tools like SEMrush say there's zero volume."

– Joshua Saxon, Content Marketer & SEO Specialist
2. Look at your competitors
Your competitors are doing their own keyword research, and you can learn from what content they're putting out.
Research who your biggest competitors in a market are, then look at what keywords they're using. Performing keyword gap analysis can help you identify holes in your keyword planning strategy. Some SEO tools, like SEMrush, offer built-in competitor analysis metrics that will help you do this.
3. Localize your keywords
Localizing keywords means adapting existing keywords from one language to another with all the behavioral and cultural context in mind.
To localize keywords, an SEO specialist has to pay close attention to how people are searching.
Finding successful keywords for a market can be a fine line. One study focusing on German keywords found that searching for "make your lips look bigger" produced a monthly search volume of 20. Meanwhile, "how to make your lips bigger" has a monthly search volume of nearly 1,200. It's a small change, but the latter keyword volume demonstrates how a native speaker is more likely to ask questions according to the syntax and vocabulary that feels natural to them.
It often takes a native eye to spot these opportunities because a marketer needs to be intimately familiar with a language's common phrases, slang and tone in order to pull this off.
4. Review the viability of your keywords
Keyword search volume changes, and so does Google's algorithms. Which is why keyword research is not a one-time process. To keep content ranking highly, you need to review your keywords regularly.
More and more keywords are encrypted by Google every day. With this in mind, another way to generate new keyword ideas is to look at your own website and review what is successful. What pages or keywords are your target readers finding most often on your site?
Traffic analytics tools, like those offered by Ahrefs or Google Analytics, collect the terms people are using to find your website and present them in your organic search traffic results.
5. Consult an international SEO agency
An expert eye is the most valuable part of the international keyword research process. But how do you incorporate a native SEO specialist into your workflows?
Most companies either work with freelance native SEO specialists or partner with an international SEO agency. With an agency, you get access to a wide pool of vetted translators and linguists of many languages.
"As multilingual marketers, we can't be experts in every language and market. But we can be experts at finding the right professionals who are."

– Shaheen Samavati, Co-founder and CEO of VeraContent
Bonus tip: Keep a clean international SEO URL structure
Establishing an efficient and logical SEO URL structure can also help new audiences find your content. After all, the URL is what your audience is going to see first.
We always recommend international businesses have a language or country indicator in their URLs. For example, if your website is www.mycompany.com, the Italian version can look like: www.mycompany.com/it/.
Using targeted keywords in the slug also helps Google and readers find pages easily. If the keyword for an article is "best ice cream in New Orleans," then your URL could look like "www.mycompany.com/best-ice-cream-new-orleans/."
Good international SEO also involves hreflang tags, which are attributes that help search engines identify what language your content is in.
See also: 5 best practices to improve your multilingual website SEO
International SEO best practices are always changing
Keeping up with the challenges of international SEO can be daunting because there's a lot of room for things to go wrong—especially when you're working in another language.
That's why it's worth using a professional international SEO service to help your business sort through all the data and localize properly.
Reach out to us today for more information about how VeraContent can help and to find out if you qualify for a free content consultation.