Even if your brand excels at the basic principles of content localization, digital content has unique challenges and considerations—and thus requires its own strategy.
Learn how digital content localization can increase your posts' value and visibility, helping your brand reach new markets effectively. We'll also share the processes and tools used by the pros, as well as a few examples of our own work at VeraContent.
What is digital content localization?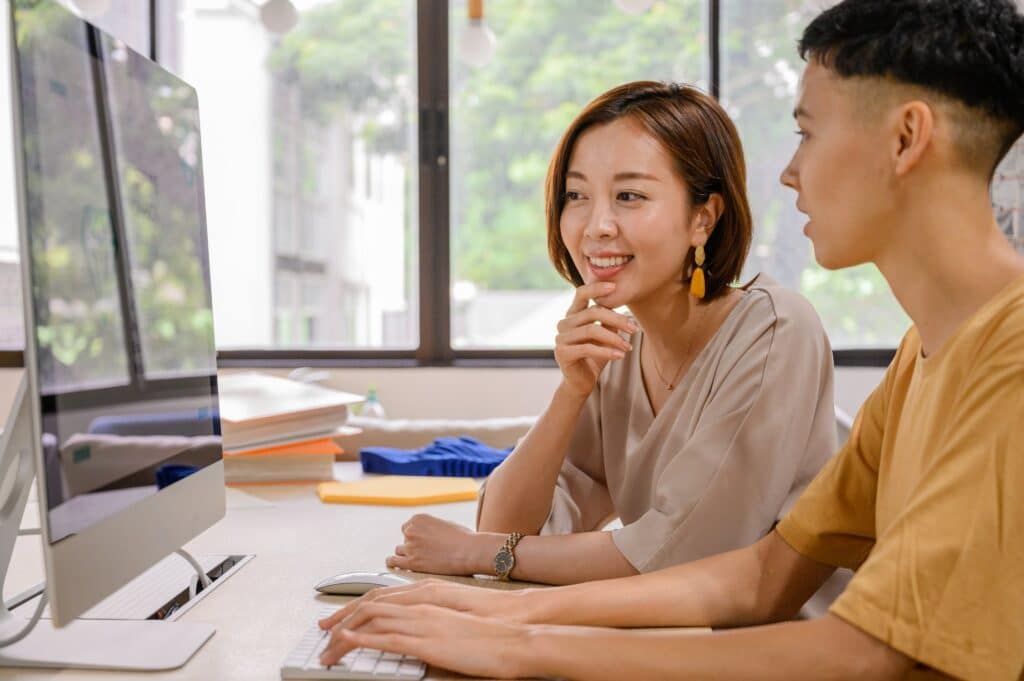 Digital content localization is the process of adapting content from your website or blog to a new foreign language market.
While translation is the literal conversion of text, localization converts every element of the content, not just the written word. It seeks to change the original source material to fit the new market's language, culture, expressions and sentiments.
Localization affects every aspect of content, from the content itself, including the color palette or design, to when it is posted, all while ensuring your brand's core message stays the same.
See also: Translation vs. localization: What's the difference and why should you care?
Usually, this process requires a native eye from someone who is familiar with the target market and can create content that's integrated and effective abroad. 
"Localization is really about making sure you're transmitting information in a way that's understood and allowed in the target market."

– Kyler Canastra, head of business development at VeraContent
See also: Marketing localization: Why investing in quality pays off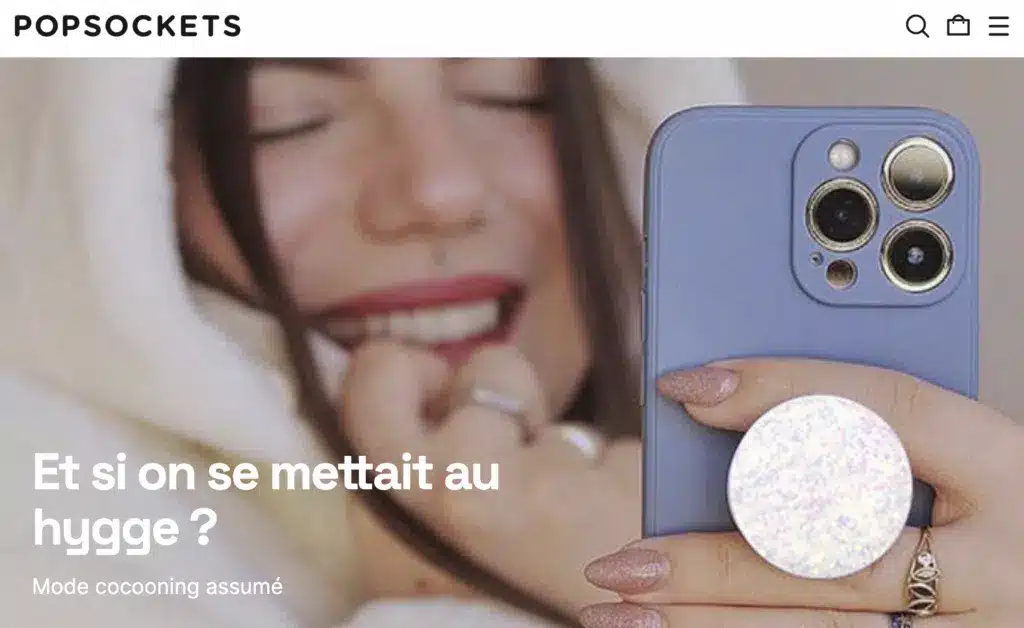 Find more examples of our localization projects here.
Even if you're already familiar with localization, it's essential to understand that localizing digital content has a few specific challenges worth considering.
5 ways digital content localization is unique
Multilingual SEO impacts how highly your page ranks on search results for different languages. It can quickly get complicated and technical, so we recommend working with a multilingual SEO expert or agency who can help.
Digital content contains metadata, the tiny indicators that sort your content in your website or storage bank. This could look like category labels, titles, alt-text for images, tags or, especially in the case of multilingual websites, hreflang tags. Metadata can and should be translated because even if the audience never sees them, they impact your site's organization and SEO.
Keyword translations. Unfortunately, keyword translation is not as easy as simply automatically translating keywords. For instance, asking a machine translator to convert "wedding ring" to Spanish might give you "anillo de boda." Seems simple enough, right? Actually, Spanish-speaking buyers are far more likely to search for "alianza" instead. Consumers in foreign language markets might have different search habits, phrases or terms for products, and preferences for interacting with brands online, so proper international keyword research is vital to understanding foreign market users' needs.
Website/blog calendar management. Planning online content schedules is tricky enough without throwing in multiple languages or differing time zones and holidays. We recommend creating a blog editorial calendar to map out your multilingual content ahead of time.
Image/visual localization. Localization extends to visuals, too. After all, blog posts with images receive 94% more views than those without. Every bit of content will require finding culturally relevant images that convey the right emotion. Visual layouts can also be localized. Regarding multilingual websites, remember that specific language markets, such as those with non-Latin alphabets or languages that read right to left, like Hebrew or Arabic, require a tailored website layout for a better user experience.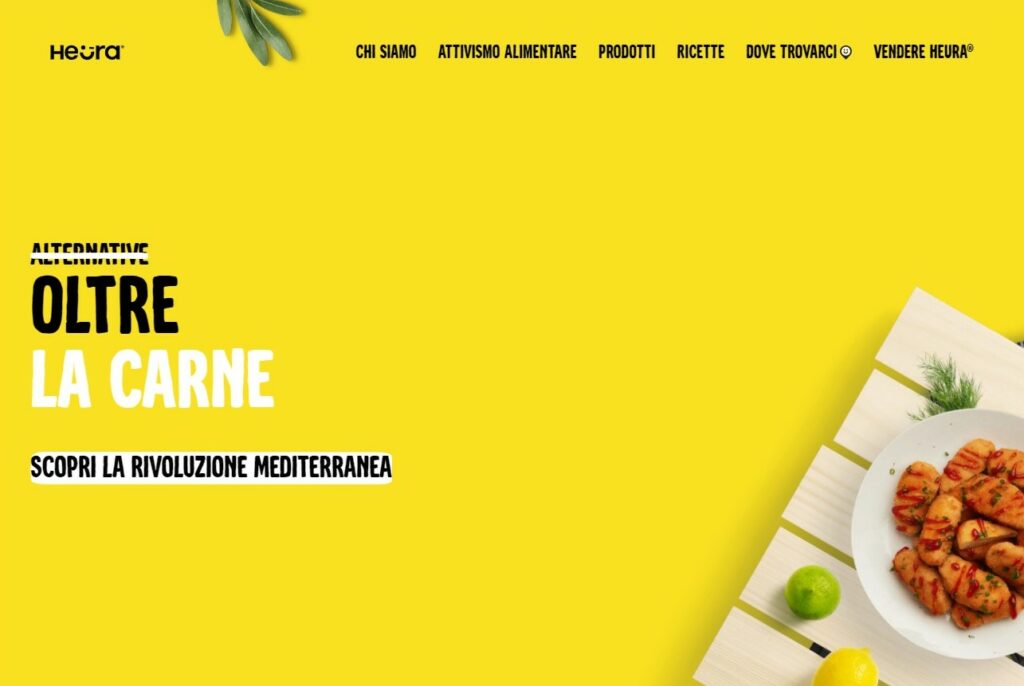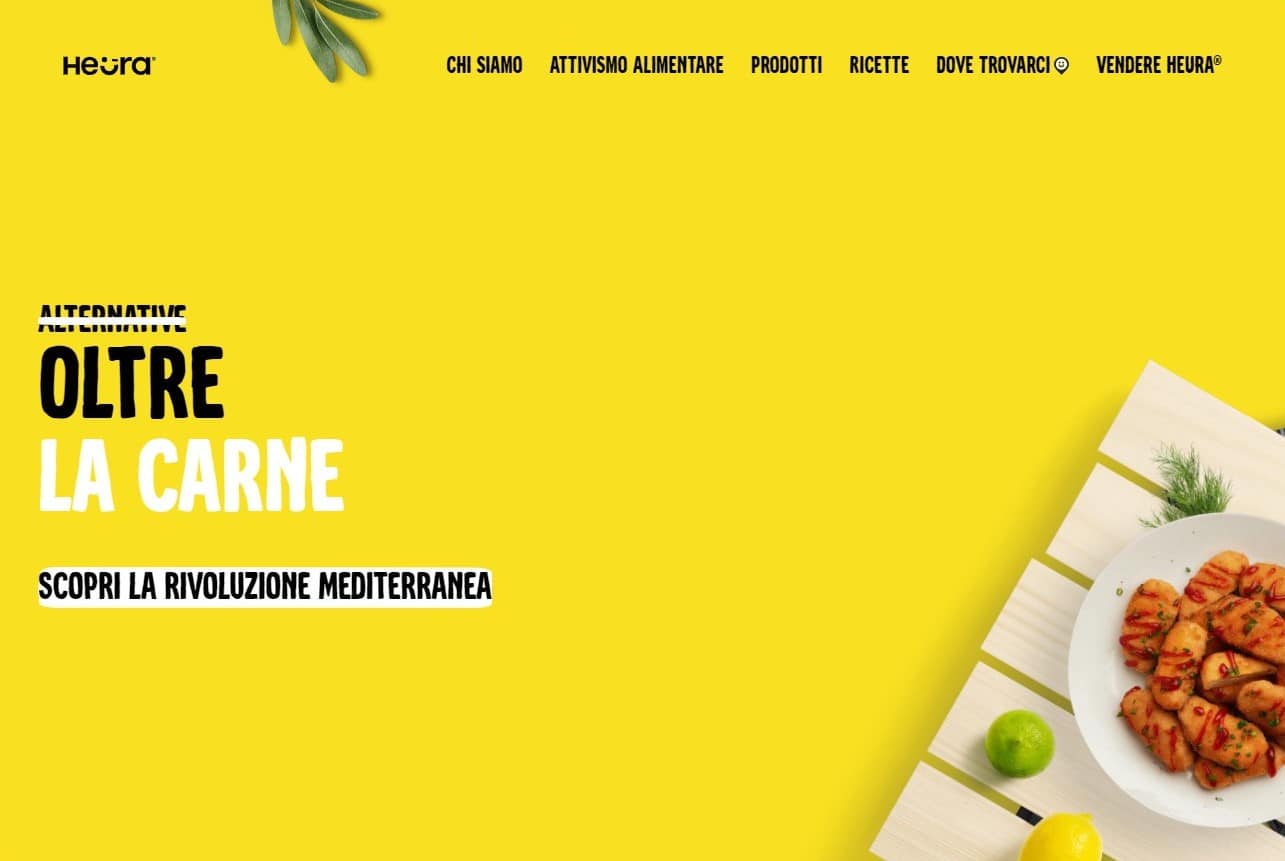 While localizing Spanish food-tech startup Heura's website from Spanish to Italian and English, VeraContent localized not only the text but also the food-based images according to regional preferences, all while maintaining the design and feel of the brand.
What digital content localization can do for your business
Customers want to feel understood, and the easiest way to do that is by speaking their language.
An overwhelming 75% of consumers prefer to purchase in their own language, even if they speak English. Additionally, studies show that localized digital marketing campaigns outperform English ones in click-throughs and conversions.
"When you're trying to connect with an audience, it's important to speak to them in a language that feels comfortable to them."

– Kyler Canastra, head of business development at VeraContent
The risk of not adapting digital content to a new market is two-fold:
You might be missing out on potential audiences who don't speak English. Remember that while English is the most popular language online, the share of the world population that speaks English is only 16%. In fact, China has the most internet users in the world.
If your competition is already targeting new markets with localized campaigns, you could be disadvantaged.
Even simply translating isn't enough. By properly localizing, you avoid potentially unsuccessful or even offensive translation mistakes.
See also: 4 bad advertising translations to learn from
Digital content localization: VeraContent's complete process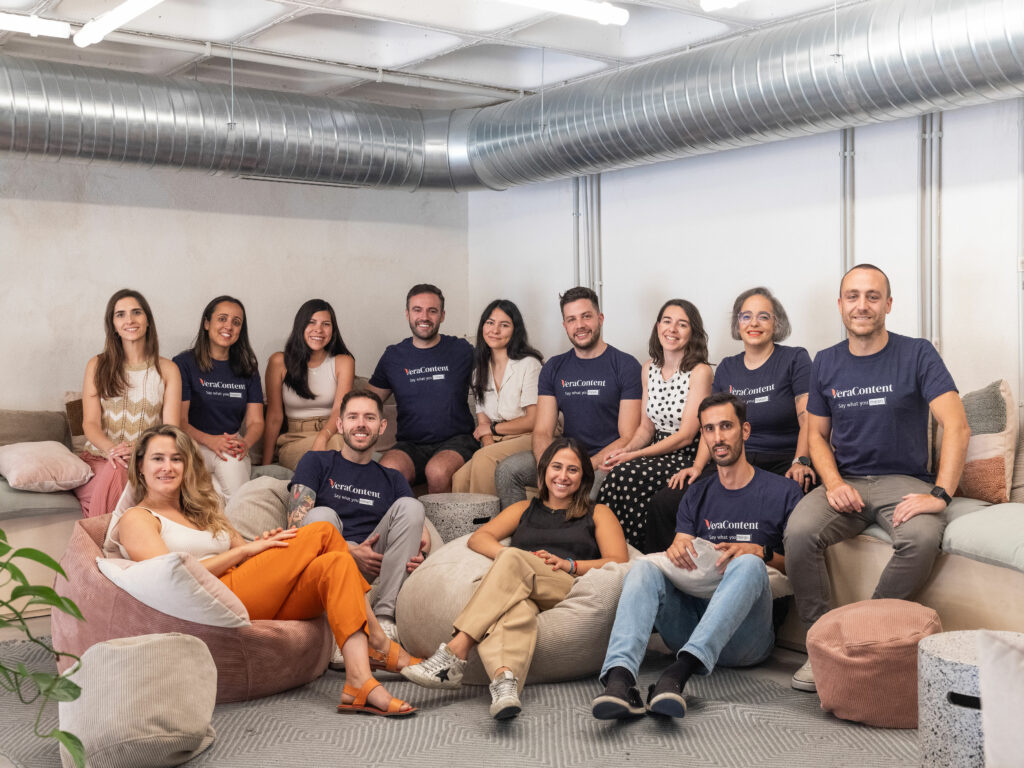 Global brands know localization can break new ground and build trust with international audiences. 
That's why Mapp, a customer intelligence and marketing analytics provider, came to VeraContent to collaborate on digital content localization projects for their English, German, French and Italian customers.
Since Mapp localizes content for multiple key markets, they produce a high volume of content—and while their in-house team has broad knowledge, they still need experts for certain projects. At first, they worked with freelancers, but managing multiple creators and briefs quickly became difficult. That's where VeraContent stepped in.
When we began working with Mapp, our solution was to create a multilingual digital content production and localization process that simplified the workflow across languages.
One specific project we worked on was the "Retail of the Future" campaign, which featured thought leadership, statistics, client testimonials and more on industry trends in an e-guide for retailers. We also created blog posts and a landing page for the campaign, which were then localized into German and Italian.
See also: Content localization: A how-to guide for global brands
VeraContent's complete localization process in 3 steps: Mapp Client Story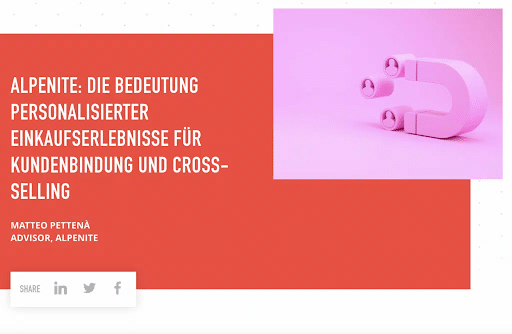 Here's a breakdown of the three key steps we took when taking on a new digital content localization project from Mapp.
Step 1:
First, Mapp would give us a content brief. Because of our previous partnerships, they knew we could take the brief and return with high-quality work that fit their vision. They already trusted our processes, and since we were already familiar with the brand, we could get straight to work.
"Working with VeraContent is like having someone in-house who automatically gets it. They already know Mapp's tone of voice and how to write for our brand, so not much is required from our side."

– Esther Lago Méndez, Partner Marketing Associate Director at Mapp
Step 2:
We streamlined the content creation process so that the team at Mapp would only need to coordinate with one point of contact—one of our project managers. Meanwhile, that project manager would look through our pool of vetted content creators and linguists to find the right fit for the project.
For our work on the "Retail of the Future" campaign, we contacted specialists familiar with each target region's retail and e-commerce industry.
"It's easier when you have one contact so that everybody always speaks to the same person. It helps to keep track of what's happening."

– Esther Lago Méndez, Partner Marketing Associate Director at Mapp
Step 3:
Once finished, our linguists turned the localized content over to our project manager, who would then send it to another linguist for review. We always use a two-step editorial process to ensure all content is accurate, effective and fits the brief.
This is also the step in our process where we typically get client feedback. All of this would be done for every piece of content—and in a faster turn-around time than their small in-house team could accomplish.
"Getting the right writers and editorial process in place from the beginning of your content production process is worthwhile because if you don't, it could cost you more in the long run. For example, if you make mistakes and publish things that aren't true or in line with your brand, you may suffer those consequences later on."

– Shaheen Samavati, CEO of VeraContent
Our efforts showed results shortly after: the 2022 Retail of the Future campaign was a huge success for Mapp. The e-guide generated over 600 leads and led to 15 conversions, while the e-guide download landing page boasted an average reading time of over a minute.
To learn more about our collaboration with Mapp, check out our client story.
The best digital content localization tools
Let's explore the three main types of tools that can optimize and scale your digital content localization process, plus some recommendations on tools to get started with today.
Tool type #1: Machine translation and CAT tools
If you've ever used an online translator, you're familiar with machine translation tools. These copy/paste tools allow you to quickly convert text to another language, which is always useful when you need a quick and easy translation. Google Translate, DeepL, and Bing Microsoft Translator are the most popular.
Meanwhile, CAT (computer-assisted translation) tools can drastically speed up localization processes by remembering phrases, automatically updating websites and handling large volumes of translated content. For CAT Tools, over 80% of companies use SDL Trade Studios, but we at VeraContent use Phrase (formerly Memsource).
"Automation will save you a lot of time, and it's not that big of a financial investment. It's worth looking at how you can incorporate some of these tools, even for those working with small-scale content production."

– Shaheen Samavati, CEO at VeraContent
Explore both of these tools (and the pros and cons of each option) in our article on machine translation tools that are better than ChatGPT.
Tool type #2: Automatic website localization software
This can include:
Quality assurance tools like Verifika or ApSIC Xbench check translated content for typos and mistakes. Most CAT tools have some QA functionality, but experts swear by QA tools' superiority in the localization process.
Translation management systems (TMSs) are highly useful in optimizing your localization process. They can organize language translation, store glossaries of commonly-used terms, and assist localization workflows for project managers—or automatically translate content with a machine translation tool before a round of reviews by human eyes. Plunet BusinessManager or Lokalise are popular options.
For websites running on WordPress, plugins like Polylang or TranslatePress can cut down unnecessary complexity on a multilingual website.
Many more tools can help your brand consistently and effectively localize digital content. Which one is right for you? We recommend trying out several kinds to find what works best for your team and goals.
"We have a separate translation solution for each type of marketing: for user interface we have one, for blogs we have another one, for user communication we usually use a third vendor or freelancer. And also, let's not forget about design."

– Galyna Margolin, localization team lead at Payoneer
See our article on the top 8 localization tools to optimize your digital content for more tools like bug trackers, SEO tools and image optimization software.
Tool type #3: Translation services
Machine translation tools, management systems and automated software are invaluable to the localization process—but localizing digital content is still tricky.
To truly nail localization, you need a human eye. The best localization services do use the right AI tools, but don't rely on algorithms to localize content. Instead, they use native linguists familiar with the language and target audience.
Let us help you with your digital content localization
At VeraContent, we help businesses by taking the day-to-day management off their hands. Calling upon our vast network of local experts, we help global brands create content that provides the care and efficiency they need.
To learn more about how we can help, request a free consultation today. You can also kick start the process by downloading our free worksheet on adapting your content to local markets below.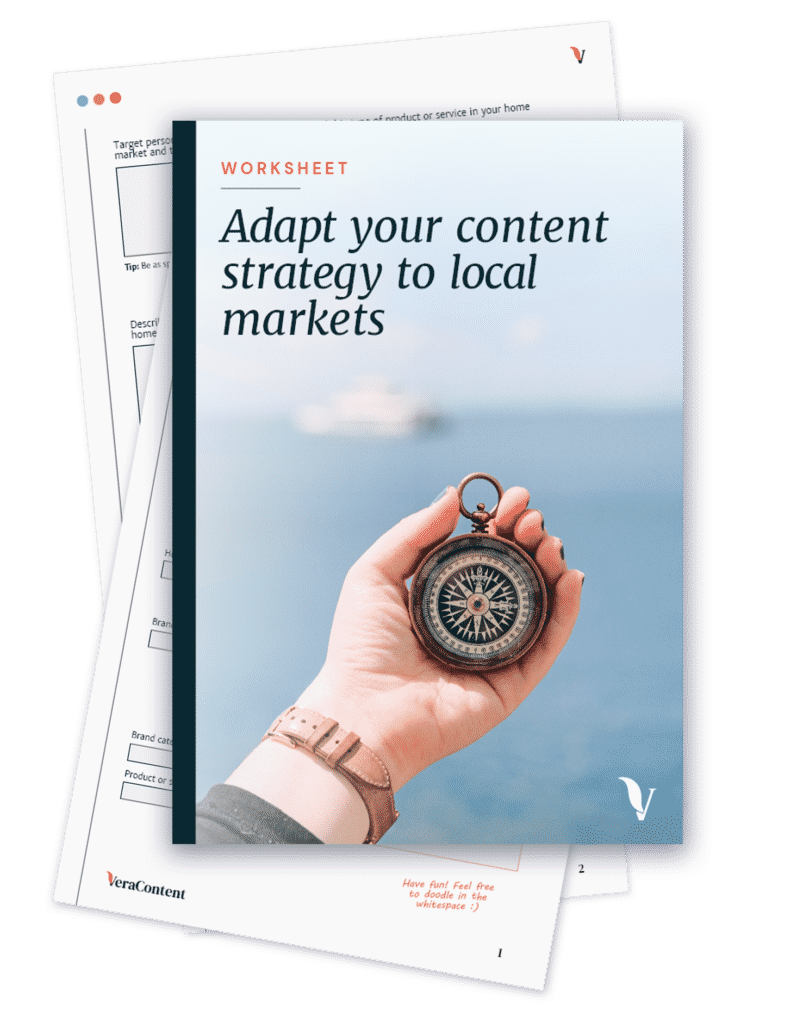 Get your free guide by filling in the form below!