With the emergence of ChatGPT, global brands are asking if it's really the best tool for machine translation in 2023.
We're constantly testing out new and improved translation tools, including the translation abilities of ChatGPT. When it comes to translation accuracy and efficiency, machine translation tools tend to be stronger than ChatGPT. However, ChatGPT comes with a unique set of advantages.
Keep reading for a list of five machine translation tools other than ChatGPT, including a comparison between ChatGPT and popular machine translation tools.
What is machine translation?
Machine translators (MTs) are automated translators that convert text from one language to another in a matter of seconds.
Some are free online tools that translate in real-time—including the most well-known one, Google Translate—while others are paid-for platforms that come with a whole host of features, like a CMS connector.
These commercial machine translators aren't the same as AI chatbots like ChatGPT, which has taken the world by storm since its debut in November 2022.
Machine translators (MT) are often used alongside computer-assisted translation (CAT) tools. But they also aren't the same.
An MT automatically converts text into another language without the use of a human, while a CAT is software that helps a human translator complete their task. All professional translation agencies rely on CAT software these days, as a fundamental step in the translation process.
What are the benefits of machine translation tools?
Time-saving: they allow you to translate far more text in a short period of time than if you were to do so manually.
Easy to use: anyone can use a machine translator, even people with little to no knowledge of the language.
Inexpensive: compared to a professional translator, translation software is much cheaper.
Built-in and seamless: some translation software can integrate with other platforms, erasing the need to copy and paste repeatedly.
"Automation will save you a lot of time, and it's not that big of a financial investment. It's worth looking at how you can incorporate some of these tools, even for those working with small-scale content production."

– Shaheen Samavati, CEO at VeraContent
Another big selling point for some MTs is that they can store frequently-used sentence structures and technical terminology locally or in the cloud, allowing linguists to find them again quickly. For companies translating massive amounts of content, this can improve workflows.
See also: Cultural marketing: Going beyond simple translations
How accurate is machine translation?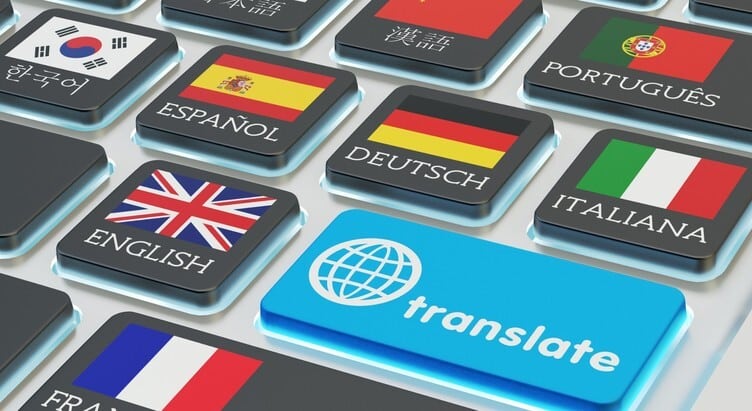 MT technology has improved significantly since its humble origins in the 1970s. The recent introduction of neural machine translation (NMT), which relies on complex, deep learning models and algorithms to convert text, has made MTs more accurate than ever.
Still, the accuracy of machine translation tools is highly subjective. It depends drastically on the language pair, the complexity of the source text, the industry and the application.
There isn't one single machine translation tool that will outrank others across all of these considerations. That's why we recommend running an evaluation on what your translation needs are against the strengths and weaknesses of any machine translator.
"We have a separate translation solution for each type of marketing: for user interface we have one, for blogs we have another one, for user communication we usually use a third vendor or freelancer. And also, let's not forget about design."

– Galyna Margolin, localization team lead at Payoneer
The combination of source and target languages impacts results
Most machine translators perform best in English to Spanish (LATAM), Portuguese (Brazil), French (European), and Chinese (Simplified). What tool works well for one language pair might not work at all for another language pair.
For example, Korean speakers often use Papago as their machine translator of choice because other MTs, like Google Translate, struggle to successfully convert Korean sentence structures or formality levels to English.
If the risk of inaccuracies is high, such as with medical or legal texts, or it's impossible to correct errors later on, such as in printed media, then using machine translation tools might not be appropriate—at the very least, not without a close edit by a human eye.
Creative texts require creative minds
Machine translation software is also not commonly used with literary translation or anything that includes significant amounts of prose. Other art forms, such as poetry, song lyrics or creative writing, will likely presents challenges with machine translations.
"The most challenging translations are always poetry or song lyrics—text that maybe doesn't always make sense. You have to pick apart metaphors, understand what they mean from what they're saying and then try to replicate a similar image or metaphor in the target language."

– Meag Gardner, content creation specialist
Learn how our team worked with Sony Music Spain to translate the song lyrics for Argentine artist Nathy Peluso's hit single Emergencia: Read the client story.
Can machine translation replace human translation?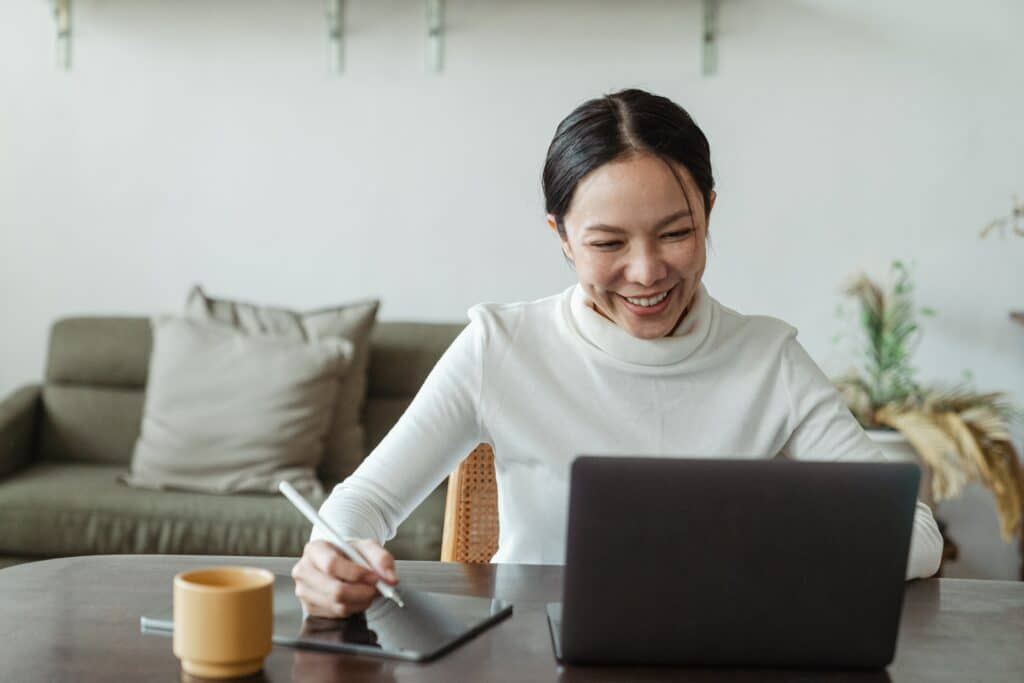 Machine translation tools improve efficiency, but can they replace a human linguist who speaks your target language fluently?
Put simply, no machine translation tool is as accurate or natural as a native professional translator. This is because, for marketing translation to really work, it needs to involve a level of transcreation, i.e. the creative translation of text.
A human translator is needed to interpret and localize information with the proper emotional intent, cultural relevance and level of formality.
"I think AI and machine translation have made our work more fun, as now we get to work on creative problems that only humans can solve."

– Shaheen Samavati, CEO of VeraContent
See also: Why the translation of marketing content is much harder than you think
And what about the SEO impact of AI-translated content?
Google's official stance on AI-generated content is that no matter how it's created, Google will always reward high-quality content that demonstrates EEAT (expertise, experience, authoritativeness, and trustworthiness).
It's vital that your marketing translation process prioritizes accuracy and impact over convenience. With the current state of AI tools, it's better to see them as an assistive tool rather than a complete replacer for human translators.
"Google rewards novelty, and they reward thought leadership and content that brings something new to the table. And, by definition, AI-created content can't bring something new to the table."

– James Scherer, VP of growth sales at Codeless
Some companies, like Gartner, incorporate tools like ModelFront, which use AI to analyze and predict the quality of your machine translations, telling you what areas will need a human eye to review it and what areas don't.
Bottom line: AI-translated text can provide a great starting point, but it must always be checked by a professional, native-level expert.
With that in mind, let's take a look at five different machine translation tools that could help streamline the marketing translation process.
Download our free interactive worksheet on adapting your content to local markets: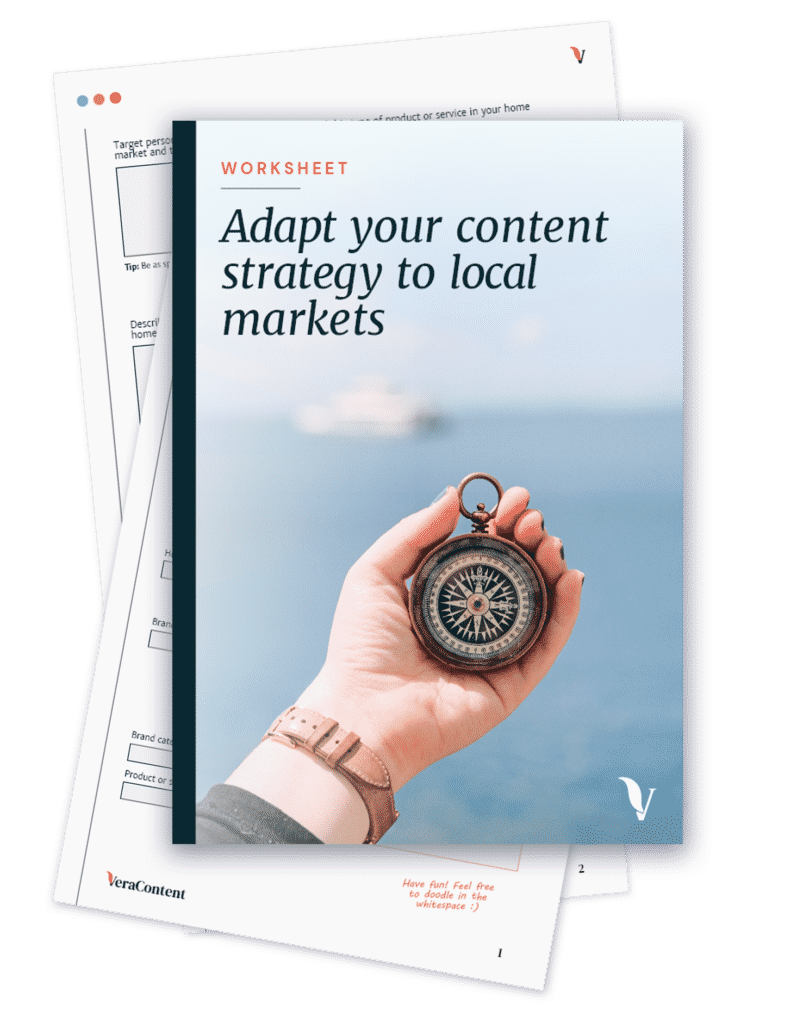 Get your free guide by filling in the form below!
Tool #1: DeepL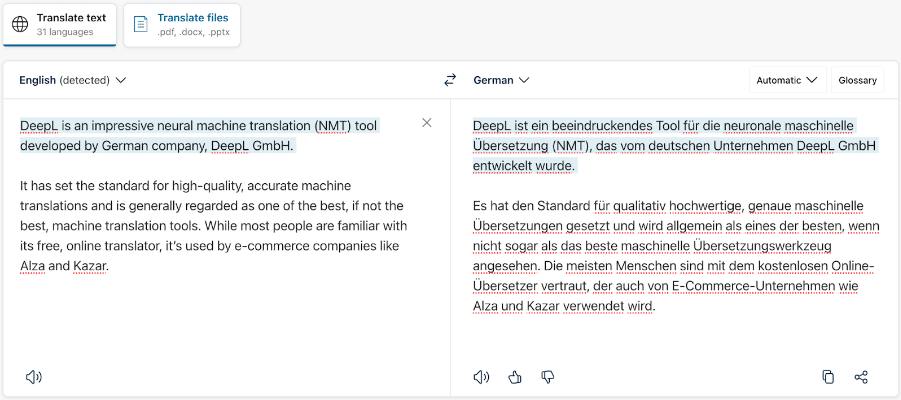 DeepL is an impressive neural machine translation (NMT) tool developed by German company, DeepL GmbH.
It has set the standard for high-quality, accurate machine translations and is generally regarded as one of the best, if not the best, machine translation tools. While most people are familiar with its free online translator, it's used by e-commerce companies like Alza and Kazar.
Features:
Document translation
Website translation widget
App integration
CAT integration tool, which allows you to integrate its translations with other translation results
Encrypted cloud storage (and its paid plans have further security measures)
Pros:
Cons:
It only handles 26 languages, compared to competitors who support 100+ languages
Some businesses might find its file translation limits restricting
Best for: individuals or small/midsize businesses prioritizing high-quality and accurate translations.
Cost: free for up to 5,000 characters per month. It offers premium plans, starting at $8 per month.
Tool #2: Google Translate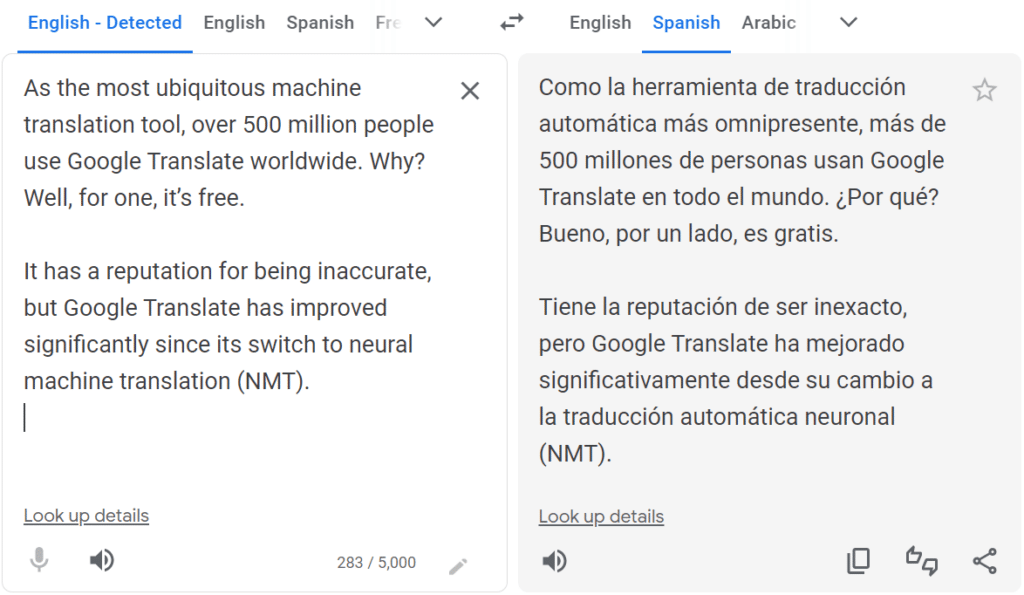 As the most ubiquitous machine translation tool, over 500 million people use Google Translate worldwide. Why? Well, for one, it's free.
It has a reputation for being inaccurate, but Google Translate has improved significantly since its switch to neural machine translation (NMT).
Features:
App integration
Website translation widget
Supports 133 languages
Multi-language translation
Offline mode, which lets you translate without an internet connection
Batch translation of files and folders
Pros:
Its free online translator is well-known and extremely easy to use
Boasts an extensive Translate Community with over 3.5 million users
Google is a well-established entity and constantly improving their translation algorithms
Cons:
Not ideal for confidential information
Paid plans are less robust and customizable
Best for: individuals or small/midsize businesses who are looking for efficiency and ease of use.
Cost: free up to 500,000 characters per month. After, it costs $20 per million characters.
Tool #3: Microsoft Translator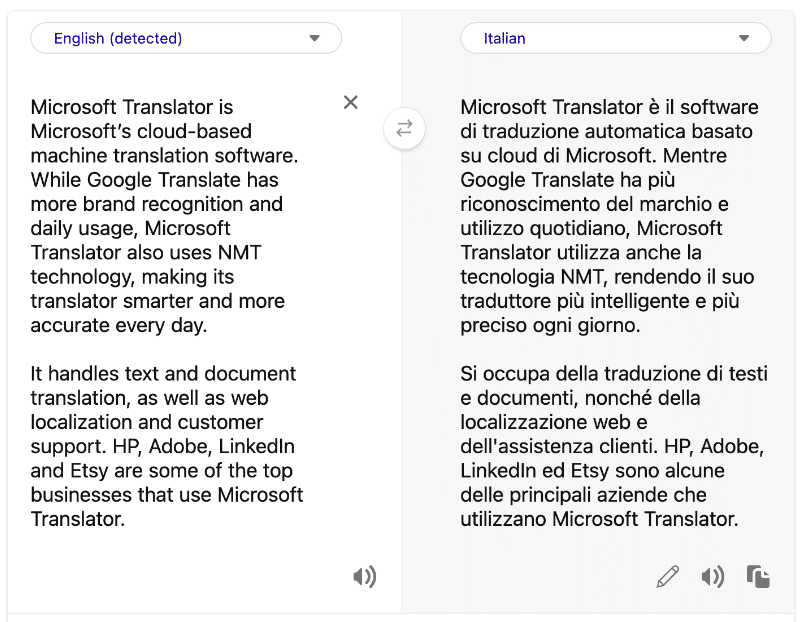 Microsoft Translator is Microsoft's cloud-based machine translation software. While Google Translate has more brand recognition and daily usage, Microsoft Translator also uses NMT technology, making its translator smarter and more accurate every day.
It handles text and document translation, web localization, and customer support. HP, Adobe, LinkedIn and Etsy are some top businesses using Microsoft Translator.
Features:
App integration
Translation memory
In-context editing
Website translation widget
Project management dashboard
Pros:
Excels at image and real-time speech
Supports 105 languages and 12 speech translation systems
Since it's owned by Microsoft, it's integrated into Bing, Microsoft Office, Skype and other Microsoft services.
Cons:
Reported to struggle with slang and language formality compared to its competitors
Some studies show it to be less accurate than Google Translate (though not by much)
Best for: small/mid-sized businesses or enterprise-level businesses looking for an MT with an emphasis on image or speech translation.
Cost: free up to 2 million characters per month. Its paid version (which you need for business integrations) is around $10-15 per million characters.
Tool #4: Systran Translate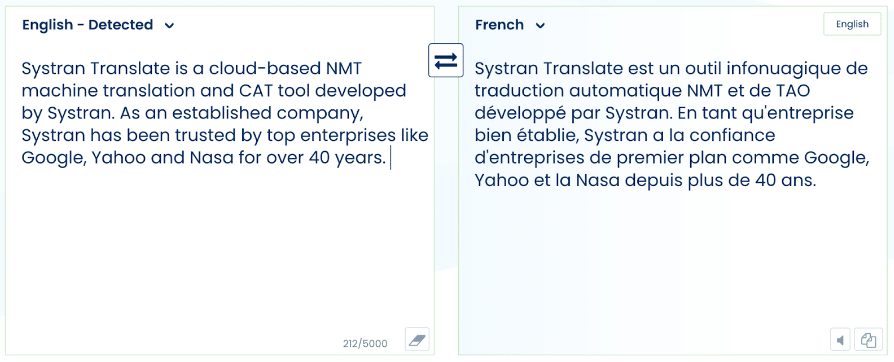 Systran Translate is a cloud-based NMT machine translation and CAT tool developed by Systran. As an established company, Systran has been trusted by top enterprises like Google, Yahoo and Nasa for over 40 years.
Features:
Dictionary manager
Language manager
Interactive translators
Collaborative tools
Browser extensions
Localization automation
Batch translates whole files or folders
Pros:
Well-regarded for its document translator, which preserves the layout of documents even after translation
Offers industry-specific translation models to adapt to specific industry jargon
Able to translate high volumes of content very quickly
Can recognize and successfully translate different dialects of Arabic
Cons:
No app integration
Struggles with image translation compared to its competitors
Not intuitive
Support 55 languages, significantly fewer than its competitors
Best for: midmarket and enterprise businesses looking for a professional NMT machine translation tool
Cost: free up to 5,000 characters per month. Paid plans start at $5 a month.
Tool #5: Phrase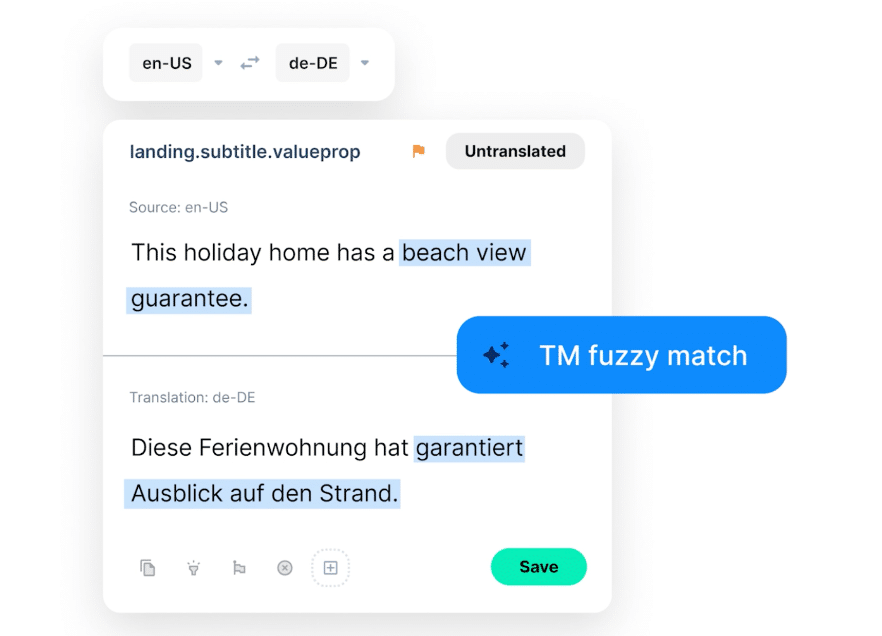 Phrase (formerly known as Memsource) is a cloud-based commercial translation platform and CAT tool, used by companies like Uber, Huawei, Shopify and Lionbridge—and our team at VeraContent. Developed by Memsource, it's natively supported by Memsource Translate Hub, which uses AI-powered management features, like translation quality estimation.
Features:
App integration
Translation memory
Termbases
Quality assurance and 24/7 support
3rd-party machine translation engine connectors
CMS connectors
Pros:
Its features are robust compared to many machine translation systems
Users are pleased with its workflow improvements
It supports over 500 languages and 50+ file types (including custom)
Cons:
Expensive compared to other machine translation tools
Likely overkill for individuals or small businesses
Best for: midmarket and enterprise-level businesses looking for a customizable translation management system.
Cost: starts at $29 per month for up to 2 linguists and can go up to $369 or beyond for enterprise-level businesses.
See also: 23 AI marketing tools to transform your workflow right now
ChatGPT vs. machine translation tools
One of our project managers, Naomi Bleackley, tested out ChatGPT's translation abilites compared to Google Translate and DeepL.
Her first test was to translate a paragraph from Spanish to English. Here are the results:
| | | | |
| --- | --- | --- | --- |
| Source (ES) | ChatGPT (EN) | Google Translate (EN) | DeepL (EN) |
| Me parece muy fuerte lo que ha hecho la Cris, tío. La muy pava me ha dejado en leído, pero ha estado subiendo historias al Insta como si nada. Como me venga con excusas, se va a enterar. Estoy hasta el moño de que esté tomándome el pelo cada dos por tres. | I find what Cris did very intense, man. The cheeky thing left me on 'read', but she's been posting stories on Insta as if nothing happened. If she comes up with excuses, she's going to hear it from me. I'm fed up with her messing around with me all the time. | I think what Cris has done is very strong, man. The girl left me on read, but she has been uploading stories to Insta as if nothing had happened. If she comes to me with excuses, she's going to find out. I'm fed up with the fact that she's teasing me every now and then. | I think what Cris has done is very strong, man. She's left me in read, but she's been posting stories on Insta like it's nothing. If she comes to me with excuses, she's going to find out. I'm sick of her teasing me every now and then. |
Interestly, Naomi then used the same prompt on ChatGPT for a second time and got a different result:
"I find it really strong what Cris did, man. The silly girl left me on 'read,' but she's been posting stories on Insta like it's nothing. If she comes up with excuses, she's going to hear it from me. I'm fed up with her messing with me every now and then."
She then did a third test adding more context to the prompt: "Please make sure to maintain the same informal and casual tone as the original text, as well as the use of expressions."
While not 100% accurate, the result was pretty good and better than the Google Translate and DeepL translations:
"I can't believe what Cris did, dude. The silly girl left me on 'read,' but she's been posting stories on Insta like it's no big deal. If she tries to come up with excuses, she's in for it. I'm fed up with her messing around all the time."
She did another test that included a rhyme to see how the tools compared, again doing a second attempt with ChatGPT adding more context to the prompt. Here are the results:
| | | | | |
| --- | --- | --- | --- | --- |
| Source (ES) | ChatGPT V1 (EN) | Google Translate (EN) | DeepL (EN) | ChatGPT V2 prompt: Make sure to retain the rhyming aspect |
| Si eres marketer de agencia, enfócate en lograr excelencia. | If you are a marketing agency professional, focus on achieving excellence. | If you are an agency marketer, focus on achieving excellence. | If you are an agency marketer, focus on achieving excellence. | If you're an agency marketer, aim for brilliance in your endeavor. |
Again, while not perfect, the results from ChatGPT's second attempt with the prompt was the best. However, while closer to "good," it still needs a human to tweak the copy and make it shine. The results you get from ChatGPT all depend on your prompts—the better you get, the better the results will be. You have less input when using machine translation tools.
Pros of using ChatGPT for translation:
You can use prompts to indicate:

Tone of voice
Text type
Style
Regional differences

It's interactive
The AI aspect allows it to learn to become better
You can provide reference material
Human-sounding responses (compared to other MT)
Cons of using ChatGPT for translation:
It provides inconsistent and sometimes incorrect results
No updates since 2021 (language changes, etc.)
While good for translating into English, it's more limited for other "common" languages and even more limited for "rarer" languages
Prompts can take time to perfect, and take more time to input
Automated translations can do a lot, but they can't do it all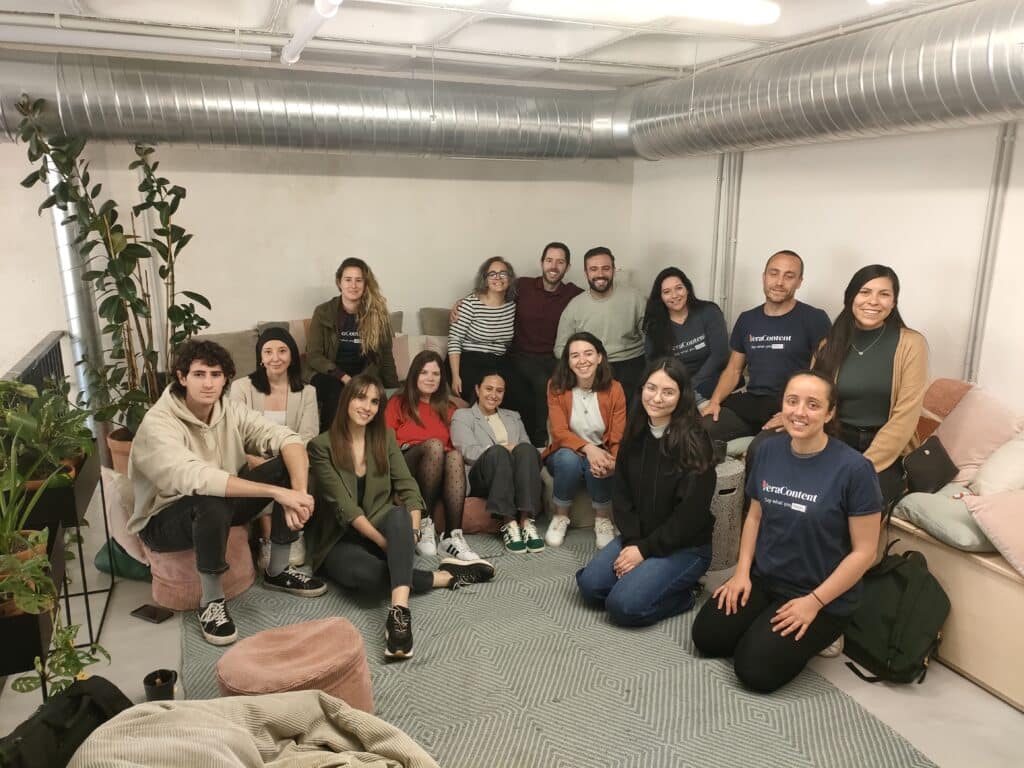 The future has a lot in store for machine translations. But currently, no MT on the market can replace the organic insight of a professional translator.
To really connect with global audiences, working with native linguists is imperative. While machine translations can churn out quick translations, it can't guarantee they will resonate with your audience.
At VeraContent, we know what it takes to ensure translations are not only accurate but also appropriate for each market. We draw upon our vast pool of vetted freelance translators to ensure each translation goes beyond the text.
Get in touch with the VeraContent team and ask about our creative translation services and find out if you qualify for a free content consultation.