All content marketers know by now that AI tools can't be ignored—it's just a matter of figuring out which ones work best for you.
As a content writer, I've naturally started testing out different AI marketing tools, including ChatGPT and other AI writing tools. But the more I research and talk to different people, the more I realize just how many useful tools we have to optimize our workflow.
Keep reading for nine ways content marketers can use AI marketing platforms and tools—from copywriting, editing and translation to generating graphics, images and personalized videos. Plus a breakdown of 25 of the best AI marketing tools to transform your workflow.
As new AI tools for marketing keep popping up left and right, we'll update this blog post regularly. If you have any tips or insights, please do let us know. Email us at mix@veracontent.com.
9 ways content marketers can use AI marketing tools—and 25 tools to try out!
There are many different tools available, some assisting with a handful of tasks while others are more specialized. You can either look for an "all-rounder" AI marketing tool or use a combination of a few. Luckily, many are free (though usually limited) or offer a free trial, meaning you can easily test them out without the financial commitment.
Here are nine ways that you can start using AI marketing tools to improve your workflow, including 25 tools to try out!
Copywriting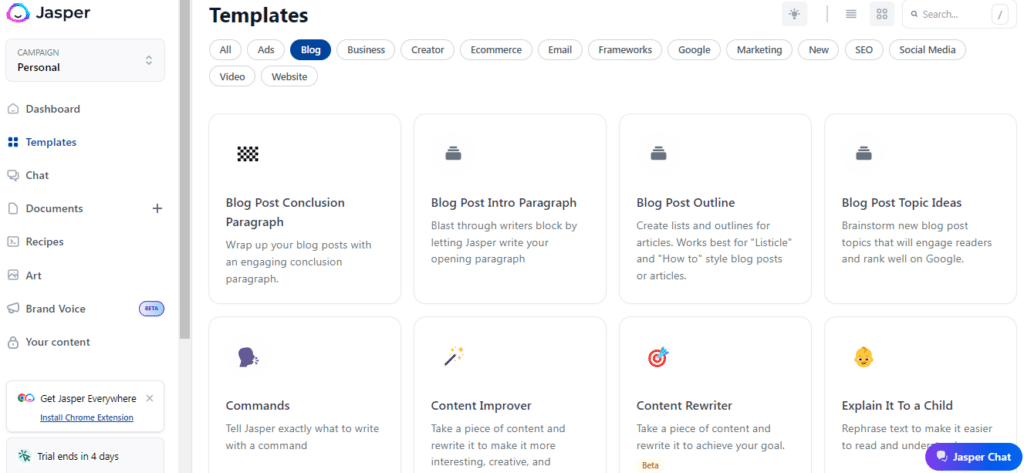 AI copywriting tools are among the first widely spread AI marketing tools that content marketers have started to explore. I've tried out a few and have been really impressed by the content produced.
However, it's important to note that while some of the best AI copywriting software can produce decent content, they're not yet producing the high-quality content that your brand needs. Like anything machine-generated, it still requires a human touch to make it more relevant to your brand, include personal examples, reduce repetition and ensure overall content cohesion.
Many AI copywriting tools provide templates for different content types, including blog posts, social media copy, newsletters, product descriptions, ad copy, press releases, landing pages, etc. For example, Neuroflash offers over 100 text types.
While new AI copywriting tools are joining the ranks every day, here are a few of the best ones to start out with:
1. Neuroflash
Cost: limited free packages to $220 per month
What you can use it for: copywriting, SEO analysis and image generation
Special features: With Neuroflash, you get the bonus AI image generator tool along with all of the AI copywriting features. Plus, you can search for and download images on Unsplash within the tool. It also helps you ensure your content is optimized for search engines, while offering a personal assistant-type tool (called ChatFlash) that you can use to help make your work easier.
2. Jasper
Previously named Jarvis, Jasper is one of the first AI copywriting tools. It doesn't offer a free version, but there is a seven-day free trial.
Cost: monthly packages from $39 to $99 (with customer pricing options for larger businesses)
What you can use it for: copywriting, SEO, image generation, translation, task assistant
Special features: Jasper packs a punch, offering many useful features beyond AI copywriting. One of its best features is the ability to create your brand voice and upload "memories," which includes company background information, target audience, competitors and product information. These features help Jasper create content more in line with your brand and products. The more you use it, the more personalized it gets. It also allows you to create or repurpose content in over 30 languages, gives your content an SEO score and has a browser extension so that you can use the assistant across the web.
3. copy.ai
Cost: limited free packages to $36 per month (with personalized packages available)
What you can use it for: copywriting
Special features: While not as powerful as Jasper and Neuroflash, copy.ai offers a more affordable option for content marketers primarily seeking copywriting assistance. It also includes over 90 different content writing tools and templates.
4. Reword
Cost: monthly packages from $38 to $64 (free 14 day trial)
What you can use it for: copywriting
Special features: Reword promotes itself as an AI writing tool that writes like a human. While the output is significantly more "human-like," what makes Reword stand out from the rest is its idea generator and research feature. Reword generates topics for you, letting you know which headings are best and even provides cited insights like quotes and statistics for you to add to your content. You're also able to train it to your website content, which then helps it pick up the right tone and audience insights, along with adding in internal links.
Editing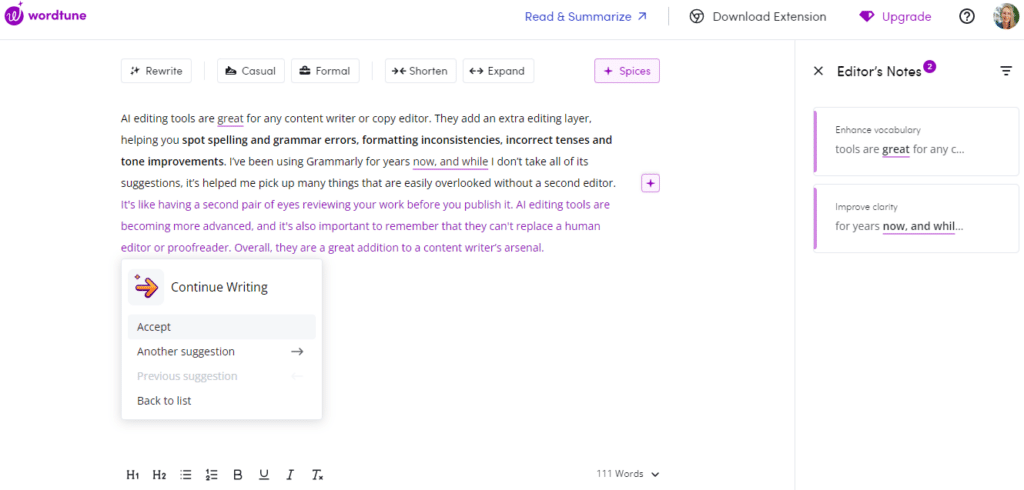 AI editing tools are great for any content writer or copy editor. They add an extra editing layer, helping you spot spelling and grammar errors, formatting inconsistencies, incorrect tenses and tone improvements. I've been using Grammarly for years now, and while I don't take all of its suggestions, it's helped me pick up many things that are easily overlooked without a second editor.
Many AI editing tools also include plagiarism detection and SEO analysis.
5. Grammarly
Cost: limited free packages to $30 per month
What you can use it for: primarily a grammar checker, but you can also use it for plagiarism detection, SEO analysis and readability score.
Special features: Grammarly is great for writers who either don't have a solid foundation of English or who tend to make a lot of typos. It also offers tone detection, helping you see whether your content comes across as formal, happy or rude. Plus, it has a browser extension, allowing you to use it across the web—including writing emails and social media captions.
6. Hemingway Editor
Cost: free or once off $19.99 for the desktop app, which allows you to edit offline
What you can use it for: Hemingway Editor focuses on writing style and readability. It looks at passive voice, adverb usage, complex words and sentence structure.
Special features: the editing tool primary focuses include shortening long sentences, writing in plain English and making content readable for all audiences.
7. Wordtune
Cost: limited free packages to $9.99 per month (with custom packages available)
What you can use it for: summarizing documents and editing
Special features: on the editing side, two standout features include the option to rewrite sections of content and add "spices," which includes enriching text with statistical facts, counter arguments, examples or even a joke—this feature is still in Beta so it's a bit glitchy for now. Meanwhile, Wordtune Read lets you quickly summarize documents, including reports, online articles and pdfs—this is great for pulling out the key points in large documents. As an editor you can use this to double check that the key points are in fact correct and covered in the article.
Translating your content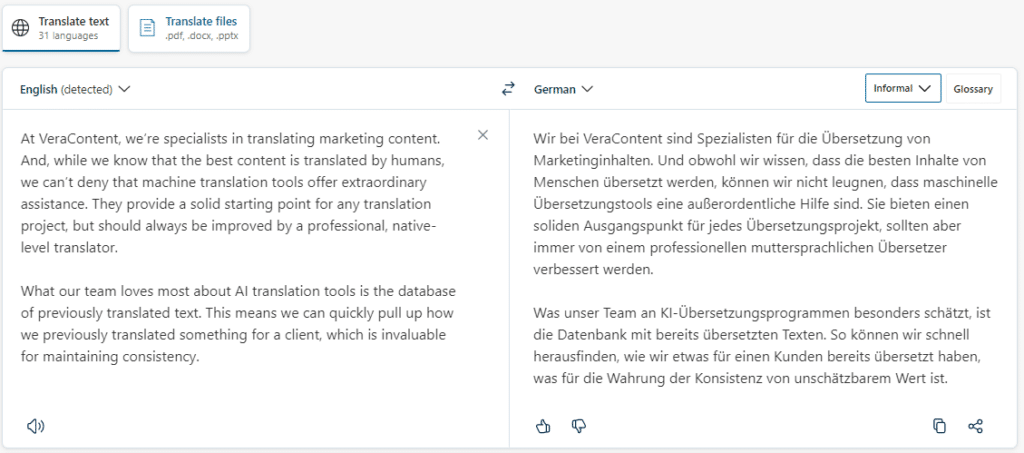 At VeraContent, we're specialists in translating marketing content. And, while we know that the best content is translated by humans, we can't deny that machine translation tools offer extraordinary assistance. They provide a solid starting point for any translation project, but should always be improved by a professional, native-level translator.
What our team loves most about AI translation tools is the database of previously translated text. This means we can quickly pull up how we previously translated something for a client, which is invaluable for maintaining consistency.
See also: Why the translation of marketing content is much harder than you think
8. DeepL
Cost: $8.79 to $57.49 per month (with a 30-day free trial)
What you can use it for: translate and write content (the writer feature is still in Beta)
Special features: primarily a translation tool, DeepL allows you to copy and paste content to translate as well as upload full documents for translation and translate entire web pages with the Chrome extension. It also allows you to adjust the tone of the translated text.
9. Phrase (Frm. Memsource)
Cost: $29 to $369 per month (with custom packages available)
What you can use it for: translation and managing translation projects
Special features: Phrase is great for automating localization workflows and managing translation projects. You can also integrate it with over 50 other software to further streamline your workflow and generate data-driven reports on your translation projects.
10. LingoSync
Cost: limited free use, $4.99 to $70 per month
What you can use it for: translating videos
Special features: LingoSync allows you to translate your videos using an AI-generated voiceover in over 40 languages simply by uploading the video, selecting the language and then downloading the video.
See also: 5 machine translation tools that are better than ChatGPT
Kick-starting idea generation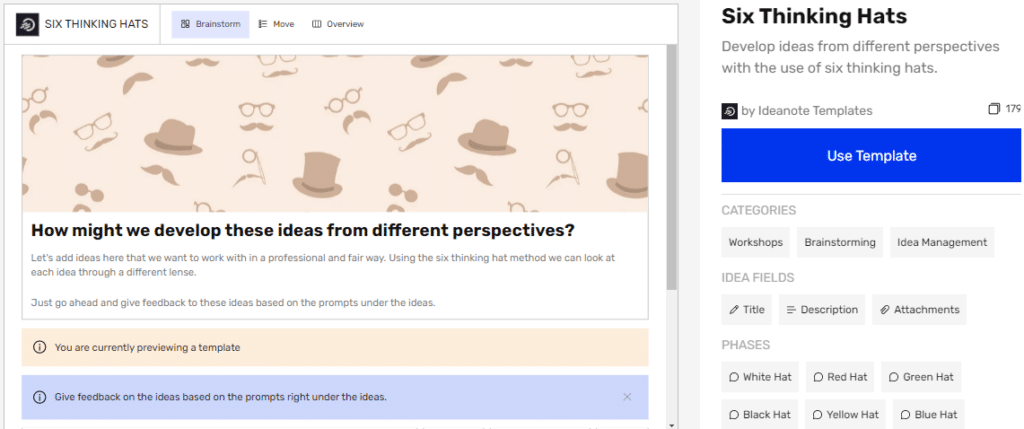 According to Hubspot, 33% of marketers who use AI use it to generate ideas or inspiration for marketing content. AI is there to save you from writer's block, creativity stumbles and lack of ideas. Apart from ChatGPT, which provides endless ideas and inspiration from just a few well-described prompts, a few other AI marketing tools specialize in kick-starting idea generation.
11. WriteSonic
Cost: $12.67 per month (free trial of 10,000 words)
What you can use it for: copywriting, editing, SEO analysis, image generation, idea generation and chatbot builder
Special features: Apart from the AI copywriting features, WriteSonic offers great idea-generation tools, including startup, growth, listicle, YouTube and blog topic ideas. It's also available in over 25 languages.
12. Ideanote
Cost: free to $49 per month (depending on number of members)
What you can use it for: collect and generate ideas, employee engagement, virtual brainstorming and innovation
Special features: Ideanote offers multiple templates to guide you through various types of idea generation—from improving customer satisfaction to launching new products. The AI takes your team through the entire process, from setting up brainstorming sessions to collecting all team input and implementing ideas.
Building websites & apps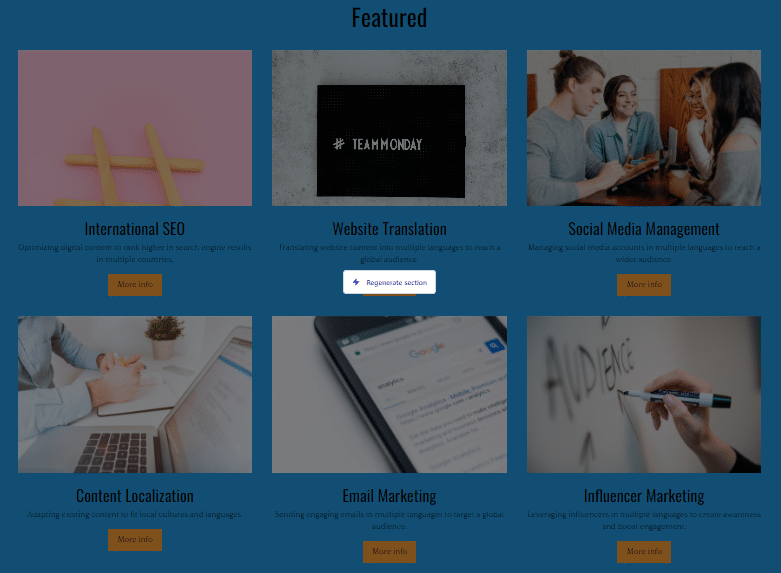 Multiple AI website builders are now available that allow you to generate custom web pages in minutes—without having to learn code! Simply select a template and answer a few questions for it to customize your website. Alternatively, for web developers going the fully-customed route, you can use AI code generators to help you quickly build website coding.
See also: 5 best practices to improve your multilingual website SEO
13. Durable
Cost: $12
What you can use it for: build custom websites, generate copy, organize customer data
Special features: Durable includes everything you need to build your website—from an AI business name generator to automatically populating your website with images and generating text. It's then easy to manually edit for further customization.
14. Bubble.io
Cost: very limited free offering to $349 per month
What you can can use it for: create apps for desktop and mobile web browsers
Special features: Bubble.io a great co-code platform for building your own products without coding experience.
Creating presentations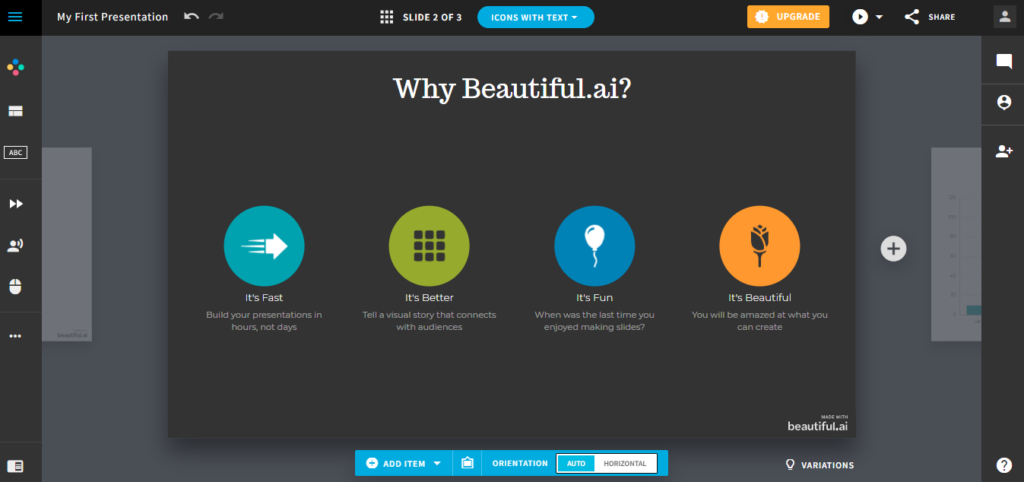 Gone are the days of spending days creating the perfect presentation that not only includes the right information but looks amazing. With the help of AI, you can create custom, brand-appropriate presentations that incorporate a range of graphics—including interactive graphs, images and graphics.
15. Beautiful AI
Cost: $12 to $40 monthly
What you can use it for: create smart slides, presentations and reports
Special features: a standout feature from Beautiful AI is the data visualization tool that allows you to easily create professional charts, diagrams and graphs with your data. It also syncs in live-time, meaning remote team members can easily collaborate on presentation builds.
16. Microsoft Designer
Cost: limited free package with more features available with any paid Microsoft 365 Personal or Family plan
What you can use it for: generate images, graphic design, presentations and reports
Special features: since Microsoft Designer is integrated with AI text-to-art generator DALL-E 2, you can create your own graphics to include in your presentations or other designs. Similar to Canva, you can create your own brand kit and use it across multiple templates that are easily searchable thanks to AI.
Generating graphics & visual content management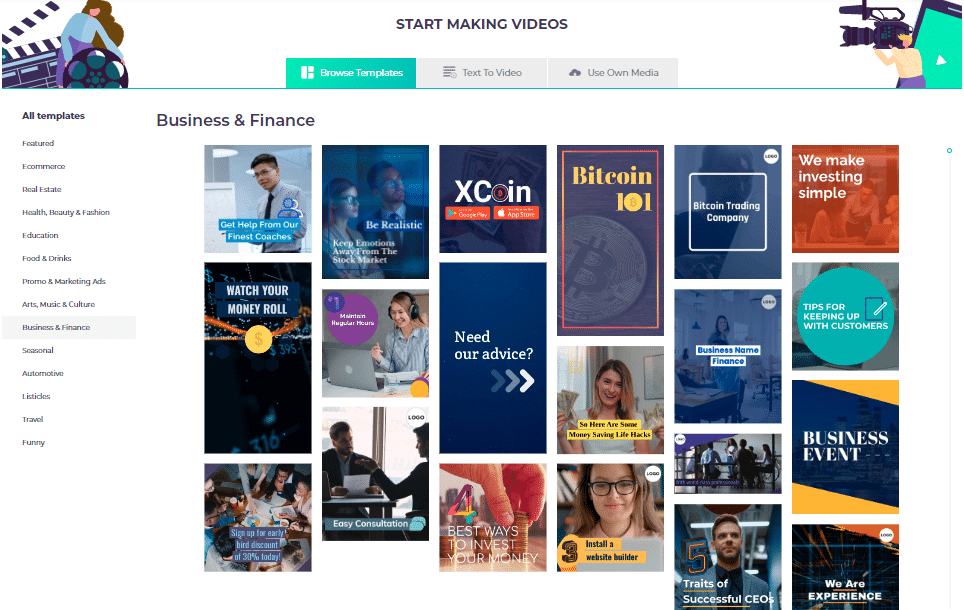 Like the AI presentation builders, there are many text-to-art generators as well as AI platforms that help you manage your visual content. The technology behind AI generators is quickly developing, but what you get out of them heavily depends on what you put in them. Perfecting your AI prompts is especially relevant when generating images, as the more detail you can convey about what you want, the better the output will be.
It takes time to get there. Your first few prompts will likely produce some strange images, but the more you practice, the better the images will get.
See also: Multilingual graphic design: Why it pays to hire specialists
17. Dall-E 2
Cost: limited free use then works off credits in $15 increments
What you can use it for: image generation
Special features: DALL-E 2 has delivered a new AI image generator quality benchmark. With its superior natural language understanding, you can further control the images in terms of style, subject, angle, background and location.
18. Designs.ai
Cost: $29 to $69 per month
What you can use it for: graphic design
Special features: Designs.ai is a great graphic design tool that helps with everything from using AI to match colors, generate font combinations and edit graphics. It also includes a logo and video maker. I'd imagine it's quite useful for social media managers and paid ad campaign managers who need to quickly create visual content within brand guidelines—it also helps you create the copy. Another key tool is using the text-to-speech feature that converts scripts into voice overs in over 20 languages, tones and pitches. However, the voiceovers do still sound very machine-generated.
19. Kive.ai
Cost: limited free packages to $85 per month
What you can use it for: visual asset library
Special features: Kive.ai lets you create a library of all of your visual assets—from video to images—to easily sort through the content and create mood boards and briefs in minutes. You can use it to extract frames from a video as screenshots to import into a brief. It also automatically tags all content for easy reference.
Creating personalized videos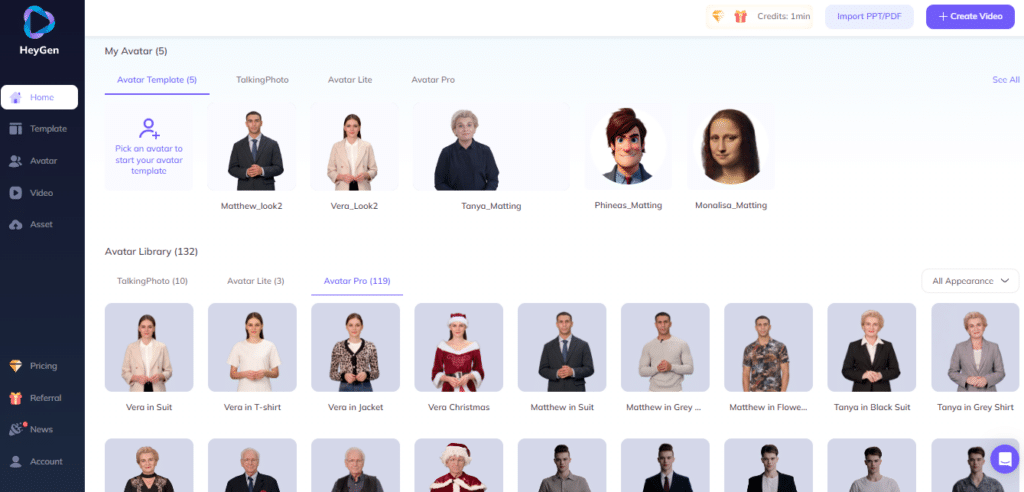 From creating full-on explainer videos to editing video content, AI is quickly advancing into the video production world. For content marketers looking to create short clips for social media or longer explainer videos for their website, it's now pretty easy to make them yourself—even with no video skills.
You can also create fun training and onboarding videos for internal use—simply record yourself talking and let AI turn it into an interesting video.
See also: Audiovisual translation: How VeraContent approaches video translation
20. Heygen.com
Cost: $24 to $180 per month
What you can use it for: creating videos
Special features: Heygen.com is a pretty powerful tool that lets you create custom avatars, clone your voice, do face swaps and use text-to-speech features. You can choose between over 40 languages. While the audio features do still sound very machine-generated, as voice cloning technology advances, you'll eventually be able to create full videos of yourself talking without even having to record them.
21. Descript
Cost: limited free package to $24 per month
What you can use it for: transcription, podcasting, screen recording, subtitles/captions and video and audio editing
Special features: Descript automatically transcribes your videos and audio clips and allows you to edit them directly on the transcription—a particularly helpful feature for podcasters who want to easily cut out sections of the recording. Another great feature is removing filler words, like "um" and "like," in audio text and its quick screen recorder tool. It also has a few templates you can use to spice up your video content.
22. Synthesia
Cost: $30 per month (with custom packages for larger businesses)
What you can use it for: creating AI avatars, AI voices (in over 120 languages and accents) and video templates
Special features: while Synthesia includes many of the features that other AI video tools have, it's much more user-friendly—making it a great starter option for those looking to use AI video tools.
23. Guidde.
Cost: limited free use, $20 to $44 per month
What you can use it for: creating video documentation
Special features: Guidde is a GPT-powered tool that helps you explain the most complex tasks in seconds with AI generated documentation. The tool captures the steps you take right from your browser and then creates customized videos and text to explain your process. This is great for businesses who need to explain how to use their tools, software and platforms, but it's also really useful for internal onboarding documentation to get new team members quickly up to speed.
Automated meeting notes and transcriptions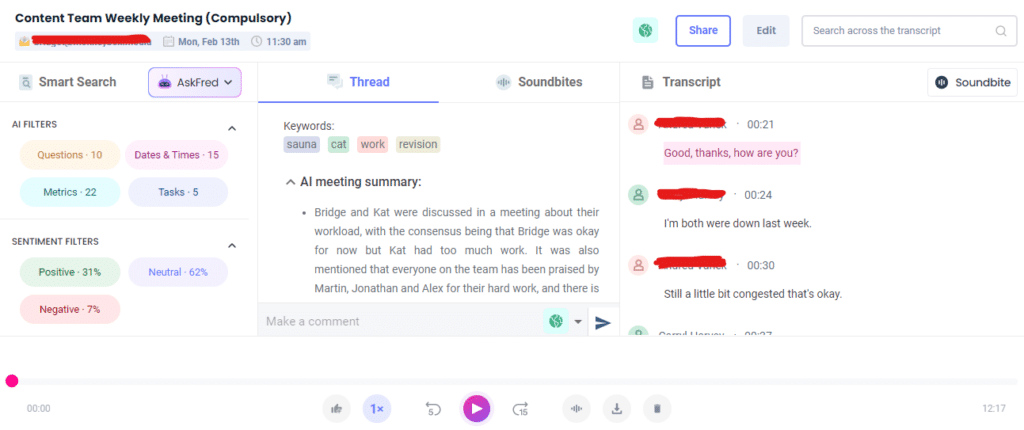 Can't remember what was discussed in your quarterly strategy session? No problem. Now you can use AI to automatically transcribe all meetings and take notes for you.
24. Fireflies
Cost: limited free package to $19 per month
What you can use it for: record and transcribe meetings, summarize and analyze voice conversations.
Special features: one of the standout features of Fireflies is that you can set it up to automatically transcribe all of your online meetings in your calendar. Then, as soon as the meeting is finished, you'll receive an automated transcription with a summary of the call. It also analyzes conversations to see who spoke the most, plus it can automatically create tasks in Asana, Trello and Monday.com by using voice commands during meetings.
25. tl;dv
Cost: extensive free plan and $20 per month for Pro
What you can use it for: transcribing and summarizing online meetings
Special features: a standout feature of tl;dv is that you can easily mark specific moments in meetings as they happen to automatically summarize them for you afterwards.
As content marketers, we can't ignore the power of AI for digital marketing
While diving into the many ways to use AI may feel overwhelming, it's not something we can ignore. As Marty Englander, a specialist in AI, said during an interview on The Content Mix podcast:
"It's coming, and it's not going anywhere. It's just going to get more and more and you don't want to be phased out."
Start by picking an area where you feel your workflow could be most optimized with AI and test out a few tools. If used effectively, AI marketing tools can transform your workflow and the content marketing you produce—whether it's ramping up the volume, creating content in more languages or producing new content types.
At VeraContent, while we understand the benefits of AI, we still believe in the power of humans. Especially when it comes to marketing translation. Nothing can beat the effectiveness of incorporating local, native-level insights into your global marketing strategy.
Get in touch to find out if you qualify for a free content consultation and how we can collaborate, together with AI, to create something unique for your global audience.