The benefits of multilingual marketing campaigns are immense—increased reach, brand awareness and revenue are just the start. But the results you get weigh heavily on the theme you choose or the story you tell.
A successful global campaign can transcend cultures while easily adapting to each region. Keep reading for six examples of successful multilingual marketing strategies for some inspiration for your next international campaign.
But why should you run a multilingual marketing campaign in the first place?
Why multilingual marketing campaigns reap such huge rewards
Running a multilingual marketing campaign is one of the best ways to break language barriers and reach a wider audience.
And the rewards go deeper than that.
The language you use to communicate with your target audience significantly determines whether they'll be interested in buying from you or engage with your content. The key factor at play is connection.
As humans, we value personal connection. In fact, 64% of consumers want brands to connect with them. And language is the most powerful way to connect.
When brands speak to global customers in their own language and take note of their cultural nuances, they're far more likely to get engagement. This is because it's easier to build a personal connection with a brand over content you can relate to.
Since 57% of customers are likely to increase their spending with a brand they feel connected to—and 76% will buy from them over a competitor—you really want to build that connection.
Simply put: connection leads to increased loyalty and bottom-line growth.
If you need help with adapting your content for local audiences, download our free interactive guide below: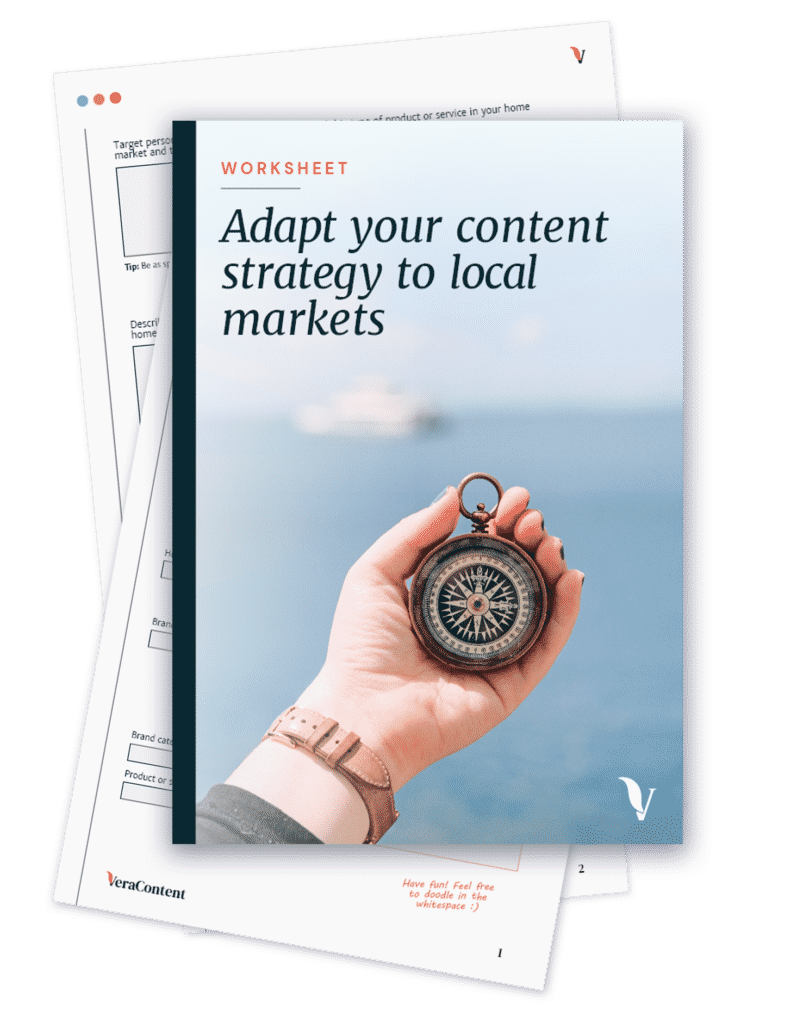 Get your free guide by filling in the form below!
Let's dive into a few examples of multilingual marketing campaigns.
Example #1: Duolingo's fake "Love Language" trailer
As an early April Fools' joke, popular language-learning app Duolingo and streaming service Peacock announced they were launching a new dating show: "Love Language."
The supposed show would feature 10 "confident and flirty singles" from across the globe coming together "to share a house in paradise in hopes of finding true love."
But the twist: none of them speak the same language.
The ad features contestants speaking their native languages, including German, English, French and Japanese, with the narrator speaking English. Localized subtitles were added for the country-specific social media accounts.
This multilingual content marketing campaign received a lot of engagement on Instagram and TikTok while also getting some media coverage—including a feature on Variety.
Why it worked:
It played on a global experience—the struggles of not understanding another language—paired with a globally popular television format—dating shows. Featuring an internationally relatable concept made using the same ad across markets easier, simply translating it into multiple languages for each region to understand and engage with.
Here is the post shared on their global English Instagram account:
And from their Spanish Instagram account:
Example #2: Dunkin' Donuts Donut Day
Love for donuts is global, right? Dunkin' Donuts thinks so.
Every year, on June 7th, Dunkin' Donuts branches worldwide hand out free donuts with any beverage to celebrate National Donut Day. The global campaign started in 2013 when the popular donut brand reached out to Facebook fans in 24 countries—including Chile, New Zealand, Russia and Spain—with an interactive donut menu widget. They created a custom widget for each market, including personalized menus and campaign messaging in seven languages.
That specific campaign also leveraged the famous "Dunkin' Times Square Billboard." For one day, the billboard showed the most interesting Dunkin' Donuts from around the world along with their flag.
Consumers globally now look forward to their yearly free donut to celebrate National Donut Day. And each year, the localized social media accounts let customers know—in their native language—that they can come in for a free donut with every beverage purchase.
Here's an example from their Brazilian Instagram account:
And from the localized account for Singapore:
Over to Germany:
Example #3: Sanicat's black cat awareness campaign
We're particularly proud of this multilingual marketing campaign at VeraContent. Not only did it bring great results, but it got us shortlisted for the European Content Awards 2023.
To celebrate Black Cat Awareness Month in October 2022, Sanicat launched a campaign to raise awareness around black cats and change people's perceptions of them—from bringing bad luck to good luck.
Sanicat encouraged their followers to share their photos and stories of black cats across their Instagram and Facebook profiles. The stories were collected from eight markets and translated into seven languages to share across the local Instagram and Facebook pages—including Italy, France, Netherlands, Portugal, Spain and LATAM.
This interactive and international content marketing campaign showcased Sanicat's care and dedication to all cats, while allowing the brand's followers across the world to participate in Black Cat Awareness month in an impactful way.
See also: Content marketing translation: A fast way to scale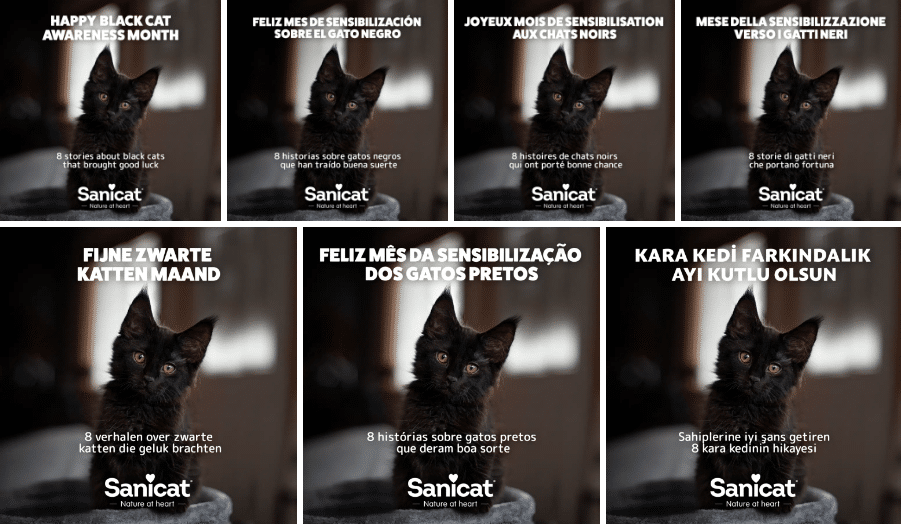 Example #4: WWF's Earth Hour campaign
This year, WWF rebranded its public awareness campaign, Earth Hour, to "Biggest Hour for Earth." Since climate change is a global issue, this campaign extended worldwide.
In an article published on Marketing Beat, WWF's senior director of brand and communications was quoted as saying:
"A challenge that many marketers face is how to re-energize an iconic well-established global brand without negatively impacting it, while allowing maximum localization for optimized relevance in a world where uber-local is king."
So what did they do?
They localized the "Biggest Hour for Earth" campaign. Each country-specific social media account did its own version of promoting the campaign—all focused on a similar theme of spreading the message of climate change and encouraging followers to join in on setting an hour aside to switch off all appliances on March 25th.
While some regions posted quite general content, others localized it specifically to their region. For example, WWF Turkey mentioned the great losses that the country suffered after the earthquake earlier this year, calling on locals to use the 60 minutes to remember those who had passed.
Meanwhile, the Italian campaign included a Spotify playlist for people to listen to while out in nature for 60 minutes, and the Indonesian campaign included various "Switch Off" location points for people to gather.
While #BiggestHourForEarth was the global hashtag for the campaign, there were also localized versions, including #1JamUntukBumi (for Indonesia), #DünyaSaati (for Turkey), #SchenkDerErdeEineStunde (for Germany) and #LaHoradelPlaneta (for Colombia).
See also: Multilingual content production: A five-step process
Here is the post from the UK:
And from Turkey:
Example #5: Starbucks' "Meet Me at Starbucks" Campaign
The "Meet Me at Starbucks" campaign featured short clips of Starbucks customers from 28 countries around the world showing their experiences at the popular coffeehouse.
While the video was translated into multiple languages, the message was easily captured even without it. The simple joy of meeting your loved ones in a coffee shop transcends cultures and borders.
And in this example, the use of experiences from real people helped to further create that sense of community and connection that people crave from brands.
Example #6: Too Good To Go's "Old Me" vs "New Me"
Too Good To Go is a Social Impact company, with a mission to inspire and empower everyone to fight food waste together. Their app is the world's biggest marketplace for surplus food, helping more than 75 million registered users connect with 134,000 active businesses to rescue and save unsold food at local grocery stores, coffeehouses, bakeries, restaurants, and more.
It currently operates in Europe (the United Kingdom, Ireland, France, Germany, Denmark, Spain, Italy, Portugal, Switzerland, Sweden, Belgium, Poland, The Netherlands, Austria and Norway); and America (Canada and the USA). Because of this widespread reach, they rely on a multilingual marketing strategy to reach each market's key audience.
One of their ongoing content themes used across their localized Instagram accounts is an "old me" vs "new me" post where each one focuses on a food item. In it, they provide a tip of how to better store the food for longevity or other ways to get more use out of it. From roasting your melon seeds to better ways to store your cherries, mozzarella and artichokes. These posts are translated and shared across the local Instagram accounts.
Why it works? Too Good To Go's audience is are heavily invested in living more sustainably. These posts show simple tips that anyone can adopt—no matter where you live. The theme transcends cultures as they focus on foods that are commonly used globally.
See below an example of an "old me" vs "new me" post in English (left) and translated into Dutch (right):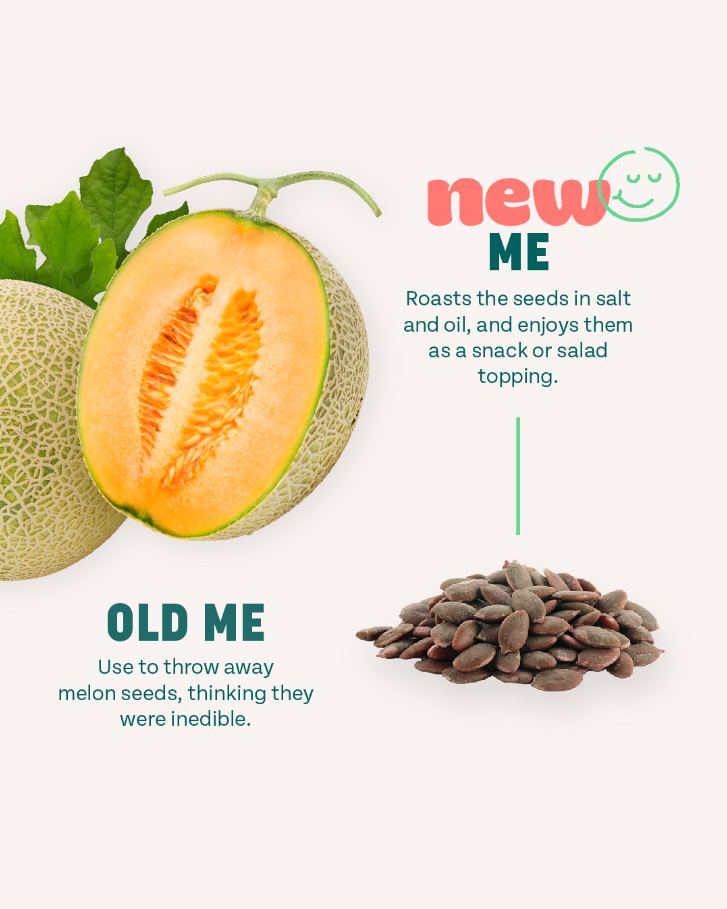 VeraContent helps Too Good To Go with its multilingual social media platforms, running community management for six different language markets: Netherlands, Sweden, Norway, Denmark, Ireland, Belgium.
Creating a global connection is key to successful multilingual marketing campaigns
Whether it's a love for donuts, black cats or having coffee with friends, there are many common themes you can use to connect with a global audience. As long as the message, and feelings related to the message, are universal, the same campaign can be used to connect with audiences globally—with a bit of localization, of course.
If you need help with localizing your multilingual digital marketing campaigns, reach out to our team for help. Get in touch to find out whether you qualify for a free content consultation.