Effective strategies for global marketing engage international audiences in their own language—and that means a lot more than just straightforward translation. While the best examples of global marketing strategies come from large businesses and corporations, brands of any size can implement similar techniques to reap a bigger return on their marketing spend.
To show you what we mean, we've rounded up five of the best global marketing strategies from top brands to inspire you in 2023.
What is global marketing?
Before we dive into our global marketing strategy case studies, let's first address a crucial question: What is global marketing?
At its most basic level, global marketing means planning, producing, placing and promoting your brand name across borders. Creating an effective global marketing strategy requires thoughtful international audience research, insight and innovation. There are also many different international marketing ideas and methods—from localized websites to local social media accounts.
To become proficient in global content marketing, first you need to establish your brand's core values and identity in your home market. Then you need to understand the cultural differences of the new markets you're trying to reach and be able to effectively adapt your strategy for each one, while staying true to your brand.
In one of our podcast interviews with Mário Costa, marketing and communications director at MANZ, he explains:
"For global brands, your core values and brand identity should be the same across all markets. Having a global strategy when you work in so many different countries is key; without it, you lose the identity, experience and sense of belonging to your brand. That's why it's very important to have a global strategy , and then adapt it to different realities."
See also: Hiring a global marketing manager vs. an agency: How to decide
Two of the most common strategies for global marketing are standardization and localization:
Marketing standardization emphasizes using a standardized brand strategy across borders to create a consistent brand experience worldwide.
Marketing localization takes a more personalized approach to each international market's strategy, honing in on cultural differences.
Which approach is right for your business depends on the nature of your brand, your ultimate goals and the specific markets you want to reach.
In short: global multilingual marketing is all about understanding the similarities, differences and nuances of your target markets and incorporating them into your brand's content strategy.
See also: 5 ways to ensure a quality localization – even if you don't speak the language
Benefits of global marketing strategies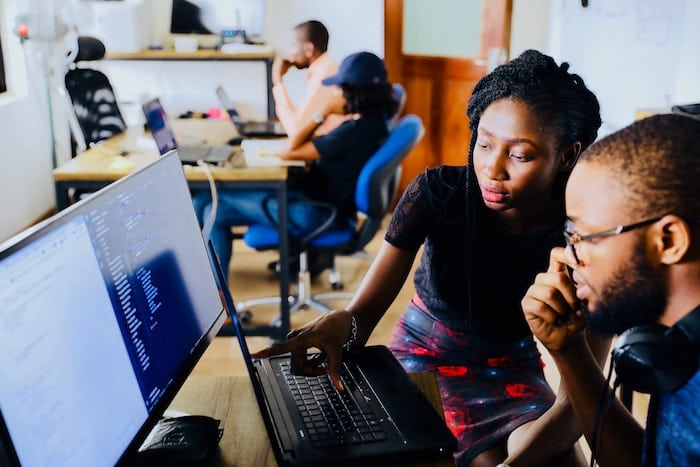 Implementing a global marketing strategy brings countless benefits. The first, and perhaps most obvious, is the opportunity it gives you to grow your business! Being able to communicate and market your product on an international level effectively allows you to reach a larger customer base that would otherwise be inaccessible.
Reaching global markets not only creates the potential to grow your business and increase your revenue but also helps you cultivate a deeper understanding of your brand identity.
Once you take a thoughtful look at how to market your business in other countries and cultures, you'll have a better idea of the values you want your brand to convey. Plus, successful strategies for international marketing have the power to make brands more reputable both at home and internationally.
"People are looking for content that resonates with them and that they can really connect with. When you use local stories and people in your marketing, your audience sees a reflection of themselves—and that's what makes global marketing campaigns successful." – Kyler Canastra, head of business development at VeraContent
See also: Translation vs. localization: What's the difference and why should you care?
5 global marketing strategy case studies
One of the best ways to learn is by example, so we've put together a few of our favorite successful global marketing strategies implemented by recognizable international brands.
Let's dive into our global marketing strategy case studies, starting with Airbnb's strategic use of global social media campaigns.
See also: Content marketing events: Which are worth attending?
1. Airbnb: Creating a global message on social media
Social media platforms are one of the most effective ways to reach a global audience, and Airbnb was undoubtedly aware of this when they launched their "Made Possible by Hosts" global marketing campaign in 2021.
In response to the difficulties that the travel industry faced during the pandemic, Airbnb created a series of films with footage from photographers staying at real Airbnb properties. The realness and relatability of this content sparked a desire to travel among their followers.
These strategic videos were shared as YouTube content and also promoted on Airbnb's various social media channels—with a few of them reaching millions of views. Airbnb successfully honed in on the universal urge to travel, see the world and experience new places. In return, the brand has seen a positive response and an increase in traffic to their website.
This campaign is a perfect example of the power of global social media campaigns to reach international audiences on a local level:
"You need to really connect with the locals in the market you're trying to reach—whether they're your colleagues, customers or people in your network—to make sure that the strategy you're creating applies to their reality. Otherwise, what you're doing is not useful at all and it won't work." – Mário Costa, Portugal-based marketing and communications director at MANZ.
Tip: Many of the best international marketing ideas involve getting locals involved as much as possible. That way, locals see and hear stories about people who are just like them—which is far more relatable than translated content from other countries.
See also: 12 multilingual social media tips that really work
2. Wise: Content creation for all target markets
While Airbnb took an approach more focused on standardization, Wise's global marketing strategy is very much inspired by content localization. Formerly known as TransferWise, this online money transfer SaaS business takes the time to create content for each and every one of its potential customers.
Because of the international nature of Wise—it currently operates in 80 countries and 54 currencies—the company has recognized the need to provide customized information for customers worldwide.
That's why you'll find helpful articles regarding just about every type of currency and money transfer situation possible on Wise's blog. They share information regarding living abroad, travel, international business and more, with dozens of blog posts customized to 43 countries!
See also: Global marketing standardization vs. localization: A helpful guide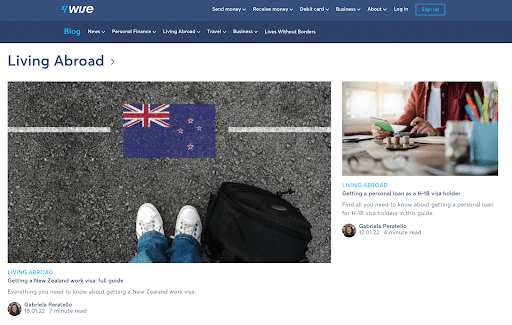 Wise is aware that their customers live across the globe and all have unique needs and desires. So, their highly localized strategy is a great way to create trust with their customers while building a reputation for themselves as an authority in their industry.
If your brand has the potential to help clients in different countries, creating customized blog content for different regions is a great way to establish your authority on a subject matter and gain brand reputability.
When producing blog content, be mindful to only create content that is useful:
"Stop producing content just for the sake of producing content. I think companies should definitely invest more time in long-term audience building." – Allan Formigoni, Portugal-based content and email marketing manager at WeTravel
3. Spotify: A highly personalized product for each and every user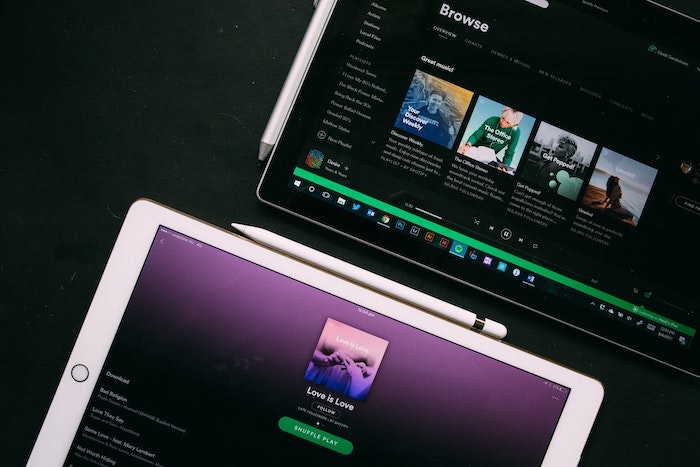 While Wise customizes its content by country, Spotify takes localization to a whole new level with their international product strategies. The brand centers on creating a highly customized product, both according to region and individual user.
Spotify introduces users to new artists that they might like, subsequently allowing artists to reach global audiences. Their hyper-localization technique keeps users engaged, as they're constantly being fed new music in line with their current tastes, while also giving artists an incentive to join the platform.
Spotify customizes its platform not only by country but also by user. Its "Discover" and "Daily Mix" playlists, as well as its annual "Spotify Wrapped" round-up, make consumers feel as though they're getting an extremely personalized experience.
If the nature of your product doesn't allow for such extreme customization, take a look at another Spotify localization strategy: their "Thanks 2016, it's been weird" campaign. Originally launched in the US, UK, Germany and France, this campaign focused on niche pop culture references from that year in each of its target markets. Below you can see examples of the campaign in the US (left) and the UK (right):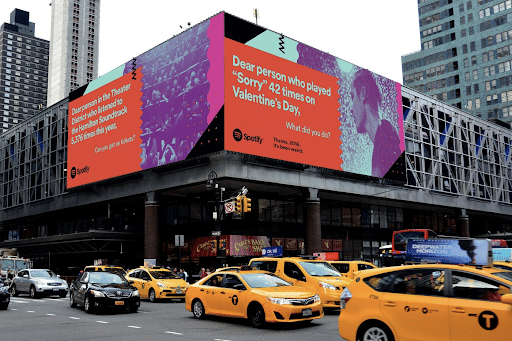 Thanks to big data analysis of what their users were listening to, Spotify's campaign allowed them to connect with consumers on a very personal and humanistic level. The campaign got hundreds of thousands of shares on social media and increased general awareness of the online streaming service.
By interpreting data about your users and understanding cultural nuances in your target markets, you can create trust with potential users that may not yet be familiar with your brand.
See also: Hiring a global marketing manager vs agency: How to decide
4. IKEA: The perfect combination of standardization and localization
In IKEA's global marketing strategy case study, you'll find a curated combination of standardization and localization. IKEA has branded itself as aesthetic, affordable and, above all, Swedish. By embracing the uniqueness of their Scandinavian roots, IKEA has created a brand identity that is emblematic of the company.
However, they also take the time to hone in on local nuances when necessary. IKEA is always careful to blend Swedish and local aesthetics in their catalogs. For example, they show larger kitchens in their US catalog images than in their Chinese catalog images, where kitchens and living spaces are generally much smaller.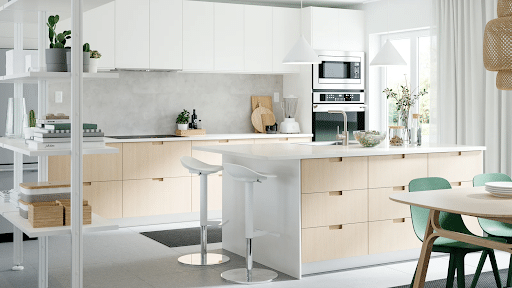 There are currently IKEA stores operating in 60 countries and, while a big part of their global marketing strategy is embracing their trademark Swedish design and look, they are careful to make cultural adjustments when necessary.
To follow in IKEA's footsteps, first create a strong global brand identity, but be prepared to make changes in your marketing strategy when cultural differences arise.
See also: How to localize your content for more effective marketing in Europe
5. McDonald's: Understanding and embracing cultural differences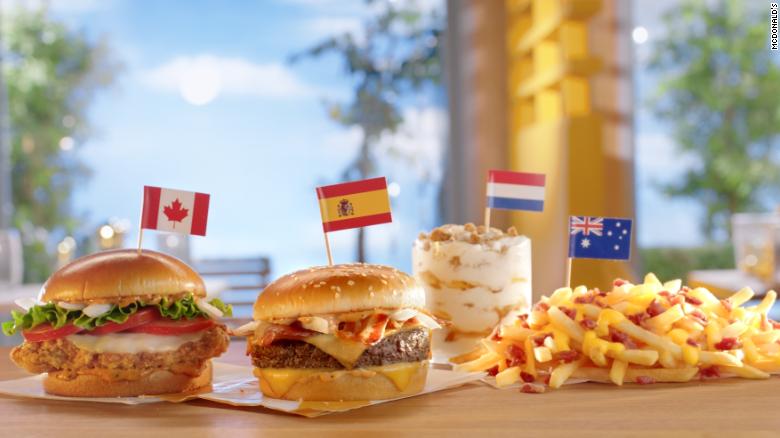 For our final case study, let's look at the global marketing strategy of McDonald's. With a presence in 118 countries, most people on this planet recognize the brand's emblematic Golden Arches.
Key to their success has been paying close attention to cultural differences and fully embracing them. McDonald's menus vary significantly from country to country, offering a customized burger in every nation that they operate in.
They are careful to adjust their menu items according to cultural norms. For example, they primarily sell chicken and vegetarian cuisine in India, where the majority of the population doesn't eat beef.
Depending on the country, you'll find McDonald's menu items like the Ebi Burger in Hong Kong, the Bulgogi Burger in South Korea and countless other takes on their signature food.
Making cultural norms a priority in your global marketing strategy can be a good way to connect with consumers in an international market while creating a name for your brand.
See also: Glocalization: what it means and which brands are doing it best
Finding the right strategies for global marketing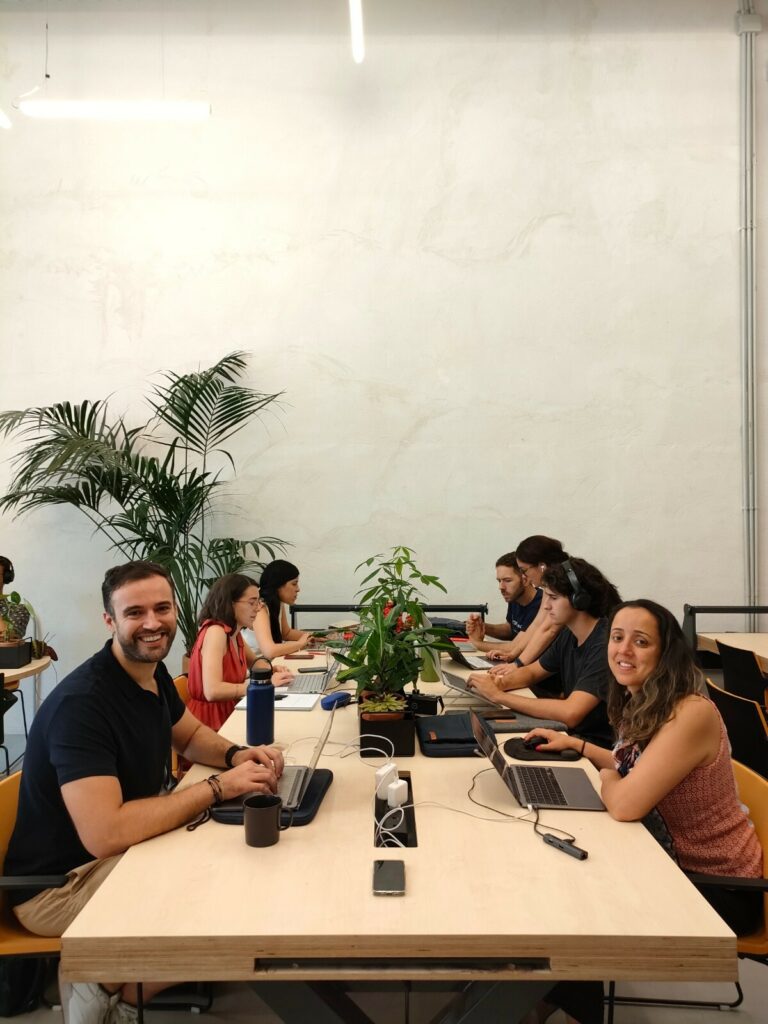 Strategies for global marketing range from standardization to localization and include everything in between, and choosing the right strategy for your brand depends on various factors.
Your current brand positioning, target markets and long-term goals should all be considered when designing a global marketing strategy.
At VeraContent, you'll find a team of professionals trained in tailoring your global marketing strategies for brands of all shapes and sizes. Reach out today to learn more about what we do and whether you qualify for a free content consultation.
Before you design your global marketing strategy, download our free worksheet and learn how to adapt your content to local markets.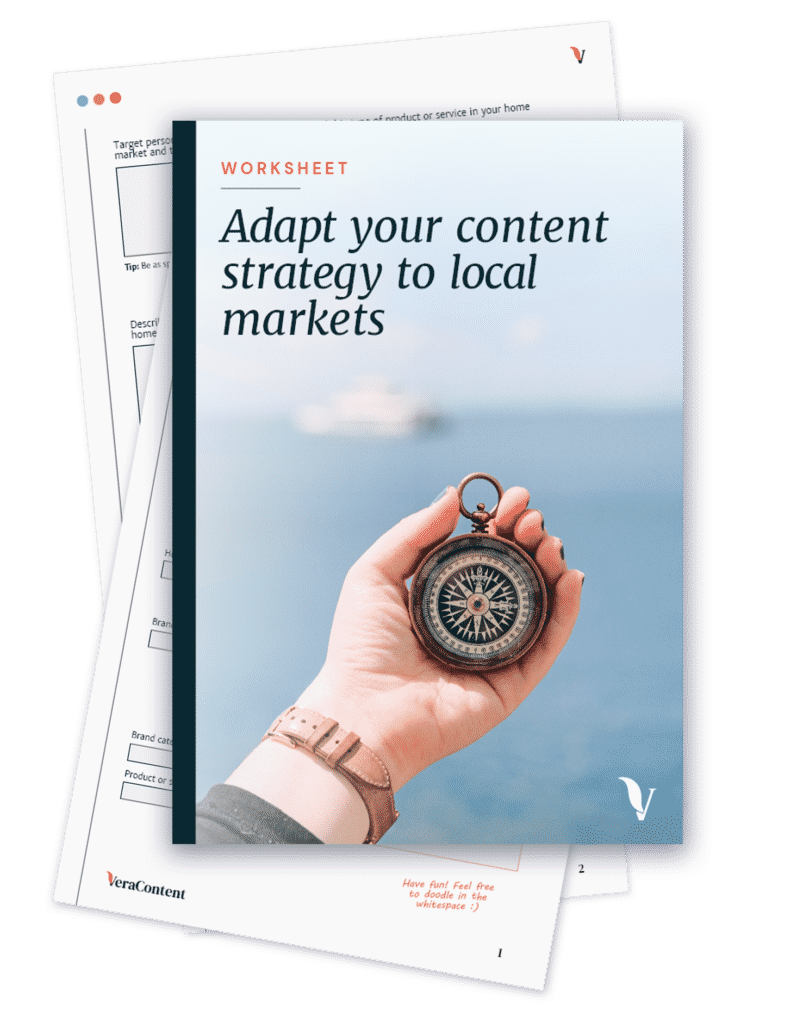 Get your free guide by filling in the form below!