Many international brands choose social media localization as their first port of call when connecting with regional audiences and competing with local brands. But before creating fresh content for each new region you enter, first look at the content you already have that can be reused and repurposed.
Below we've shared five effective ways to localize your social media without necessarily creating fresh content—plus six things to consider when going local.
What is social media localization, and why is it important?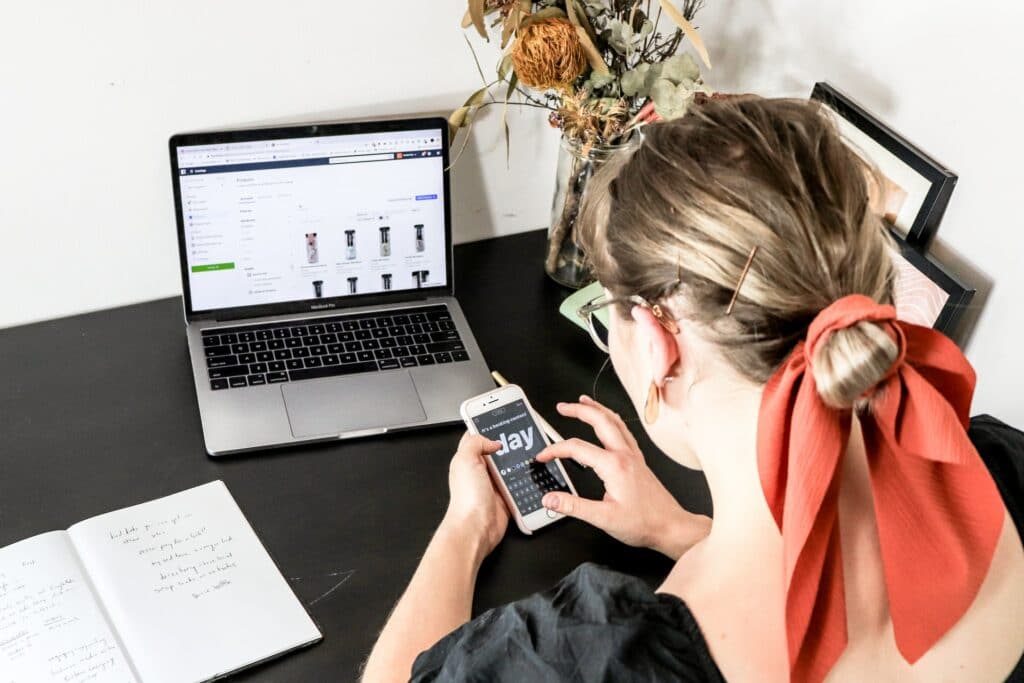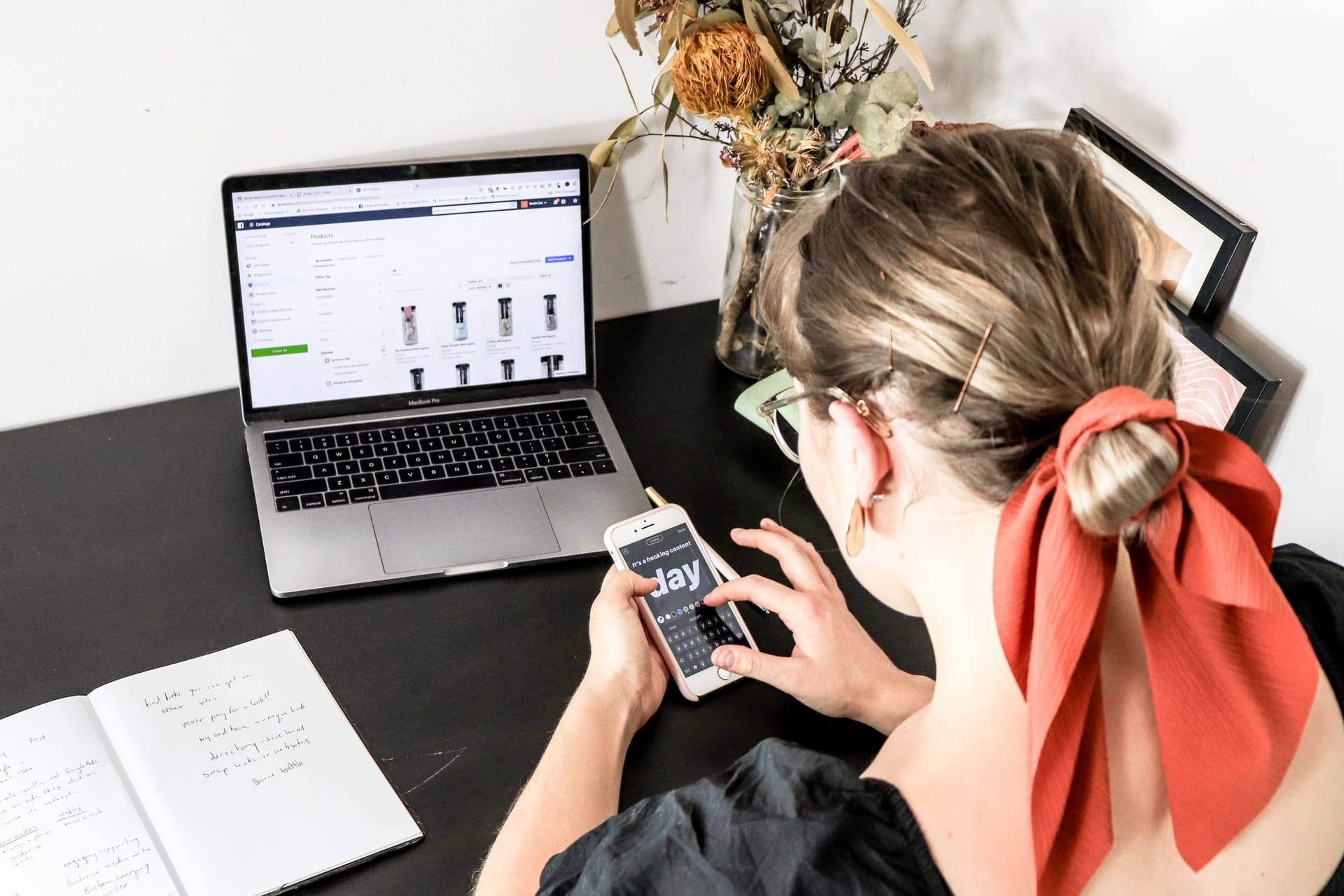 Social media localization is the process of adapting your social media strategy and content to specific regions. It's more than multilingual content creation—it's about truly capturing the essence of your audience's cultural nuances and current affairs to craft culturally relatable messaging.
Localizing your social media content helps you better connect and engage with local audiences and, in turn, connect with more people worldwide: 72% of brand engagement and 66% of content impressions happen on local pages. Why? Because it's content they can relate to.
High engagement levels indicate a stronger connection between your brand and your audience. As most social media platforms limit the reach of content that people don't engage with, higher engagement also brings in more impressions—meaning more eyes on your content!
In short: When you post multilingual content that resonates with your local audiences, you'll get more reach purely by encouraging more impressions on your content.
Customers want brands to speak to them in a way they can understand.
"You don't speak to people in Russia like you would to people in Brazil. Everything has to be adapted to the local markets, from the content to the social media channels." – Bertrand Serrano, global digital marketing manager at Danone.
See also: How to localize your content for more effective marketing in Europe
How do I localize my social media without creating fresh content?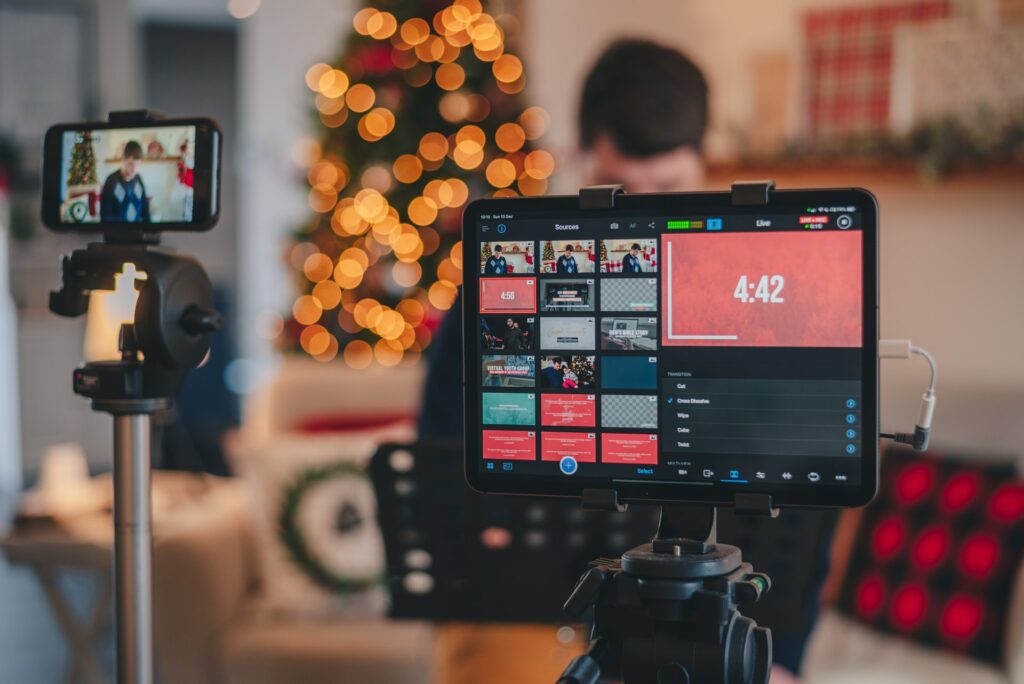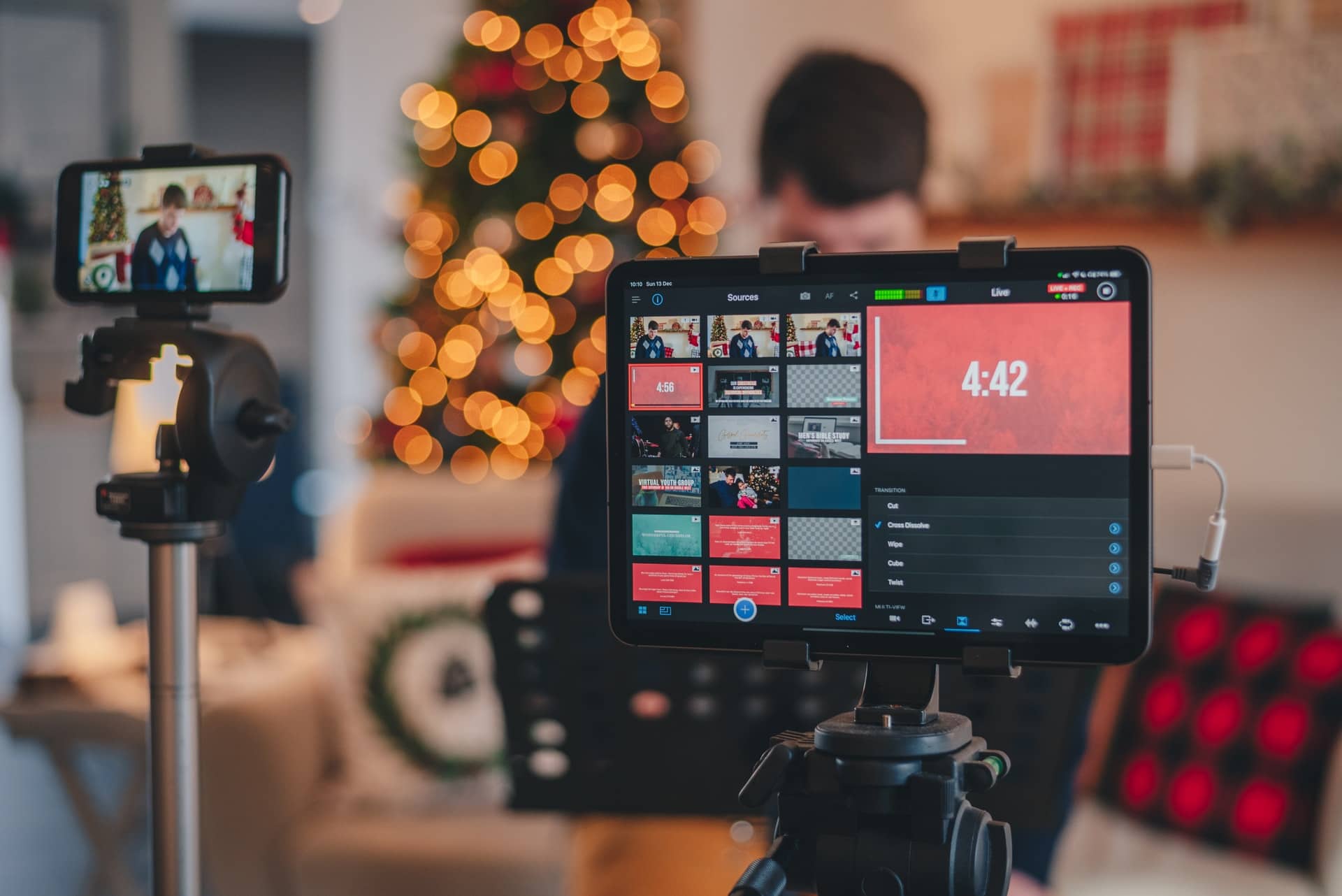 Launching into new markets doesn't have to mean creating social media posts from scratch. If you've already established your social media presence in your key market, chances are you've already got a ton of social content—that content just needs to be localized.
As Joroen Corthout, co-founder of Salesflare, said in an interview on our podcast:
"There's often way more value in taking a step back and improving things, than running faster and doing more."
See also: Localization strategy: Your guide to engaging a global audience
1. Adapt for cultural norms and references
You may have a great Halloween campaign for one region, but that same campaign may not work for another. Ensure that you adapt your text and images to ones your target audience can relate to—including cultural norms and references.
"There are many moments in the year, like Valentine's Day, Christmas and Easter, that don't necessarily work in campaigns across all the markets your brand operates in. You need to pay attention to everybody and make adjustments for each market—which isn't easy." – Mário Costa, Portugal-based marketing and communications director at MANZ
See also: How to write engaging copy for social media and why it's important
Download our ultimate guide to managing multilingual social media platforms: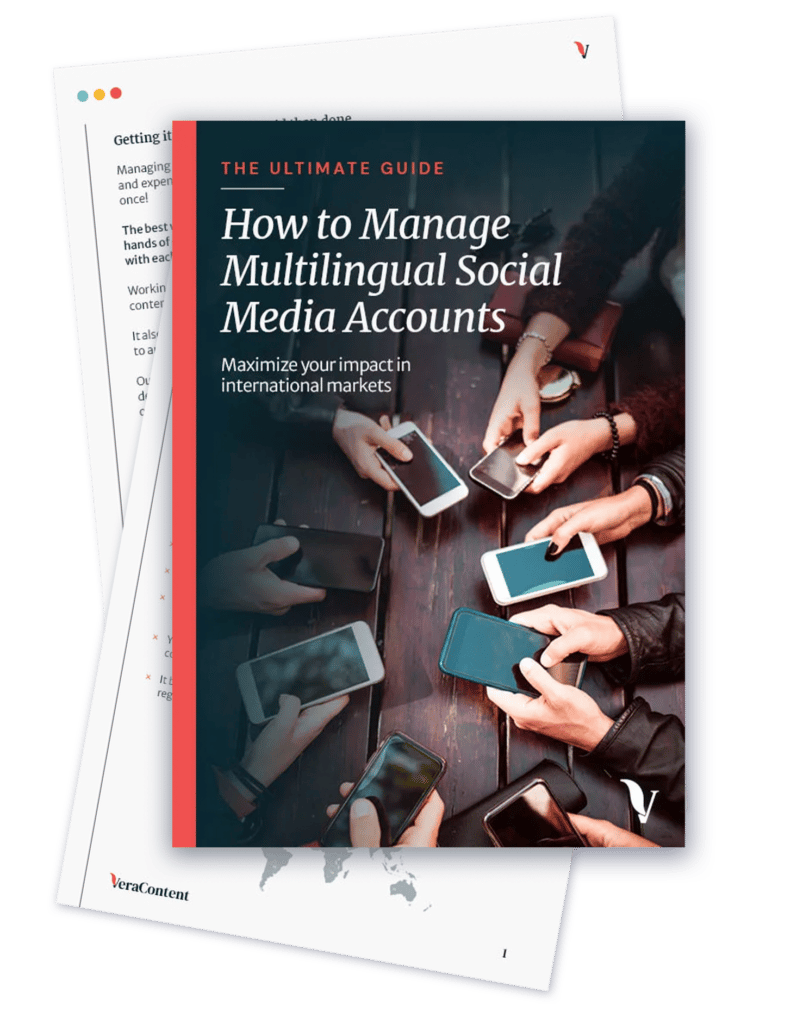 Get your free guide by filling in the form below!
2. Localize for language, slang and tone of voice
Adapting your social media content to different languages involves more than translating the text. There's a big difference between translation and localization, and it mainly lies in context.
Your original content may have included slang terms or regional phrases that can't be directly translated. In this case, you'll need to localize the text to ensure that it still makes sense in the target language. You can do this either by finding a new phase to substitute the idea or restructuring it in a way that leaves out the reference.
Remember that slang is often region-specific, not language-specific. As in the example below from Allan Formigoni, content and email marketing manager at WeTravel, even though some regions may speak the same language, they'll use very different slang.
"The same slang used in Argentina, for example, is definitely different from the slang used in Chile or Peru. So we needed to connect with people that would really know the local slang so that we could use it in our communication and content."
See also: Too funny for words: How to translate humor in multilingual content
3. Highlight local events and timely news
Local events are a great way to bring in regional content on your localized social media channels. A great example of this is the Dutch beer brand Bavaria. The brand created a special campaign for Dutch Carnival, a popular carnival only celebrated in two southern provinces in the Netherlands.
The campaign was rolled out on social media and made locally relevant by urging locals to campaign for #carnavalvrij (to have a holiday during the carnival). The content was viewed more than 4 million times and received thousands of shares, likes and comments.
Here's another example of using timely local news events:
One of our clients, Riley Cillian, runs a few apps that people around the world use to make friends. Every month, we create a social media calendar for each app: for one of the apps, LivU, we run a global Instagram and Facebook page in English, as well as a localized version in Turkish. While the content is always lighthearted, in the summer of 2021, our community manager in Turkey suggested to our project manager, Jake Fagan, that we change our planned strategy for that market as the country was experiencing devastating wildfires.
We decided to create and share a post showing our solidarity with the people of Turkey, and pause the planned calendar for some time.
The text in the image says, "We are burning inside!" followed by the cities that were most affected.
The caption reads, "Our hearts are with you, Turkey!"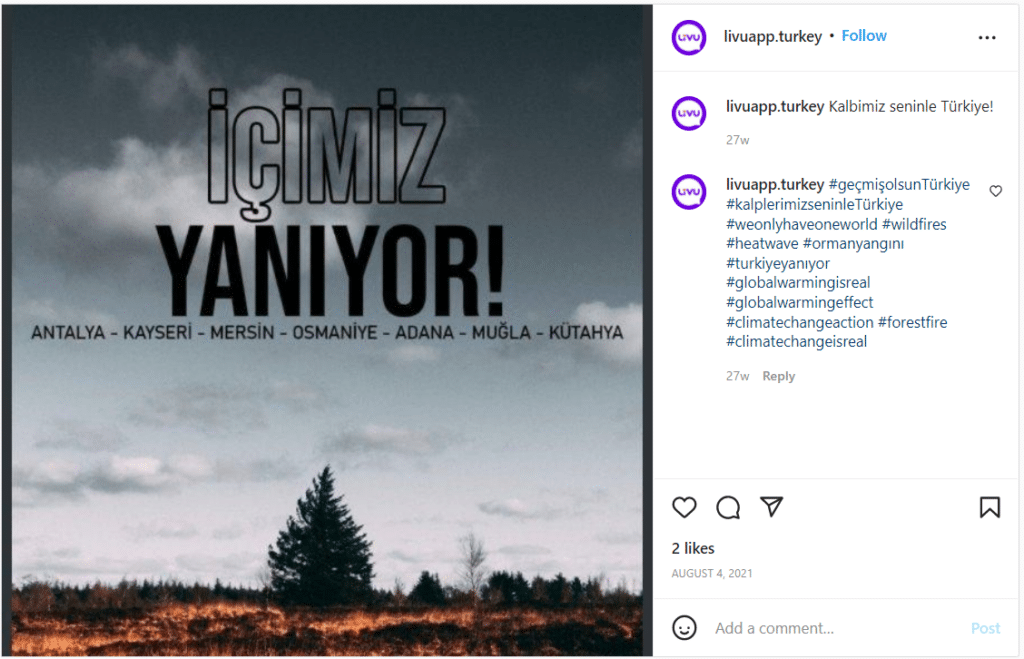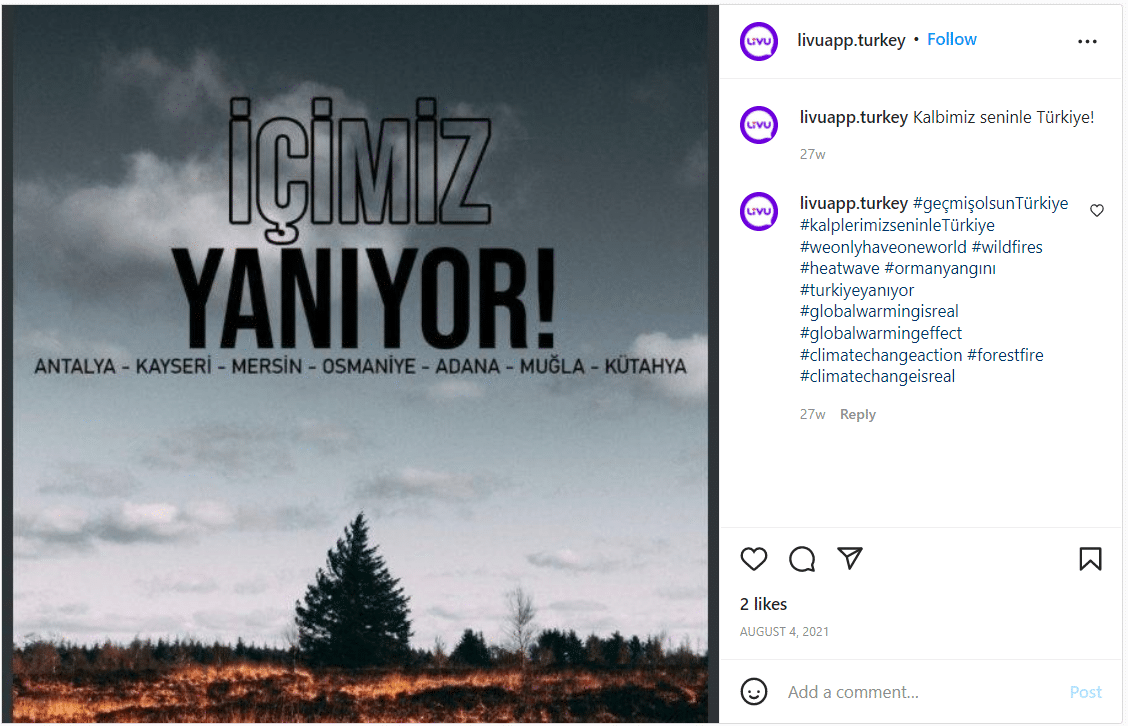 The client was very touched by our initiative, and we are grateful for having been the client's voice in such a difficult time.
"At VeraContent, we believe examples like these highlight how important it is to work with trusted locals on the ground. We take the time to nurture relationships with all of our collaborators so that not only do they feel comfortable sharing their insights with us, but so that you can also rest easy knowing your brand is in good hands at every turn." – Jake Fangan, project manager at VeraContent
See also: How to build successful relationships with local community managers and our checklist for hiring, onboarding and nurturing relationships with freelancers
4. Use localized imagery
Localized content is more than what you say and how you say it. It's also about the visuals you use. Appearances matter.
Use imagery that relates to your local audiences, including the people highlighted in social media campaigns, colors, and landscapes.
See also: How to set up a design workflow for global social media accounts
5. Edit symbols and formatting
Localization is more than text and images; it also includes things like:
Address formats
Date formats
Units of measurements
Currency
Alphabet
Another one that may be overlooked is the differences in hand signals. For example, while the backward peace sign is perfectly acceptable in countries like the US, it can be seen as offensive in certain countries like the UK and South Africa. Similarly, with the different meanings of the "OK" sign.
See also: 5 ways to ensure a quality localization, even if you don't speak the language
More social media localization tips
1. Consider localization when creating content
When planning your social media localization strategy and creating the content, consider the localization process from the beginning. It's much easier to rework existing copy to match a new region if it's well produced in the first place.
Not all content will easily translate into all regions, such as celebrations like Thanksgiving, Easter, or other regional celebrations. Because of this, try to avoid creating too much of that type of content. We're not saying avoid it altogether, but rather focus on creating more flexible content.
Another thing to look out for is the overuse of puns and locally funny ideas:
"It's very easy to create puns and funny sentences in English. But when you try to apply them in Polish, German or Portuguese, it's quite challenging to transfer the funny idea into the same funny idea in the local market." – Mário Costa, Portugal-based marketing and communications director at MANZ
See also: Multilingual graphic design: Why it pays to hire specialists
2. Focus on the platforms that your local audience is using
Preferred social platforms differ around the world. Just because one platform works well in one region doesn't necessarily mean it will work well in all regions. Make sure to do international audience research to find out where your audience is hanging out and adjust your local social media marketing strategy accordingly.
For example, in a recent interview with Allan Formigoni, Portugal-based content and email marketing manager at WeTravel, he mentioned that they use LinkedIn a lot in the US but, in Latin America, they get more engagement in Facebook groups. In the same interview about global marketing campaigns, Kyler Canastra spoke about YouTube being a really popular platform in the Nordics.
It's also important to remember that the content you create needs to be relevant to the platform and how that platform is used.
"For example, on Instagram, the user is ready to tap or scroll and will jump to the next post within seconds. So you only have one second or less to catch their attention." – Joana Aina Sánchez, head of project management at VeraContent
See also: 12 multilingual social media tips that really work
3. Use Facebook's Global Pages
If Facebook is one of your key social platforms, make sure to use Global Pages. This feature allows you to have your content under one unified corporate profile with the ability to change the language, imagery, and posts by region.
The page automatically directs visitors to the version targeted to their region, but they can also easily switch to other localized pages.
Check out our guide on how to post in multiple languages on Facebook.
In an interview with Linda Ghabain, former social media manager at Nilfisk, she spoke about the brand moving towards having one global social media channel:
"That doesn't mean we won't be able to target locally. We will still target our content towards the local markets, but we would benefit from a global channel perspective. In the case of Facebook, for example, it's best if you use a global Facebook structure for a company this size."
See also: Global vs. local social media accounts: Which one's right for your business?
4. Work with local influencers
Reach out to local—and relevant—influencers in each region to help build confidence among your local audiences. Not only does this help get your brand out there, but it also makes your audience feel like you're part of their community.
At VeraContent, we recently worked with a local catfluencer, @russianblueforyou, to organize a giveaway with our client, Sanicat, on her Instagram profile. In this case, @russianblueforyou first reached out to Sanicat to discuss the collaboration. And, since Sanicat was already starting to think about working with local influencers, we decided to go for it with the help of our local community manager.
"We saw this opportunity as a chance to increase the brand's followers in this specific market, as well as get trust and confidence in their products thanks to the opinion of a trusted influencer among the cat-lovers community." – Aurélie Berson, project manager at VeraContent.
In an interview with Livia Gonçalves, senior account manager at Media.Monks, she emphasized the importance of finding the right fit when working with local influencers:
"Even within the same brand, you need to find the right influencer for each product or service that you're communicating. Sometimes you'll even have a few different local influencers for each of the different products that you're trying to promote."
In the case of the Sanicat and @russianblueforyou collaboration, the influencer needed to be the right fit for the brand. Similarly, from @russianblueforyou's perspective:
"It is important to me as a catfluencer that I promote products, not because I get them for free, but because I like them and I stand behind the brand. I only want to promote products that I think are great, and that will be good for my cats."
In the days following the giveaway, the Sanicat profile had an over 70% increase in reach, 480% increase in engagement and almost doubled their followers. Seeing the giveaways, other catfluencers reached out to the brand and they've since had a few more successful collaborations.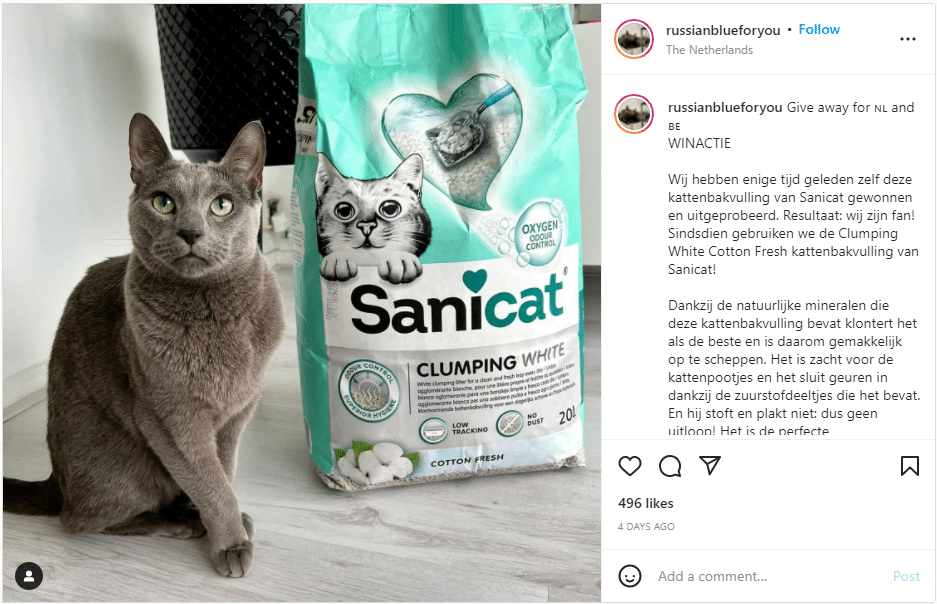 Fun fact: Relatability is two times more important than popularity when it comes to influencers. So opt for smaller, more regular influencers than mega-influencers and celebrities—they're more relatable and budget-friendly.
See also: 9 influencer marketing strategies used by the pros
5. Focus on localized themes
Not all audiences will relate to the same content themes. It helps to have a strategy that guides you on what sort of content to share in each region.
For example, in our podcast episode with Lauren Pedersen, CMO at Airthings, one of their key content themes is promoting the importance of air quality—but they always localize their general message for each of their target audiences:
"It's important to have an overall strategy when it comes to what themes you want to talk about in each of the markets you want to be in. And to make sure that they really are localized and relevant for the audience."
Best way: Connect with a social media localization agency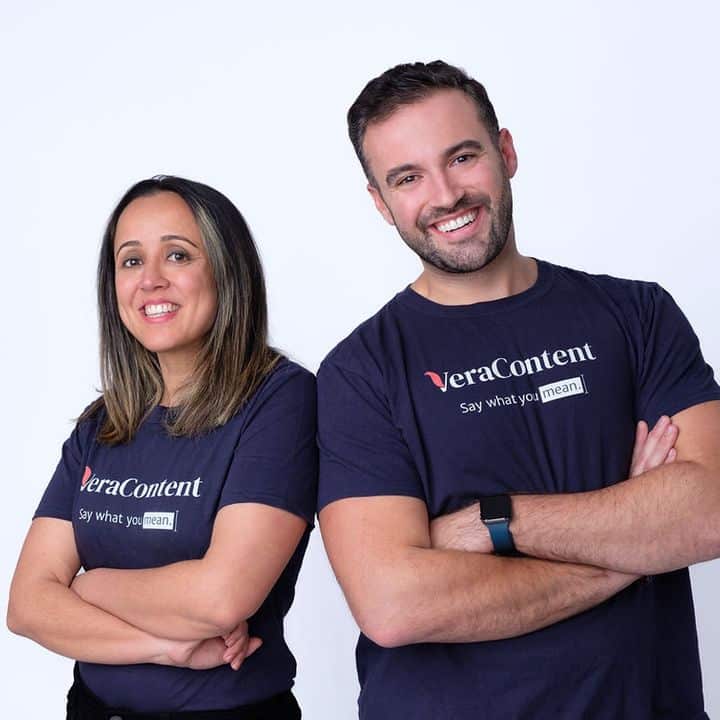 The best way to build a successful multilingual social media strategy is to connect with a social media localization agency who has a deep understanding of the region that you're targeting, as well as contacts on the ground in each local market you wan to enter.
As we mentioned earlier, localized social media marketing entails more than multilingual content creation. It's about getting in tune with the local nuances and cultural norms of each region—and the only way to do that is by working with a local in the region, i.e. someone who lives in the country and understands the audience personally.
At VeraContent, we specialize in social media localization, and we also work with freelancers around the world based in the various regions you're targeting. So, you'll know that the person creating your localized content really knows what they're saying.
Check out more about our social media services and get in touch to find out whether you qualify for a free content consultation.