When you're managing multiple social media accounts, a good design workflow helps make the process a whole lot smoother—and way more efficient! At VeraContent, we manage multiple global social media accounts for our clients and have found that having a good design workflow process in place helps us stay on top of everything and helps us create better content.
Below are seven steps to designing an efficient workflow for managing multiple social media accounts—plus a few design workflow tips for creating content for multiple languages.
Tip: Sometimes it's best to get professionals involved. If you need help setting up an efficient design workflow—or managing your social media accounts entirely—get in touch!
See also: Social media localization: Go global without fresh content
7 steps to designing an efficient design workflow for global social media accounts
Here's an efficient social media workflow to follow when managing multiple global social media accounts:
1. Incorporate recurrent monthly content types in your strategy
It helps to follow a similar structure each month. For example, you can create a few different content types that you use each week/month when planning your content calendar.
For example, we've created seven content types that we repeat monthly for one of our clients. Every month, we post a quote, a fact, a "world day" highlight, a joke, etc. What's great about having recurrent content types is that you can create a template for each type that you just update each month.
Templates make the design workflow much quicker—plus they give your content a consistent look and feel.
"Having recurrent monthly content types is key as it puts everyone on the same page in terms of expectations. For example, I know that I will be working on two animations every month for a particular client, and our freelance designers also know what kind of work they'll need to do each month." – Esaú Gozalo, Digital Media Designer at VeraContent.
See also: How to create a solid multilingual social media strategy
Another idea is to incorporate ad hoc themes that you run for a few weeks at a time. For example, on our company's Instagram account we shared travel posts taken by our team members, featuring VeraContent merchandise on their trips around Europe over the summer. This travel campaign was incorporated into our newsfeed's grid that alternates with short clips from our podcast interviews.
2. Document your guidelines and best practices
At VeraContent, we're big believers in the importance of documenting all processes, guidelines and best practices for each project that we work on.
We use a combination of shared Google Sheets and Documents and Podio—a workflow and team collaboration tool. All processes are first documented on a Google Document or Sheet and then added to our internal database on Podio for easy access.
Following a documented process frees up time and energy for your team to do their best work, whether creative work, idea generation, or complex problem-solving.
Other benefits of documenting your design workflow include:
Improve efficiency among your team
Reduce mistakes and errors along the way
Improve the quality of your content
Retain knowledge within your organization
Ensure compliance by documenting best practices and any policies and regulations to follow
Onboard employees faster and outsource to freelancers easier
3. Plan ahead & create a social media content calendar
It's not easy to be creative on demand. Also, if you're quickly firing off content at the last minute, you don't have enough time to consider how the post will contribute to your long-term goals—let alone proof check!
Planning ahead is such an important part of an efficient social media workflow.
A best practice that our project managers implement on each account is working several weeks in advance. For example, our project managers ensure that all written copy for content for the month is ready at least a week before the month starts. This gives enough time for the designers to do their thing—with no last-minute stress!
It also helps to create a social media content calendar to get a quick overview of the full month. You can easily slot in the recurrent content types each week and see whether or not you have any gaps that you need to fill in with content. Calendars also give the entire team—and client—an idea of what's coming up and ensure that everyone is on the same page.
See also: How to make a blog editorial calendar in multiple languages
4. Use social media and design collaboration tools
Thankfully, there are many incredible social media and collaboration tools to incorporate into your workflow.
Canva is a lifesaver design collaboration tool for social media agencies. You can create templates in Canva which designers—and non-designers—can easily update each month.
For scheduling social media content, you can use tools like Buffer, Sprout Social, CoSchedule, Planoly, Hootsuite, Planable and many more.
"Planable is a collaboration tool for social media teams to work together on posts that they're planning for Twitter, Facebook, LinkedIn, and Instagram. They have a very neat and visual content calendar where they can plan, discuss, leave feedback and coordinate the content, and there's also an approval system. So it's an entire end-to-end workflow to help social media teams get from an idea to publish." – Xenia Muntean, Romania-based co-founder & CEO of Planable.
See also: Best content marketing platforms and tools: A comprehensive list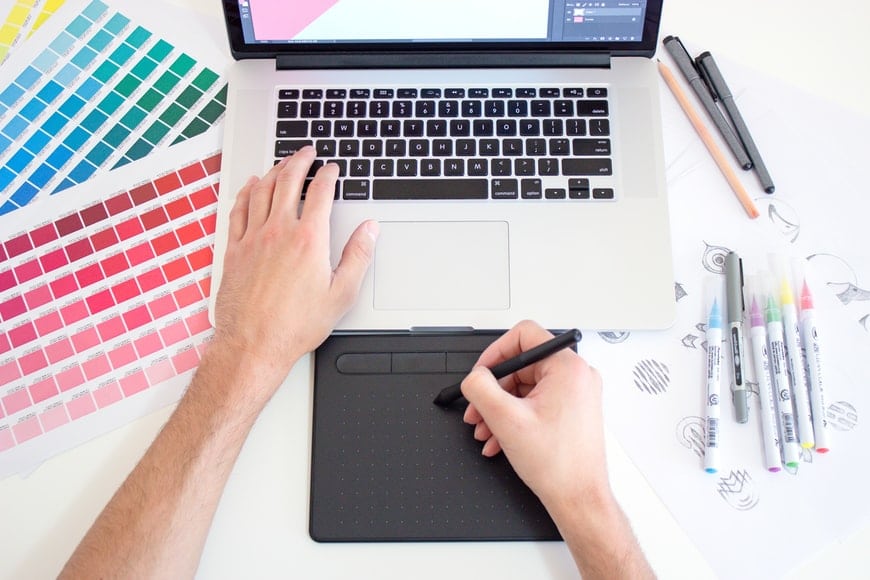 5. Set up a content creation workflow
When regularly creating content, it helps to develop a content creation workflow that you follow each month. An efficient workflow means that everyone involved knows what they need to do and when they need to do it.
A typical social media workflow looks like this:
Generate ideas for upcoming content and create the content calendar
Get approval on ideas and calendar
Start gathering assets and resources needed to create the content
Write the copy
Proofread all copy
Create the respective design imagery
Approve copy and imagery—ideally in monthly batches
See also: How to write engaging copy for social media and why it's important
Find out more about this in our ultimate guide to managing multilingual social media platforms, download yours below: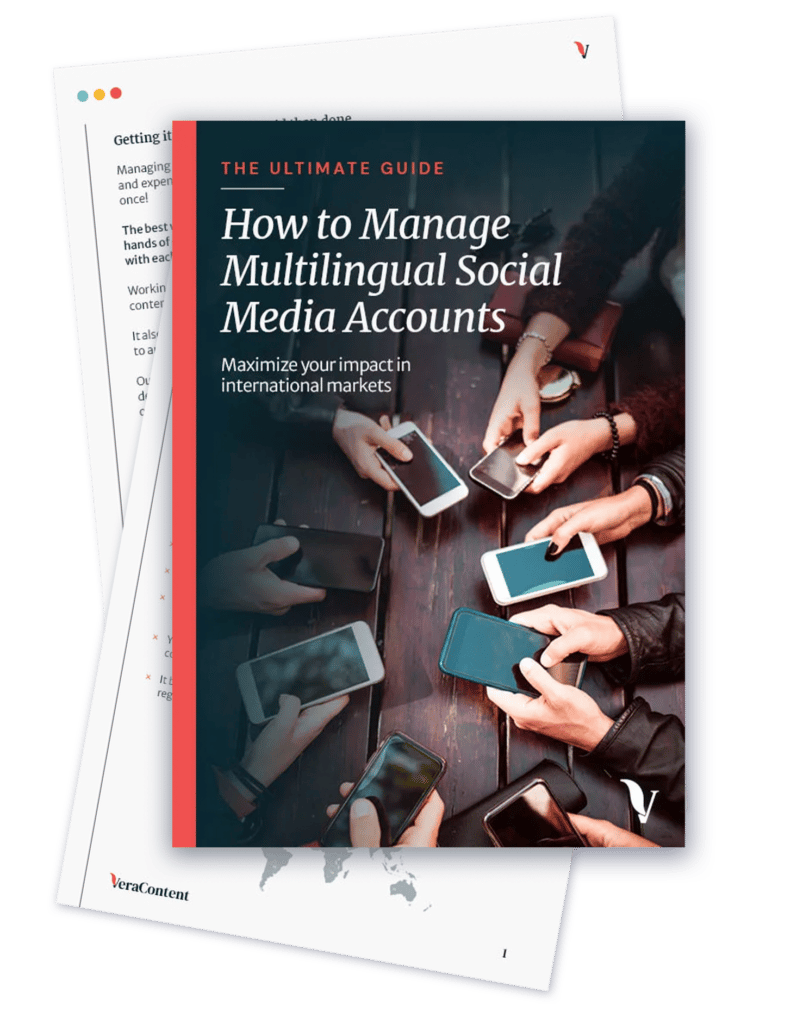 Get your free guide by filling in the form below!
6. Upload and schedule your social media posts
Once your content is created and approved, it's time to upload and schedule.
If you can, try and schedule as many of your social media posts as you can. This helps you remain consistent and keep up with your content calendar.
If you're scheduling for multiple accounts in multiple languages, things can get tricky. Make sure to pay attention and double-check what you're doing so that you don't accidentally schedule the French content to post on the German social media accounts!
Also, don't just schedule and forget. If you know that content is going out every Tuesday at 10 a.m., remember to check the accounts to confirm that it was posted and that everything looks good.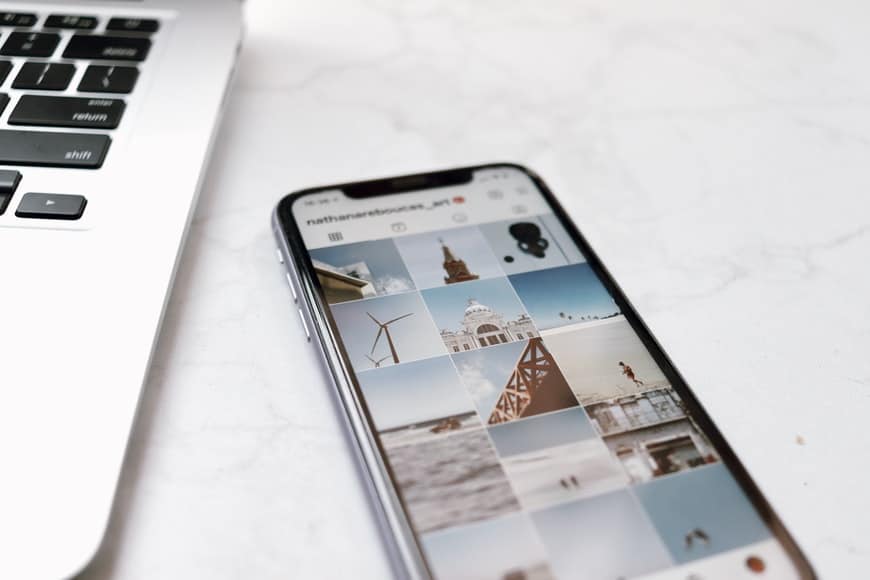 7. Keep agile communication between designers and project managers
While documenting your processes and following specific design workflows help reduce a lot of back-and-forths, new issues and queries sometimes pop up. This is especially common when working with multilingual content when not everyone on the team speaks all languages fluently.
It's important to keep a flexible communication stream open between designers, freelancers and project managers. If something comes up, it should be easy to quickly pop someone a message to double check or do a quick update.
At VeraContent, we use Slack for internal communications. You can have private messages with teammates or create a channel that includes everyone who works on a specific project.
"It's important to keep agile communication with the project managers and community managers. Sometimes there are errors or missing lines in translation, and getting that fixed quickly is important. Or perhaps there's a major change in the text structure when translating. This often happens with Turkish, where grammatical order is mostly inverted—I'll need to ask the Turkish translator directly to make sense of a text I can't read and make sure the image I export is correct." – Esaú Gozalo, Digital Media Designer at VeraContent.
If you work with freelancers, download our checklist for hiring, onboarding and nurturing relationships with freelancers.
Tips for designing posts in multiple languages
When working with multilingual content, you need to be mindful of how the different languages will lookーeven if they're following the same concept and imagery. For example, it's common that text lengths vary in different languages.
See also: 10 reasons you need to run social media in different languages
We've found this particularly relevant when creating the Turkish version of the content for one of our clients. When designing the templates, our designer Esaú Gozalo ensured that the designs would look good with either one or two lines of text.
"The key is to leave a lot of space for the text and avoid cramming the design with a lot of elements."
Another important tip is to watch out for the fonts that you use:
"Different languages include different special characters (Turkish is full of them!), and not all typographies feature these characters. It's important to choose typography that supports all the languages you'll be working with."
Also, when selecting images for global accounts, it's good to aim for a diverse ethnic and gender representation.
Invest in your workflow processes
An efficient workflow is helpful for all creative teams. But, when it comes to managing multiple global social media accounts, it's essential. Without a proper design workflow and overall social media workflow that incorporates strategy, content creation, approvals and scheduling, you're bound to drop the ball at some point.
At VeraContent, we specialize in content creation and managing global social media accounts. If you need assistance with setting up a social media workflow or managing your accounts entirely, get in touch with us!
For more on multilingual social media marketing, check out these articles: