Social media is one of the best ways to connect brands and consumers worldwide. But if your content is only in English, you're leaving a lot on the table—and letting local competitors get the advantage.
When attracting new regional audiences, you don't always need to start with fresh content. In fact, evaluating and repurposing your existing content is often the best place to start.
Read on to explore how social media translation can take your business to new heights, plus tips on localizing for each major platform.
Social media translation: Why it can't be an afterthought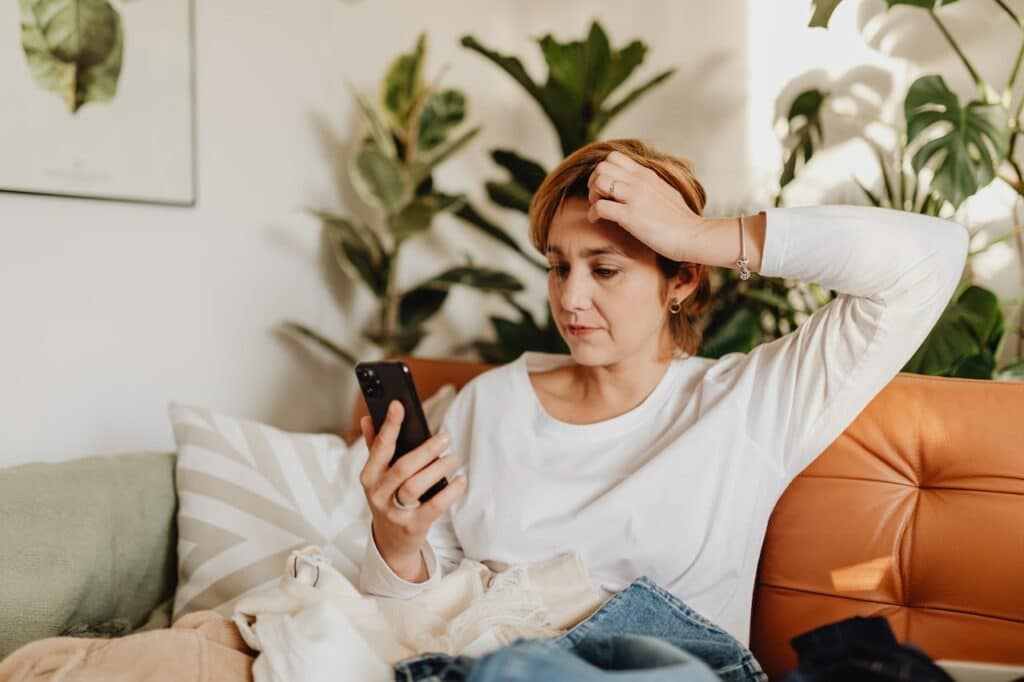 Audiences crave content in their own language. A study showed that 72% of brand engagement and 66% of content impressions happen on local pages, where content is localized to its audience.
What does that mean for your brand? It means that it's important to meet your audience where they are—in their own language.
"To sell your product, a user needs to have at least seven interactions with your brand. So, most likely, they'll see your ad and then visit your social media profile. If your profile isn't in their language, you're likely to lose them—and that's a waste of money."

– Joana Aina Sánchez, head of project management at VeraContent
While fresh content can be great, it's easier to rework high-quality, existing copy. Content that represents your brand as a whole can usually be repurposed for new language markets, and that's where translations come in. But this is easier said than done. Translation quality was the number one challenge for marketers in 2022.
"Many clients do a mix of translation and creating new content for the market as needed. So it really depends on the strategy that the company is following."

– Shaheen Samavati, CEO of VeraContent
Why is social media translation so difficult?
Social media translation requires a deeply contextual understanding of a language, including its slang, idioms and cultural nuances. Language is constantly evolving—especially on social media, where new acronyms and hashtags pop up daily—and is subject to regional dialects and generational differences. You need to know your audience, which often means bringing in a native speaker or agency who can help.
Also read: Why the translation of marketing content is much harder than you think
Case study: Signaturit
When Barcelona-based digital signature company, Signaturit, began moving into the French market, they needed more French content. That's when they reached out to VeraContent. Using our network of French-speaking translators, we crafted client stories, how-to videos and, of course, social media copy.
The result: Signaturit organically grew by over 1,000 followers on LinkedIn and doubled its revenue within one year.
Read the full client story about Signaturit here
Words have the power to boost your brand but that power goes both ways. Risking poor translations is unwise, especially considering local competitors will be successfully reaching the same audiences in their language. Changing your brand's message for global audiences can spread it further and take your brand to new heights.
Let's look at our top tips for getting social media translation done the right way.
Download our ultimate guide on how to manage multilingual social media accounts: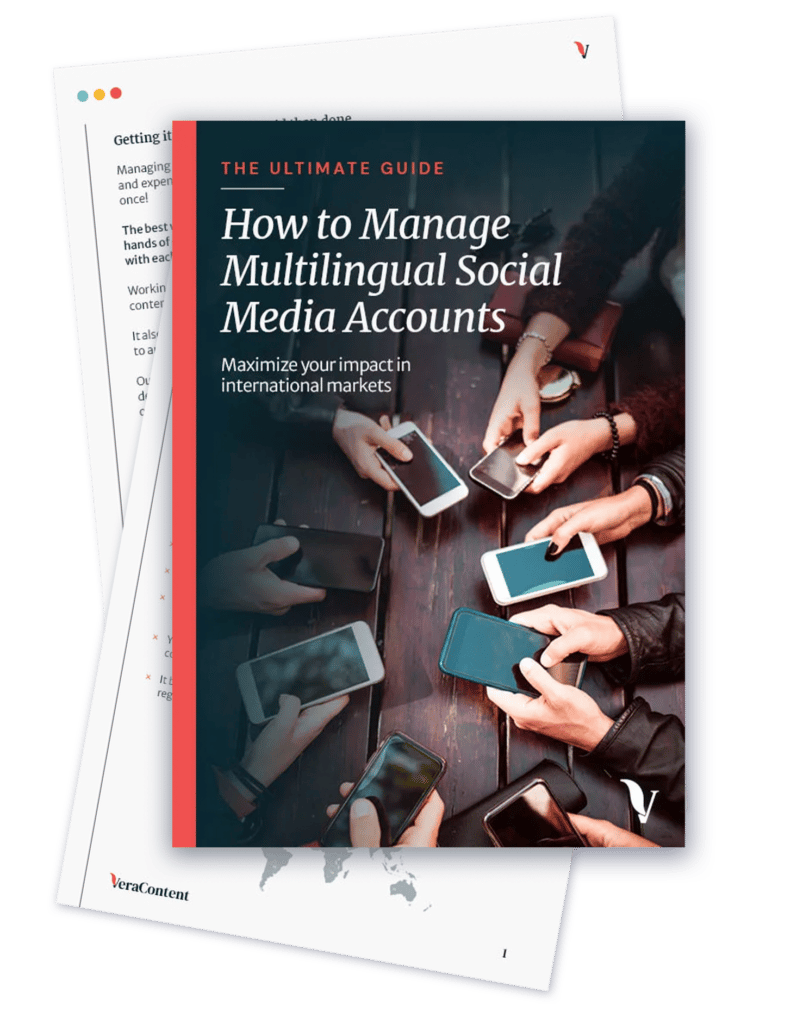 Get your free guide by filling in the form below!
VeraContent's 5 top tips for doing social media translation the right way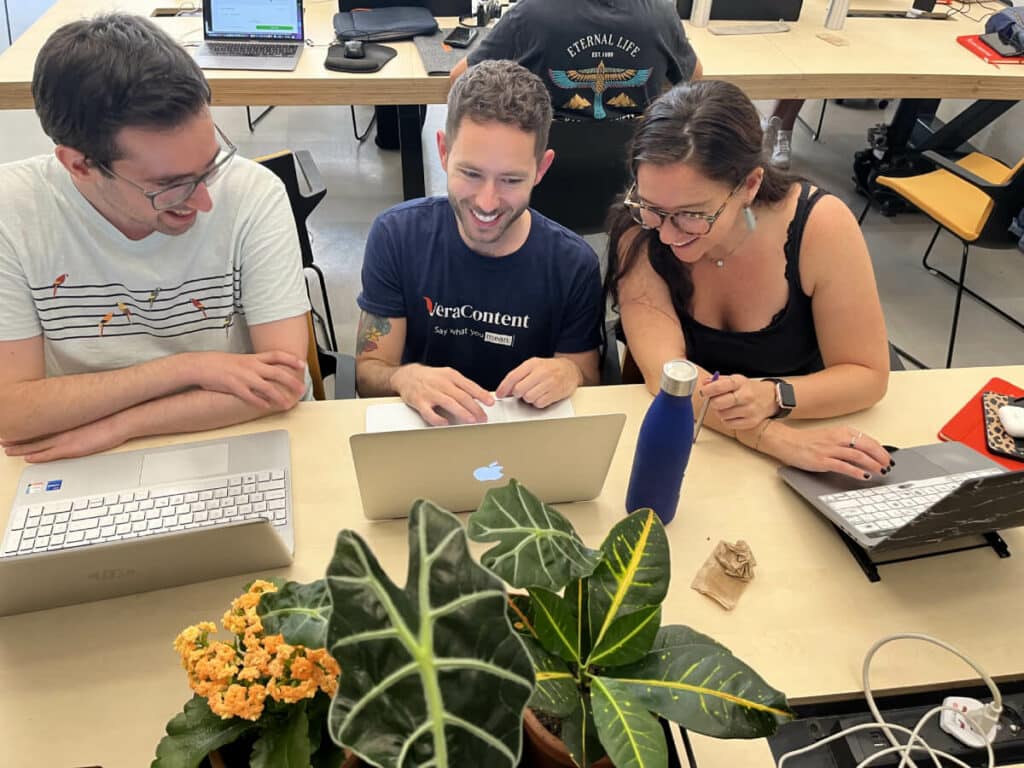 Here are our five top tips for social media translation:
1. Know your audience and what they want
Knowing your audience is one of the first steps in any good multilingual marketing campaign—and for good reason. If you don't understand your audience, their values or their pain points, your content won't connect with them.
Some questions to ask are:
What are they interested in hearing about? Once you've got a solid foundation of quality content in your brand's original language, you're ready to move onto new markets. Your brand's core messaging won't change, but the way it's presented or its content will need to adapt. For example, Taco Bell South Korea's menu is still based on tacos and burritos, just with added kimchi.
Where do they post? What platforms are popular in that region? Consider how age, industry, language and so on can impact their preferred platforms. For example, marketers have found that LinkedIn works best in North America and Europe but in Latin America, they get more engagement on Facebook.
What format and tone works for them? For example, German audiences prefer direct, factual copy while American audiences are accustomed to emotional appeals. And what may work for one market in one format (such as e-books, webinars, etc.) might appeal to audiences more if it's in another format (podcasts, YouTube videos, etc.)
Case study: Current Foods
When the US-based plant-based food company, Current Foods, approached VeraContent to run its Spanish Instagram account and grow its brand awareness in Spain, we knew it would take a unique approach. The vegan movement is still in its infancy compared to the US, and the Spanish market was unfamiliar with plant-based fish.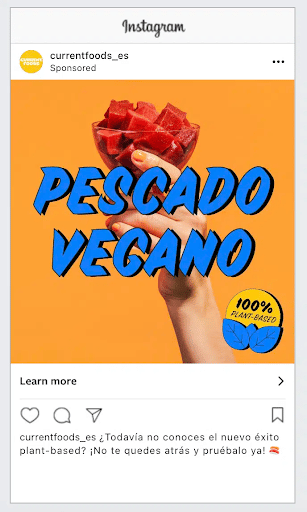 After careful audience research and launching a series of new ad campaigns, we found the right messaging–and tripled their followers in less than three weeks.
Read the full work sample for Current Foods here
2. Evaluate your content before localizing it
International brands have to discern whether their key message will translate. It all goes back to your social media localization strategy. Decide what content is really important and then consult trusted sources who will understand what content works there.
Not all content can be localized and translated effectively. Just as what works for one platform doesn't always work for another, what works for one region or language won't always transfer either.
"The shorter and catchier the core messages, the harder they are to replicate across languages."

– Adriana Carles, head of content and social media at Ladenzeile
But if it does make sense, then repurposing content is one of the greatest tools in a marketer's tool belt. It allows a team to reduce time and resources spent making fresh content, especially if their original content is well-produced.
3. Hire a global social media manager
Prioritizing top-tier social media content can't be an afterthought. That's why many international companies hire global social media managers who can execute the long-term and daily social media functions–anything from planning content calendars to collaborating with a network of freelancers to engaging with each target audience. 
"Don't approach localization as a once-off. Have a strategy for which markets require localization, and which elements are to be localized and then budget and plan accordingly."

– Content marketer survey participant, Unbabel
Having a dedicated community or social media manager can take the pressure off a global marketing manager who's overseeing other aspects of your marketing strategy. They are specialized experts. Many social media managers are bilingual or multilingual, making them an invaluable translation resource in their own right.
4. Know when and how to use machine translators
Machine translations are efficient and cost-effective, and marketers are increasingly ramping up their usage of them. Some social media platforms, like Facebook, even feature built-in automatic machine translations. But if you're paying attention, you'll notice top international brands won't risk potential errors by relying on those translations for their local pages.
While machine translators have improved significantly in recent years, make no mistake: even the best machine translators will still need a human eye to ensure they convey the right message.
Social media is no stranger to translation mishaps, such as the case when Facebook's auto-translate translated "good morning" into "attack them," leading to a man's arrest. Or when Canadian company, Telus, used auto-translate for their French Twitter. Their caption in English, "Take a deep breath, ground yourself. Go kill it" was misinterpreted into "Take a deep breath, grind yourself. Go kill him." Obviously, this is highly undesirable.
That's why the best marketing teams always have a human eye on their content before publishing—it's essential for quality assurance. 
5. Rely on local experts, translators and editors
No one understands the linguistic nuances and emotion of a language like a native speaker. Most marketers prefer to work with either third-party media translation services, freelance linguists or in-house native speakers because they can intuitively adjust content to convey the right message.
At VeraContent, we split our translation process into two steps:
Our linguist creates content according to the brief. They work with our project managers to ensure the translation fits the client's original intent and message.
The translations are reviewed by a second native editor who checks that it conveys the right message and is free of any errors.
Our network of local linguists allows us to feel secure that our translations and edits fit the cultural context. Errors are costly—getting it right the first time saves time and money.
"Just because you've launched a successful campaign in Portugal doesn't mean you can use the same content to reach people in Brazil, even though they technically speak the same language. The same goes for Spain and Latin America—you need to know the right channels and lingo to reach people in each unique market."

– interview with Mário Costa, marketing and communications director at MANZ and Allan Formigoni, content and email marketing manager at WeTrave
Know your platforms and how to translate each one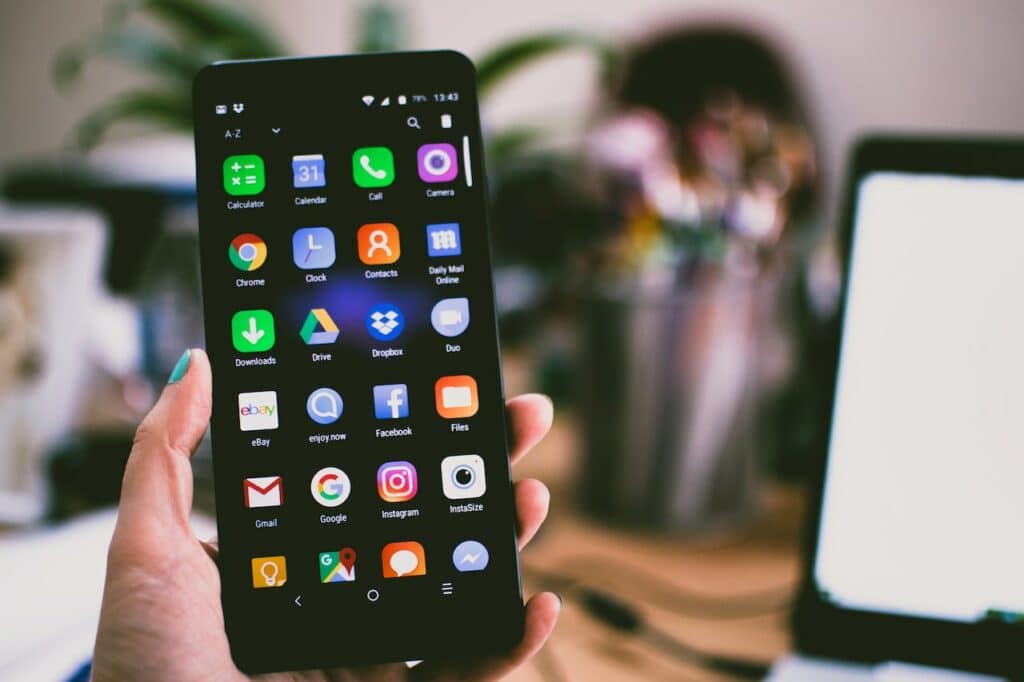 Here is our breakdown of each main platform and how to translate content for them.
Pro tip: It's not necessary to start translating for each platform at once. It's always an option to start translating with one or two platforms and perfecting your multilingual social media management before moving on to more.
Facebook
Facebook is the number one platform for multi-location social media marketing, thanks to its built-in localization features.
"Facebook offers the best tools for localization, and it makes sense to localize it if it's in line with your strategy. Other platforms are harder to make a good localized strategy around. Like Twitter, for example, as it's such a fast-paced platform and requires a dedicated resource."

– Shaheen Samavati, CEO at VeraContent
Global Pages is invaluable for international brands. This feature allows you to post region-specific content while maintaining one global page under one brand name, vanity URL and a total follower count. It also directs users to the correct language version using Facebook's language detection system.
For more technical details on getting started, check out our guide on posting in multiple languages on Facebook.
Instagram
Between Reels, Stories, lives, and posts, Instagram is more complicated to translate than its sister platform. However, it's improving and in 2021, the platform allowed businesses to translate stories in over 90 languages.
Because it's more difficult to post in multiple languages on Instagram, many companies make the decision to maintain one global Instagram account rather than setting up individual local accounts. What makes sense for your business will depend on your resources, goals and what gives you better control over your translation and localization efforts.
"For us, it's really important to keep as centralized as possible—in terms of having one team and one tool to manage everything—and within our team's expertise."

– Adriana Carles, head of content and social media at Ladenzeile
If a brand only has two target languages, then it can make sense to write Instagram bios or captions in both languages:
Also read: How to post in multiple languages on Facebook and Instagram
Twitter
While the future of Twitter and its potential for advertising remains unclear, the platform has historically been a giant in the world of marketing for its ability to reach local audiences—and beyond.
Twitter doesn't have localization abilities like Facebook. Since running a fully localized account takes much more dedicated attention, we generally don't recommend a brand to start up new individual accounts unless their main page already has high engagement and quality content. It's better to focus on great content on one main page before looking to manage more accounts.
But it's not impossible. Many international brands have found success with the platform. For example, take the viral success of KFC's Spain account, which has over one million followers, only second to KFC's US page. It surpassed its parent US page in praise by advertisers and consumers alike for its offbeat humor and sassy comebacks.
If you have the time, resources and patience, opening local Twitter accounts can lead to huge success. If this is something you want to pursue, we recommend working with a social media translation agency who can help you manage both accounts.
See also: Global vs. local social media accounts: Which one's right for your business?
LinkedIn
LinkedIn has been making great strides for multilingual brands. It provides automated translations for over 60 languages and recently allowed users to input all the languages they speak onto their profile, allowing them to select which languages they do and don't want automatically translated. Plus, LinkedIn lets businesses and users build out their profiles in other languages. All of these built-in features allow companies to reach more users in their own language.
LinkedIn is unique as it's more of a B2B platform, but users aren't predominantly interacting with the company page. Rather, they're engaging with other users and seeking industry news. On LinkedIn, the goal is to reach the decision-makers and influencers in your market.
Because LinkedIn prioritizes individual pages over company pages, we recommend translating key employees' personal pages for markets they work with. Once your company and personnel profiles are translated, you can focus on translating social media posts and articles. 
See also: 12 multilingual social media tips that really work
Don't forget about social media translation in 2023
Translating your social media posts can be a massive step into a whole new market. It gives you unhindered access to audiences you couldn't have reached otherwise. But social media translation requires a lot of care. Managing several local pages—and ensuring each one is posting the top quality content you want for your brand—can spread your attention thin.
At VeraContent, we'd love to help! We work with global brands that know the power of social media translation. We understand how to convey the right message with our network of linguists and local translators based around the world.
Get in touch to find out if you qualify for a free content consultation!