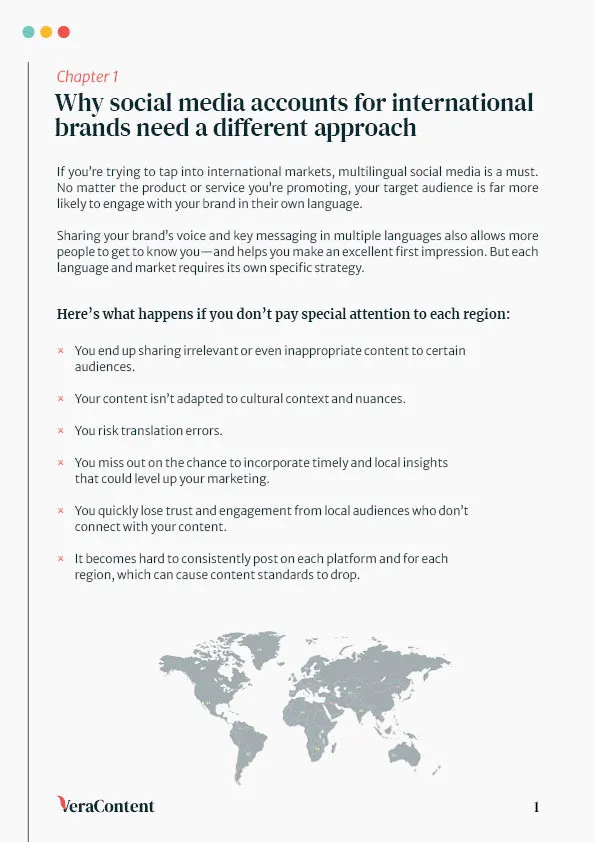 If you're trying to tap into international markets, multilingual social media is a must. No matter the product or service you're promoting, your target audience is far more likely to engage with your brand in their own language.
Sharing your brand's voice and key messaging in multiple languages also allows more people to get to know you—and helps you make an excellent first impression. But each language and market requires its own specific strategy.
What you'll get
This guide weighs up the pros and cons of creating multiple social media accounts for your business, especially if you want to reach local audiences in different language markets.
You'll find key steps for developing a global social media marketing strategy, including the best platforms and tools to use, content localization and translation tips, and the secrets of our very own processes at VeraContent: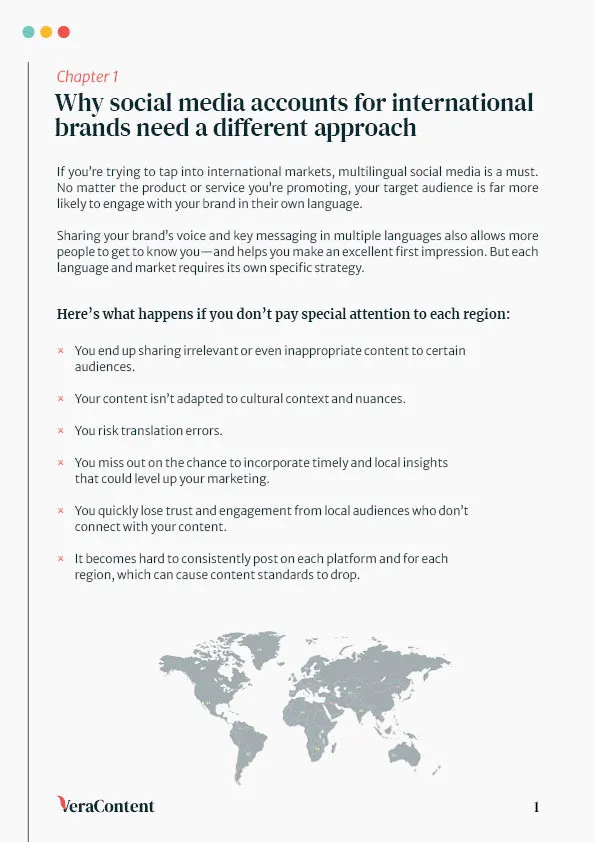 Develop a global social media strategy
Focus on the most relevant platforms
Effectively localize your content
Build a solid global social media team
Create an efficient workflow
At VeraContent, we create and manage global social media strategies across multiple languages and platforms for our international clients. We handle the entire process—from content creation and translation to graphic design, scheduling and community management.
We've worked with multiple global brands to successfully launch and run ongoing multilingual social media strategies. This process requires close collaboration between our project managers, freelancers and local community managers based around the world.
For more tips, you can also read our blog posts on social media localization, global vs. local social media accounts for businesses, and what to look for in a global social media manager.
If you need further help in managing multilingual social media accounts, get in touch with us.
About VeraContent
VeraContent provides content and social media management services in all major world languages, with a focus on European markets. We're a multilingual content agency that helps brands and publishers send the right message to audiences around the world through content creation, translation, localization and content marketing.
Find out more about our services.
Receive your guide by subscribing to our newsletter!