Being multilingual and able to identify with people from all over the world almost instantly builds trust. It also clearly signals credibility in areas like communication, psychology and research, which we all know is extremely important in building products and positioning brands."
Currently based in Lviv, Ukraine, Ryan McHenry is a multilingual American globetrotter. He specializes in consulting startups and IT agencies on their product marketing and growth strategies. He's recently worked with clients spanning from Eastern Europe and the US to the Middle East.
What do you do and how is your work related to content and communication?
I'm the Director of Growth at a software design and marketing agency, as well as a private consultant for IT agencies and startups. A core focus of mine is helping companies find product-market fit or navigate their way through strategic pivots. Much of my success depends on researching market dynamics, including how key competitors measure up from a product, messaging, and SEO perspective. The gaps I find help me come up with unique product offerings, which I then package with targeted messaging and SEO strategies.
How has the lockdown impacted the startups you work with and their comms strategies?
It really depends on each startup's individual industry. I think we've all read articles about the most obvious winners, like e-commerce, and losers, like the travel industry, during these lockdown times. But what's most interesting to me are those more nuanced winners and losers – the ones that can just as easily sink or swim based on the decisions they're making today. These are the companies that I typically work with.
While the COVID-19 crisis can't be ignored, as marketers we need to think seriously about involving our clients in these larger conversations. It's our job to determine if our brands' involvement would provide genuine value to our customers, or distract them from other, more important messaging.

If a brand determines it should get involved in these larger COVID-19 discussions, how should this reflect in their content and SEO strategies?
Since SEO is generally seen as a long-term strategy, it's unwise to shift them entirely due to a situation like COVID-19. However, I will say it's entirely necessary to update websites and overall content strategies if customers need practical information, or if the company's strategy itself is changing due to shifting customer needs and markets.
To give an example, air travel was one of the first industries affected by the pandemic. I had previously scheduled two different trips for this time period, and each trip's carrier had vastly different crisis management responses:

Wizzair, a Hungarian-based company, did a lovely job. They quickly communicated that all tickets purchased would either be completely refunded or else exchanged for travel vouchers with a 20% value increase added. It was up to the customer to choose. Wizzair had quickly posted travel safety tips and updates on their website and the email updates were golden. I could find all the information I needed about my flight quickly and effortlessly.
Ukraine International Airlines, in contrast, was completely mum about their response for weeks. They provided no information and kept me guessing until the last minute. Nothing on their website, no emails, and nothing on their social media. I even received check-in reminders for my flights after all air travel had been grounded. They eventually decided to issue vouchers that could be redeemed after jumping through several bureaucratic hoops. I wasn't impressed.
These are two very different situations that either reinforced or further degraded the companies' brand values.
How might content strategies shift if a company needs to pivot as a result of the pandemic?
This is where things really get interesting for me! As I mentioned earlier, some companies will need to shift their comms strategies if the business itself is pivoting as a result of the COVID-19 lockdowns. When this happens, it's important to bring together marketers, product managers, and executives to create holistic long-term solutions. Product marketing methodologies, in particular, will formulate answers to the questions surrounding any new business shift, and these answers are what will ultimately dictate the content strategy moving forward.

Here's an example. One of my clients focuses on boosting business for healthcare clinics. While one competitor focused their SEO strategy around capturing stellar Google reviews, our strategy focused on increasing the productivity of medical receptionists. When COVID-19 struck, my client started losing clinics from its customer base, so we scrambled to put together a telemedicine solution using open-source code, which we achieved in less than a month. This new telemedicine service combined beautifully with our existing software, since clinics can now treat patients remotely despite the quarantines, and receptionists can work efficiently and happily from home. In turn, my client's messaging and content strategy still supports the core value of increasing business for healthcare clinics. However, we can now say we boost productivity of receptionists in remote environments and also enable doctors themselves to remain productive during these times.

How has the lockdown impacted the IT outsourcing agencies you work with?
Numerous businesses around the world are hemorrhaging capital right now but still need digital services. As a result, the cost savings associated with outsourcing to places like Ukraine, which has long been seen as a provider of quality-driven IT services, may become even more valuable. I predict that the IT outsourcing sector here in Eastern Europe will likely experience a slight decline, but I don't foresee a huge contraction. The CEO at one of the companies I work with agrees. He was recently asked about the impact of the 2008 recession on the IT industry here in Lviv, as well as Ukraine in general. The response? While the 2008 recession had certainly impacted business, things never went too far south, nor should they today.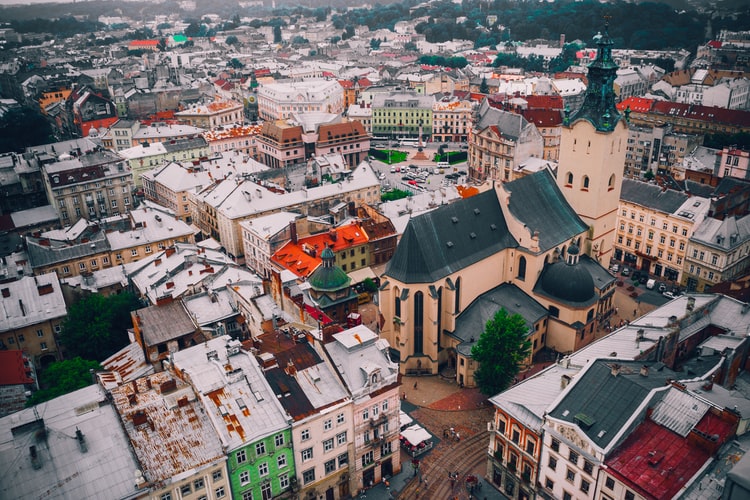 How has digital entrepreneurship in Eastern Europe been impacted?
Many of the technical and creative brains here in Eastern Europe have historically gravitated towards building outsourcing agencies rather than risky startups. I completely understand the tendency, since Eastern Europe is still a developing region. If there's a near guarantee to net dollars and euros by building an outsourcing agency, then that stability is quite attractive and often trumps the allure of launching a startup with no promise of success. Regardless of COVID-19, the Ukrainian government has been incredibly supportive of its IT outsourcing industry over the past years, and I'm starting to see more of that support expanded to digital entrepreneurs as well.

What's even more impactful are the wider societal changes taking place as more and more Ukrainians work with western businesses, watch Netflix, and travel abroad with less visa restrictions. I'm confident this will lead to more innovation coming out of the region in the near future, and it's also why I'm investing so much of my own time and energy here. It's a promising region full of wonderful people, and I think it's headed in the right direction.

How many languages do you speak, and how has multilingualism been a strategic advantage in your career?
I speak English, Spanish and Portuguese fluently, and intermediate-level Russian. While my drive to learn languages has mostly been out of personal interest, it has opened up many doors for me professionally. I've definitely been hired to do jobs that I couldn't have otherwise done without language skills, from working with the Latin department at Universal Music Group in New York to rating the quality of Spanish-language ads to feed Google Adwords' algorithms in Miami.
However, I'd say that my language skills are most beneficial when it comes to soft skills. In sales calls and job interviews, being able to identify with people from all over the world almost instantly builds trust. It also clearly signals credibility in areas like communication, psychology, and research, which we all know are extremely important in building products and positioning brands.
Most importantly, knowing different languages allows me to tap into different mindsets, regional trends, and identify underserved markets globally. Business is business, but there are always different flavors and patterns to be found. Those who speak only one language are at a big disadvantage, since their realities are confined to a much smaller geographic and psychographic market.
How has your work and daily life changed since the onset of the crisis?
Quite honestly, my daily routine and general activities have remained the same, since remote work and Skype calls have long been the norm for me. The only large change is that I no longer work in an office setting. Everything is done from home – both professionally and personally.
In the morning I guzzle my pre-workout drink and head to the gym (at home), then get showered and head into the office (at home), and afterwards meet up with my Russian tutor (via Skype, at home). I also find time to link up with my friends during the evening and on weekends (again, via Skype and at home). This isn't even that strange to me. Having lived in six cities in five countries, I've become quite accustomed to maintaining long-distance friendships.

My most recent social happy hour consisted of a novel attempt at learning how to shuffle dance with one of my best friends over a Zoom call. It was tragic, but comic.
What are the top 3 most valuable tools you're working with right now?
AHREFs.com (SEO)
Miro.com (collaborative whiteboards)
Google's Gsuite (email, calendar, and Google Hangouts)
What are 3 professional takeaways that you'll carry with you after this?
Working from a dedicated home office is way better than working from my living room couch.
As advanced as our societies may be, we are not immune to large-scale disruptions.
Opportunities can be found even in the darkest of times.
What advice do you have for professionals to successfully move forward?
As a professional, diversify. I think too many people become complacent in their jobs, thinking that steady employment will remain so for years to come. But, as we've seen over the past decade alone, globalization, digitization, climate change, and this pandemic are just a few examples of the forces that can stress, reshape, or even annihilate entire industries and job functions. That's why it's so important for professionals to always be learning and diversifying their skill sets.
As a business, stay nimble. The economic concept of creative disruption has always applied to the world around us. Existing ways of doing business are constantly being destroyed and replaced by newer and better versions. The only difference is that this rate of progression is becoming faster and faster. As a result, businesses must be quicker to adapt to the changing world around them.
As a person, engage with the world around you. While the breakdown in global supply chains and COVID-19 related spats between countries is stirring up anti-globalism sentiment, now more than ever is the time to keep a finger on the pulse of what's happening around us. People who genuinely appreciate different cultures and interact with the larger world around them will be much better positioned to find out first what's happening and subsequently find their spot in the new world. I don't say this only in a professional sense; I say it to directly address the deeper, existential questions we may all have as the world rapidly changes around us.
Connect with Ryan McHenry on LinkedIn
What major lessons have you learned during these unprecedented times and how are you taking your business forward?