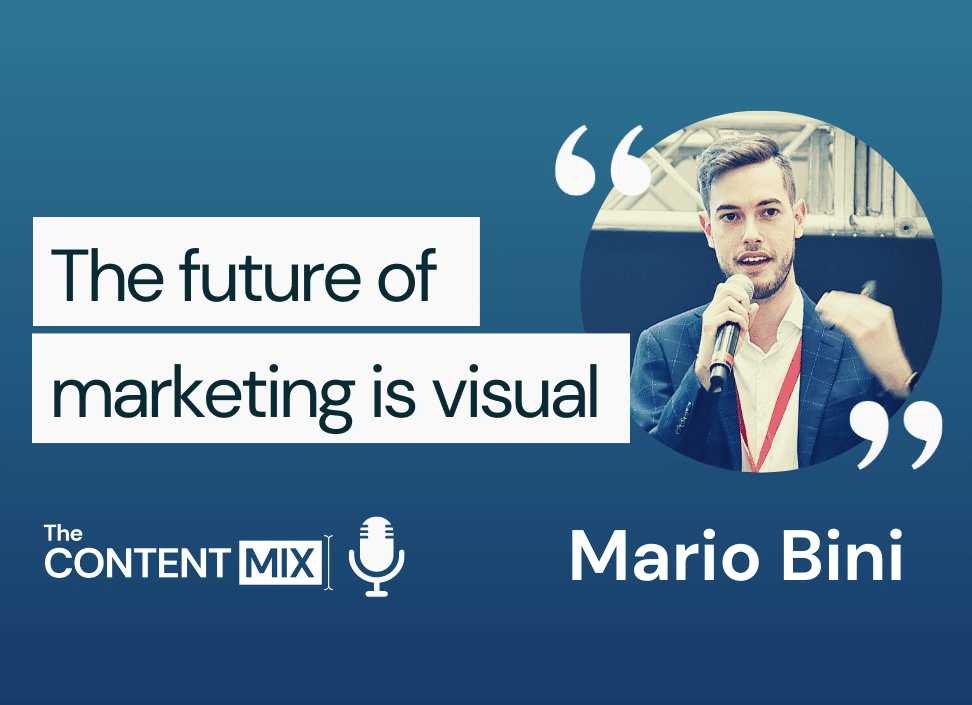 Carlota Pico recently met with Milan-based Mario Bini, 2019 Forbes Summit speaker and regional marketing manager for Alipay. Over the last seven years, Mario has worked across European markets for brands like Microsoft, Deloitte Digital, Google and Uber. Since 2020, he's been a key player in the European launch of Alipay, which is part of the global tech company Alibaba. In this interview he talks about the importance of storytelling in marketing, how it's evolved in recent times and how brands can stand out in the world of visual content.

You can listen to the full conversation on Apple and Spotify, and read our recap below.
Key takeaways
The future of marketing will reflect the way we communicate, which is becoming more and more visually driven. This is evidenced by the increasing use of emojis and images to convey meaning; the Oxford Dictionary even selected an emoji for their 2015 Word of the Year.
In light of this change in communication, marketers have made a switch from traditional marketing to a very visual-heavy approach. It's also much easier for humans to grasp visual clues rather than read through words, as our brain processes images 60,000 faster than written text.
There is a fine line between what separates good content from great content. A way to make content great is by creating and telling stories that are relevant and useful to your audience, and when possible by allowing them to directly participate in the narration. One example of this was a Skype campaign that Mario helped create called "Stay Together" which featured a series of real people's stories from around the world about how Skype helped them connect with their loved ones. One of the most prominent videos was the story of a man called Denis that moved from Uganda to Pennsylvania, and how he literally watched his son grow up back in Uganda using Skype. It was an incredible story of hope and connection fueled by the power of technology which garnered over 40 million views when published on Skype's website.
COVID-19 has led the relationships between brands and consumers to become more empathetic and more about "human to human" interaction. Marketers are striving to create meaningful content that will make a difference and resonate with the community, and audiences are taking notice.
Content is becoming more "silent" due to fast-paced and busy lifestyles that often don't allow us to use audio on our devices. This puts extra pressure on marketers to create thumb-stopping content, but adds an exciting challenge for creativity.
Rapid-fire recs
What's an app or tool that you can't work without?
My favorite app of the moment has to be TikTok. I love that this app has created a new communication paradigm by allowing users to create new content by replicating and remixing popular culture, which is something that makes them stand out from other apps.
Also check out: Top 10 apps for content and marketing professionals
A recent source of inspiration for you?
I tend to recommend the book "Resonate" by Nancy Duarte, which is about how to create visual stories that are engaging and appealing to audiences. It was one of the first books I read about storytelling, and I always come back to it because I think it's incredibly relevant and interesting.
Also check out: Top 8 content and marketing books to read right now (according to experts)
---
Connect with Mario and Carlota on LinkedIn.

This post was edited by Mary Kresge, a freelance content creator based in Madrid.
---
For more insights into the latest trends in regional marketing, check out:
The year of online events – Tiffany Mayne, EMEA head of marketing at GB Intelligence
Go-to-market strategy 101 – Amanda Holmes, EMEA & APAC marketing director
Agility and adaptability – Gessica Lomonte, EMEA e-tail marketing specialist
To see the full transcript, click on page number 2 below.
Want more insights from the content and marketing community in Europe?