Service:
Sector:
Language: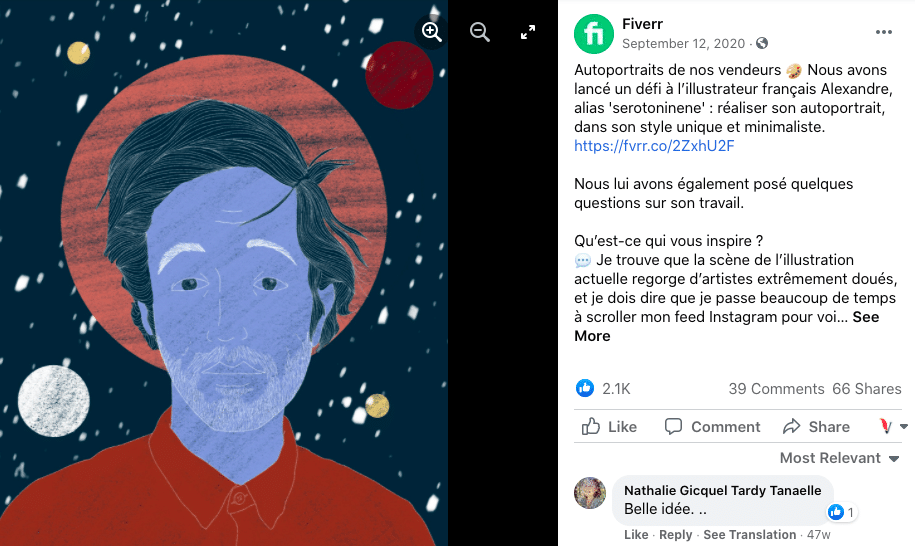 Here is an example of copy that we localized from English into French for Fiverr's social media accounts:
Autoportraits de nos vendeurs
Nous avons lancé un défi à l'illustrateur français Alexandre, alias 'serotoninene' : réaliser son autoportrait, dans son style unique et minimaliste. https://fvrr.co/2ZxhU2F
Nous lui avons également posé quelques questions sur son travail.
Qu'est-ce qui vous inspire ?

Je trouve que la scène de l'illustration actuelle regorge d'artistes extrêmement doués, et je dois dire que je passe beaucoup de temps à scroller mon feed Instagram pour voir les dernières créations des illustrateurs et artistes que je suis.
Comment votre style a-t-il évolué au fil des années ?

Ces dernières années, je me suis concentré sur le portrait et ai essayé de construire un style qui me serait propre. J'espère y être arrivé mais ai bien conscience de l'immensité des choses qu'il me reste à apprendre, mon style est voué à évoluer avec moi.
See the original post in French on Fiverr's Facebook page >>
What we did:
For this Facebook post, Fiverr asked us to adapt the original English copy for their French-speaking audience. As usual, we went beyond translation. We rewrote the text in a way that French people would feel the content was created specifically for them.