Service:
Sector:
Language: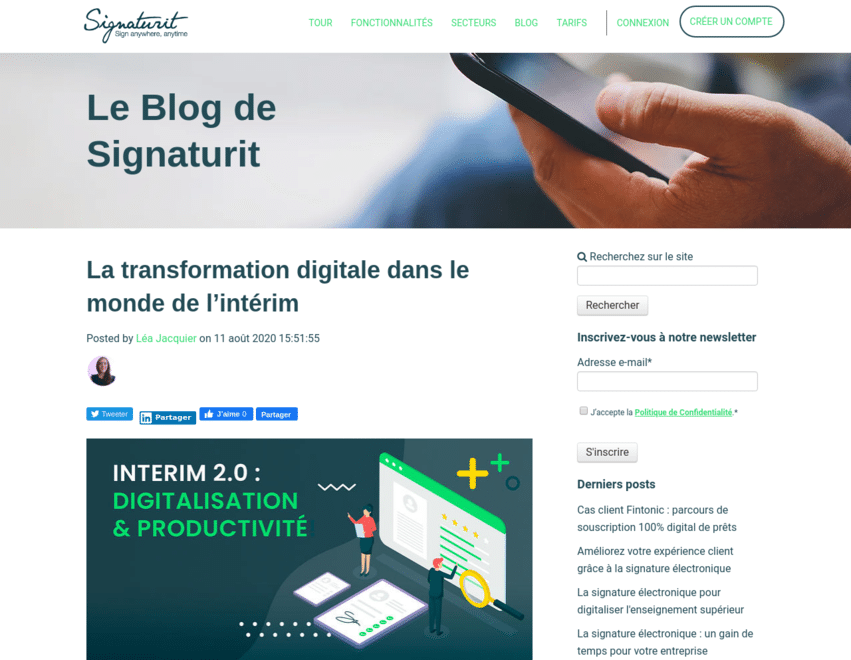 "La crise sanitaire que nous avons vécue, et vivons encore aujourd'hui, nous aura appris une chose fondamentale : la dématérialisation des processus et services est incontournable. En ce début d'année, tous les secteurs économiques ont dû prendre des mesures d'urgence pour maintenir leur activité. Et le secteur de l'interim n'y a pas échappé, bien qu'ayant déjà entrepris sa transformation digitale il y a quelques années.

Marché de l'emploi en pleine mutation, arrivée de pure players et forte concurrence, attentes digitales des millennials… Le secteur doit continuer de jouer la carte de la digitalisation afin de s'adapter au mieux à ce nouveau monde."
What we did:
Signaturit offers trust services that guarantee the legal security of digital transactions. As part of their marketing strategy, they run a multilingual blog that focuses on digital transformation in a variety of sectors. We wrote this blog post to inform readers about the transformation of temporary work agencies in France, while highlighting the benefits of technologies like Signaturit's e-signature solutions.