Service:
Sector:
Language: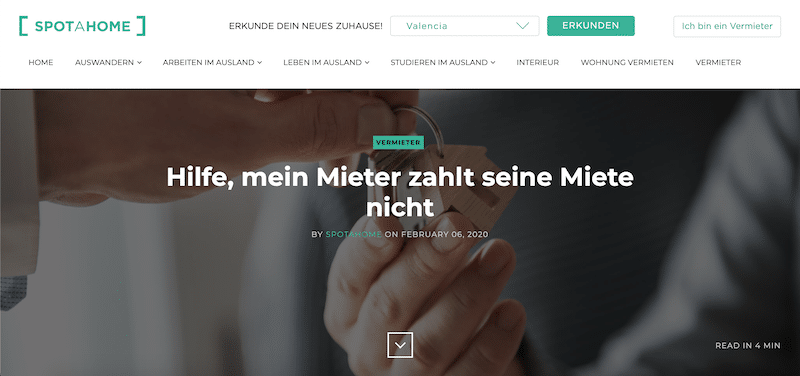 "Der Mieter zahlt keine Miete – eine Horrorvorstellung für jeden Vermieter. Doch das muss nicht so sein, du als Vermieter hast jede Menge Möglichkeiten, die Mietzahlungen einzufordern und auch den Mietvertrag mit dem säumigen Mieter aufzuheben. Wir sagen dir, wie es geht!

Was kann ich tun, wenn Mieter mit den Mietzahlungen im Rückstand sind?

Bist du ein Vermieter, der zum ersten Mal eine Immobilie vermieten möchte, und weißt du nicht, was du im Falle einer Nichtbezahlung der Miete tun sollst? Oder hast du einen Mieter, der seine Miete nicht bezahlt? Keine Sorge, wir haben einige hilfreiche Tipps für dich, mit denen du Herr der Lage wirst!"
What we did:
We worked with Spotahome to create a series of SEO-optimized blog posts in six European languages, directed at landlords looking to rent out their apartments in various locations throughout Europe. The project was entirely localized, with freelancers based in each country creating each post for their specific target market. The posts address landlords' most common concerns—from how much rent to ask for to preparing a property for rental. This is an example of a post written in German about what to do when tenants stop paying rent.