This post was written by Andrea Soto, who is currently an intern in the VeraContent human resources department.
If you're looking for work as a freelance content creator, you probably know how crowded the marketplace is right now. The global content business is booming, with increasing demand for quality content in all industries—and more and more people are venturing out on their own to try and meet that demand.
So how do you stand out from the crowd and get hired?
As a leading multilingual content agency, VeraContent relies heavily on an international network of freelancers who work in a variety of languages. We know what sets certain content creators above the rest, and what motivates us to assign them work.
Today we're going to share some of the keys to getting hired as a freelance content creator, based on our own selection process. We'll tell you what we look for in job applications and how we consider each part of the process in order to choose the best candidates.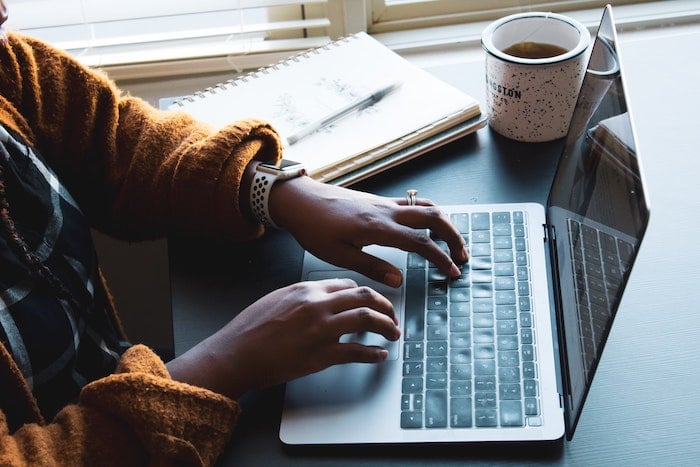 Key elements of a freelance content creator application
At VeraContent, we're always looking for creative professionals with high attention to detail and a good understanding of how to generate engagement. With this in mind, we consider four main elements when hiring new freelance content creators.
These are the primary ways to show clients who you are and what you can do. If you're hoping to get a content job in 2021, make sure you've prepared and optimized each of these aspects in advance.
1. Cover letter
The first thing we look for when we receive a job application is the cover letter. Some are more eye-catching and entertaining, while others use very unique—or even odd—descriptions. This is a good thing (within reason), as it makes applications stand out.
When preparing your cover letter, think of it like any other content creation job. The only difference is that you're writing content about yourself. You need to captivate the audience (the recruiter) and sell the product (yourself) well. Tell us what you can offer that others can't, so that we can't resist finding out more about you.
Of course, it's also vital to present a well-organized letter with proper grammar and spelling, to prove right away that you have the writing skills required.
Here's an example:
"Hi! I'm a copywriter and marketing professional with over a decade of experience at companies across Europe. I've worked for a variety of global brands throughout my career, developing broad expertise in digital content and advertising. I've also written thousands of texts for leading brands such as Vodafone, El Corte Inglés and IKEA.

On a personal level, I'm passionate about photography and travel. I've visited dozens of countries with my camera, always seeking to discover the unique aspects of different cultures—but also what ties them together. I bring this curiosity to my work as a content creator, prioritizing cross-cultural communication and localization."
In just a few lines, this candidate has told us what they do, their experience and areas of expertise, and most importantly, what they're passionate about.
Note: When filling out an online application form or applying via email, it's best to include your cover letter directly in a text field or the body of the email, rather than as an attachment. For example, in our online application form, you could place it in the field entitled "Tell us more about yourself and why you're interested in working with us."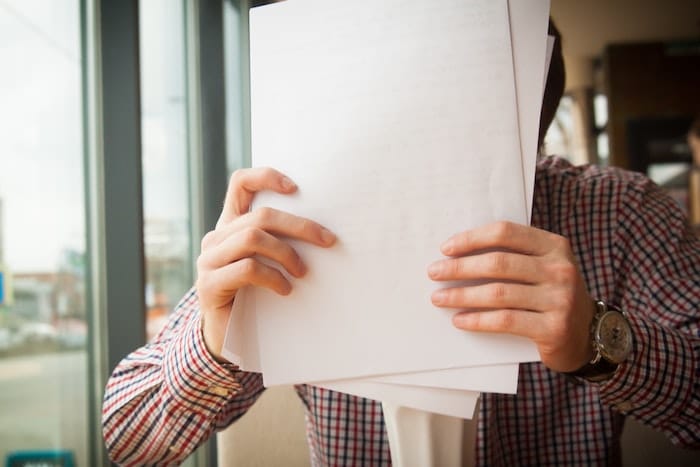 2. CV or resume
Your CV or resume should be both concise and informative. If it's longer than two pages, it may not hold the reader's attention long enough for them to reach the end.
That said, make sure you include all the relevant information to show recruiters that you're qualified. Highlight the most important aspects of your experience, and condense the rest.
Try these strategies:
Include one introductory line to explain what kind of opportunities you're looking for. This isn't required, but it's a growing trend that allows you to tailor your CV and show genuine interest in the specific role you're applying for.
For each previous position, write a short description that specifies the tasks you were responsible for. If you've worked in fields other than content creation, you can include them, but emphasize the positions most relevant to this role.
If you don't have much work experience yet, make sure to mention any roles you held at university newspapers or magazines, competitions you participated in and academic accolades. You can even include recommendations from professors.
3. Work samples
When it comes to showing what you're capable of, nothing beats quality work samples. This is the best way to prove that you can deliver the kind of work the client needs.
Most recruiters prefer to see examples of published work, so keep a running list of pieces you're especially proud of that cover all your areas of specialization. If you don't have many published samples, you can also send files via Google Drive or similar methods, as long as you have permission from the client you completed the work for.
The goal is to give recruiters an idea of your writing style and capabilities, ideally related to the area that they're looking to hire in.
Here are some examples:
If the client needs someone to optimize blog content → Send blog posts that you've written for other sites, ideally with strong SEO and high visibility.
If the client needs someone to write social media copy → Send a link to a social media page that you currently run, or to social media posts that you've written for brands in the past.
If the client needs someone to translate a technical text → Send links to academic, scientific or legal texts that you've translated, or files if they're not published online (with permission from the owners).
See also: The most in-demand types of digital content for 2021
4. LinkedIn profile
Never underestimate the power of your online presence. It's especially vital to keep your LinkedIn profile up to date, as this is the most frequently consulted platform for recruiting purposes.
To optimize your profile, add links to published work and request recommendations from colleagues, clients or supervisors. Make sure you list all your skills and qualifications as well.
Check out VeraContent co-founder Shaheen Samavati's LinkedIn profile: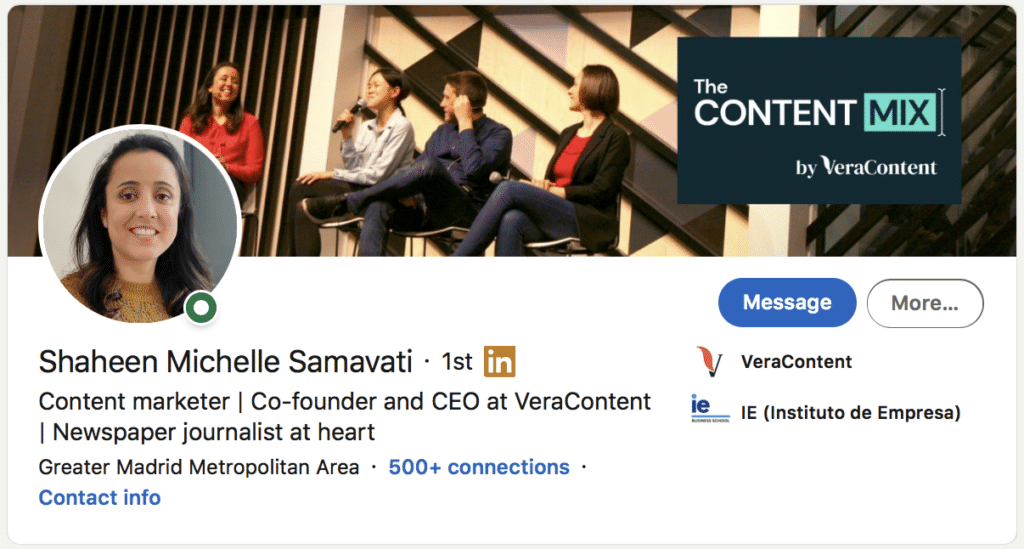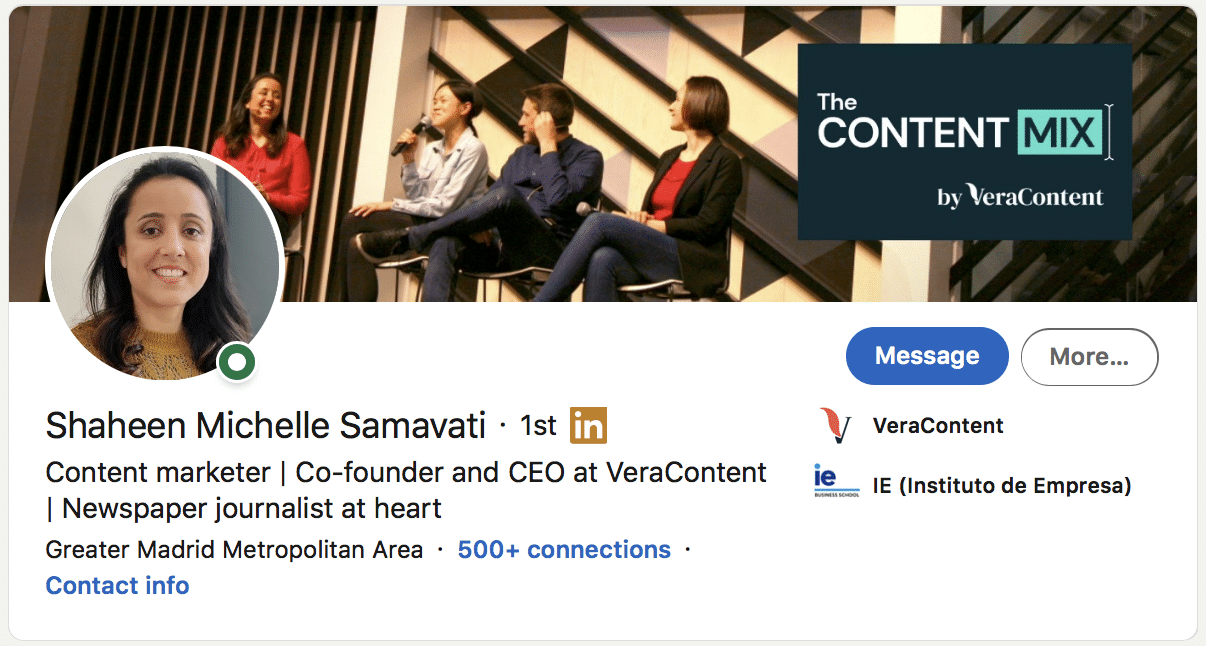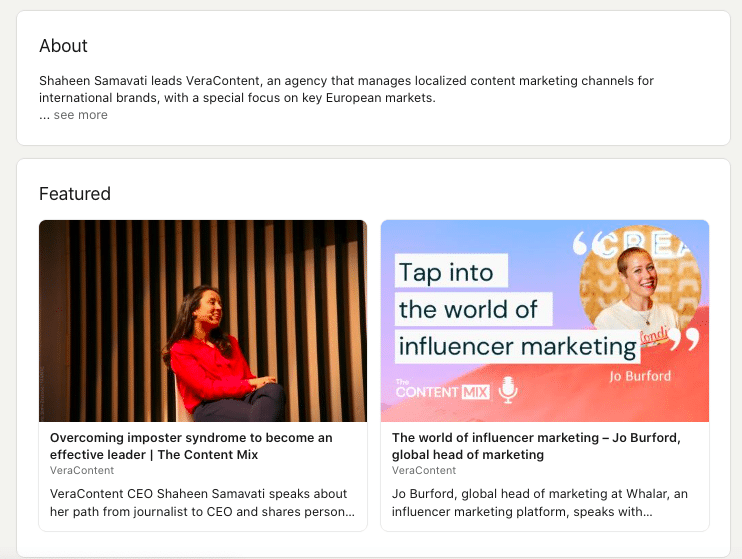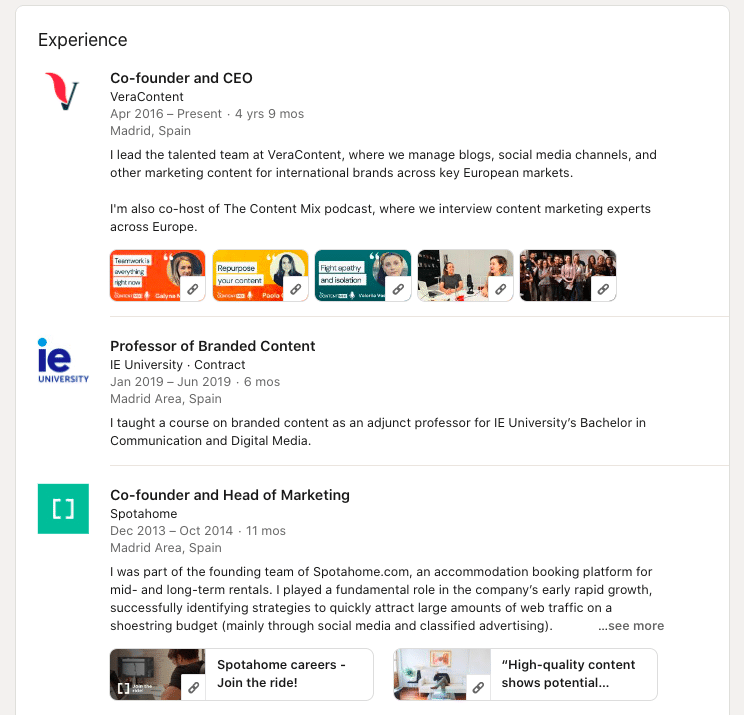 Why communication is crucial
Effective communication is an essential skill for any freelance content creator. If you want to stand out from other applicants and show clients that you're serious about your work, you have to communicate clearly, promptly and efficiently throughout—and beyond—the selection process.
When the VeraContent HR team contacts a candidate, we expect them to reply quickly and to provide all the information requested. That could mean sending extra work samples, telling us more about their past experience or simply letting us know that they've received our emails.
This is especially important for urgent projects. Sometimes we need to recruit someone as soon as possible, and the first person who shows the right combination of skills, enthusiasm and reliability will be hired on the spot.
Here's an example:
Let's imagine that you've made it all the way through our selection process. We'll let you know by email, and invite you to create a profile in our freelancer database. Our project managers can't start assigning you work until you've completed this step, so it's vital that you do it as soon as possible. You should also reply to the email to let us know that you're ready to start accepting work.
To learn more about VeraContent's selection process, check out this article about hiring freelancers.
Be prompt and prepared
If you're hoping to get hired as a freelance content creator, make sure you've prepared all the necessary materials in advance: a quality cover letter, a strategic CV, impressive work samples and an updated LinkedIn profile. Spend time researching your potential client and tailoring your application to the specific role or project.
Prioritize communication throughout the application process. While it's certainly important to highlight the skills and experience that make you right for the role, it's equally important to demonstrate that you're a trustworthy, reliable and capable communicator.
In the increasingly competitive world of content creation, the combination of these factors is what will set you apart from the rest—and help you get hired again and again.
---
You might also like:
Our interview with Léo Moulinas, who has unique insight into the content marketing recruiting process thanks to his role as EMEA & LatAm marketing director at Hays.