With several years of experience and a wide variety of roles under her belt, Ewa Kwolek-Mazur is truly an expert in European marketing. She shares her background, lessons learned, expert advice and recommendations with us, providing plenty of inspiration and actionable tips.
Name: Ewa Kwolek-Mazur
Where are you based? Montpellier, France
Current position/company? Marketing Lead, IAAPA EMEA (Freelance)
Where are you originally from? Poland
What did you study? I have an MA in Politics, a Professional Diploma in Marketing from the Chartered Institute of Marketing (CIM), and an Advanced Certificate in Social and Market Research from the Market Research Society (MRS).
What countries have you lived/worked in? Poland, the UK and France, and I did a one-month charity project in Brazil.
What languages do you speak? English, French and Polish.
How did you end up working in the content marketing industry?
As soon as I finished my professional diploma in marketing, I started looking for a role in the industry. To understand what marketing is all about, I did a two-week work experience placement at a fantastic integrated marketing agency in Bristol, UK. The energy, creativity, variety and friendly vibe made me fall in love with the agency and the industry. At the end I asked if I could apply to work there, I was offered a job and I never looked back!
What's your favorite content campaign ever?
It's not a one-time campaign as such, but my favorite is the ongoing and very strong content platform delivered by HubSpot. Their blog is a perfect example of long-term investment in high-quality, valuable content that's well tailored to marketers at every stage of the funnel. It's full of ideas and insights, and written in clear entry-level language. While they use smart tactics to sell their software, their audience gains insight without ever getting irritated.
Check out our interview with HubSpot's EMEA marketing director, Inken Kuhlmann-Rhinow
What's your normal day-to-day like?
In marketing, especially on the agency side, there is no "normal" day-to-day routine. Marketing is immensely varied, and work each day could be focused on different tasks including strategy, copywriting, planning, budgeting or discovery of a new martech tool; calls with clients, suppliers and media partners; or discussions and briefs with internal teams. What I enjoy about my current role is that I might start my day by chatting with colleagues in Europe or Asia, and end it by talking to people based in America.
What are the top three skills you need to do your job?
There are too many to mention and they vary all the time. With the accelerating speed of change, marketers need to adapt and learn new skills every day. But whether I'm working for an agency or a client, as a freelancer or an employee, my top three are:
1. Knowing your audience is key. To be a good marketer you need to always remain an "outsider" to your own organization, stay curious and keep your eyes peeled for insights. You need to endlessly put yourself in your audience's shoes to know what keeps them awake at night and what makes them tick.
2. Copywriting skills are a must. While marketers will never be as crafty as the best copywriters, we must continue working on our wordsmith skills. No matter what channels or tactics we use, we have to create snappy and interesting ways to convey our messages, to change behaviors and make our campaigns or products get noticed.
3. Run your campaigns as if you were spending your own money. Whether my budget is tiny or huge, I think about every penny spent as if it were mine. Am I investing my marketing dollars wisely, could I get a better return elsewhere, and what do I need to change next time to achieve more while spending less?
What's unique about content marketing in Europe?
There are 44 countries in Europe and approximately 450 million Europeans. Many aspects bring us close together, but so many more fragment us. When creating content campaigns for the European market, marketers need to be mindful of optimizing the time and resources spent on translation and adaptation to different platforms.
At the same time, it's crucial to remember the nuances of the different cultures and languages. A simple "copy and paste" won't work across the continent. For example, while Scandinavians and Southern Europeans might both be increasingly interested in healthy eating, that doesn't mean that they'll all enjoy the same recipes created by the same influencers, or that they'll adhere to the same values when it comes to food in general.
Check out our interview with Deliveroo's global content marketing & localization managers
How has marketing in Europe changed in the past years, especially now considering COVID-19?
I think this applies to the entire world, but the marketing industry had to quickly adapt to virtual collaboration between internal teams. Our job is to communicate outwardly, but to do it well we need to master collaboration within interdisciplinary teams at our own organizations, without the luxury of face-to-face exchanges.
What's your biggest piece of advice for businesses looking to do marketing in Europe?
Try to get to know the market first, and check your campaigns and messages with locals before they go live. At the same time, don't hesitate for too long. It's better to test and learn from your MVP than to fall behind the competition while you try to perfect your product or content.
And don't forget to follow the GDPR rules. While these regulations created many question marks when they came into force, I actually appreciate the respect for data privacy and the fact that consent cannot be implied. Now we have to work harder to get our audiences to opt in, but once they do, we know they definitely want to hear from us!
Quick-fire round:
Favorite app?
I enjoy using the Google Podcasts app. It's a podcast aggregator, which is very useful since I listen to many podcasts throughout the week. I love multitasking, and it helps me keep up to date with the latest trends and news.
See also: Top 10 apps for content and marketing professionals
Favorite book?
There's no way I could list only one book—this is too hard!
As I mentioned, I'm Polish, and I'm very proud of the Polish writer Olga Tokarczuk, who was awarded the 2018 Nobel Prize in Literature. For any content creator and marketer, her book "Tales of the Bizarre" is a great lesson in storytelling and captivating the reader.
I'm a representative of multicultural Europe, being married to a French man and raising a child in three languages. That's why I enjoyed reading "1000 Years of Annoying the French" by Stephen Clarke. It's a great mix of historical knowledge, told from both the French and British perspectives (mainly British really), including many provocative—and very entertaining—hypotheses. It's a reminder to us marketers to look at every single fact and insight from many perspectives. Your truth might not be your target audience's truth!
As a graduate of political studies, I read many historical books. But only after I discovered "A Little History of the World" by E.H. Gombrich did I appreciate how simplicity and human experience can make reading history irresistible! It's an excellent example of how to extend the "dwell time" of our audiences when we tell them the stories of our brands.
See also: Top 8 content and marketing books to read right now (according to experts)
First thing you do in the morning?
A quick email and calendar scan to organize my day while drinking a mandatory cup of coffee!
Your favorite influencer, role model or someone you admire?
I believe in female empowerment, and I'm so happy to see so many female colleagues in my network climbing the career ladder and taking powerful and meaningful positions, while changing the world for the better. They're my role models, and I admire the hard work, multitasking and empathy they bring to the industry.
See also: 8 inspiring content and marketing influencers to follow
An event, publication or group you'd recommend?
I follow the #BrandsForGood hashtag, as I'm a big believer in the power of brands to change behaviors for the good of society—for example, to fight climate change while providing jobs and powering the economy.
The best piece of career advice you've ever received?
There are two I would like to mention:
1. Never stop learning, asking questions and accepting feedback. If you stay curious and open to new trends and ideas, you'll go far. Assuming that you know everything stops you from progressing, so read, listen, network, exchange, and accept suggestions and ideas for improvements. This is the way to continue pushing forward.
2. Excel in finance. The more closely you monitor your budget, accounts and invoices, the further you'll go. Spend your marketing dollars as if they were coming from your own pocket, and know where you stand with your marketing budget or account forecast even if asked in the middle of the night!
More about Ewa Kwolek-Mazur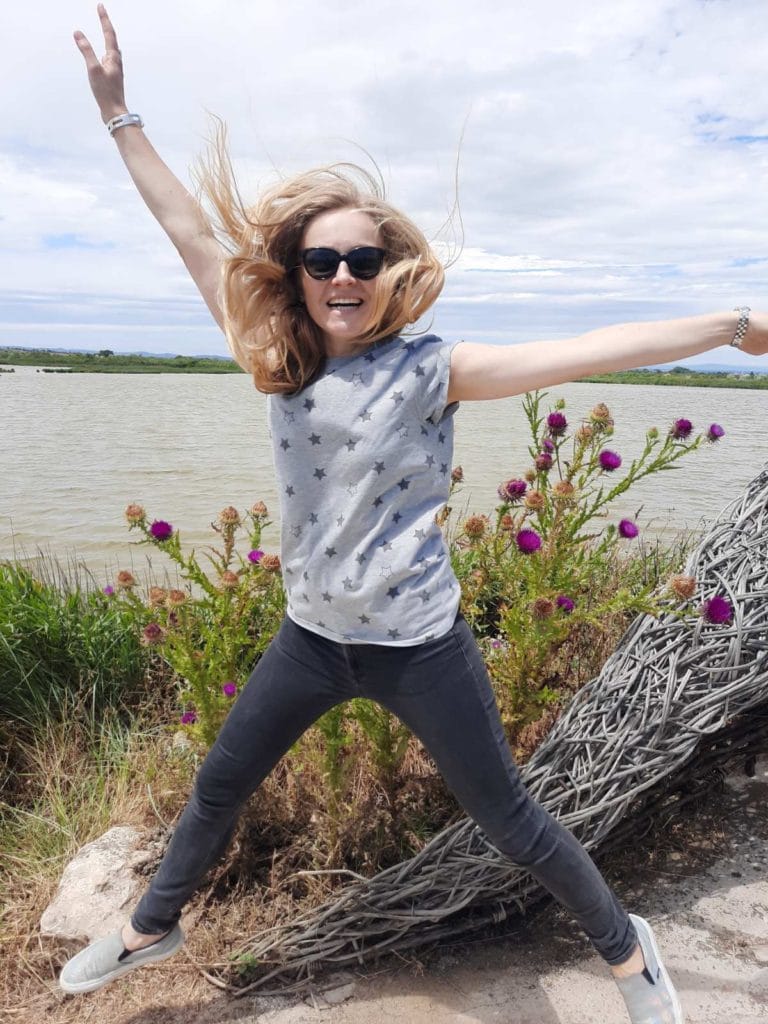 Ewa started her career in marketing in 2006 at an integrated marketing agency in Bristol, UK. After having worked for their biggest client, Microsoft, she moved to a global Omnicom network agency, Proximity London, where she won an internal competition to deliver a charity project in Brazil as a communications specialist.
Following this, she moved to purpose-first marketing, working for the youth agency Livity, delivering a variety of projects designed to change behaviors and improve the lives of young audiences. After working in the IT, FMCG, public, charity and transport sectors, she moved to the client side, working as a content specialist and then head of marketing for a SaaS company in France.
Ewa is currently specializing in events marketing for the global trade association IAAPA, which represents over 6,000 members in the amusement industry. At the same time, she's running her own eco blog, GoGreenGoEco, and mentoring a fantastic digital marketing apprentice as part of WhiteHat's Virtual Career Mentorship program.
Connect with Ewa on LinkedIn and Twitter, and visit her website and blog.
---
If you want to learn more about marketing in Europe, check out our podcast interviews with more experts: