It would be an understatement to say that we're glad to have made it to 2021.
Now that we're finally here, it's time to shake off the holiday haze and kickstart our productivity… but as we all know, that's easier said than done.
If you need a little push to get back into work mode and stay on track, we've got some suggestions to help you out. Make 2021 your best year yet with these eight productivity apps!
1. Todoist
Of all the to-do list apps out there, this might just be our favorite. Todoist is simple but powerful, with a wealth of personalization options. Use it across all your devices to prioritize and keep track of everything from invoices to groceries.
It allows you to color code and categorize tasks by project, schedule tasks in advance, add priority levels, set reminders and more—and that's just the free version. To access all the features, upgrade to Premium for just €3 a month, or try out the Business version with a 30-day free trial.
"I use Todoist for keeping track of task management. It's very intuitive and easy to use, and you can update it from any device." – Shaheen Samavati, CEO and co-founder of VeraContent
2. Agenda
If you're the type of person who's always scribbling notes on scraps of paper—or doing the digital equivalent in your iPhone's Notes app—you need Agenda. This powerful app takes note-taking to the next level, combining it with your calendar and to-do lists.
Agenda organizes all your notes into a flexible and intuitive timeline, and automatically formats them to be visually clear and consistent. If you desperately need to organize your thoughts, projects and life in general, we highly recommend it. And did we mention it's free?
"Agenda is a brilliant tool that I use for note-taking, project management—everything. It's sequenced via timeline, so you can tie notes into your calendar." – Adetunji Paul, growth marketing manager at Atomic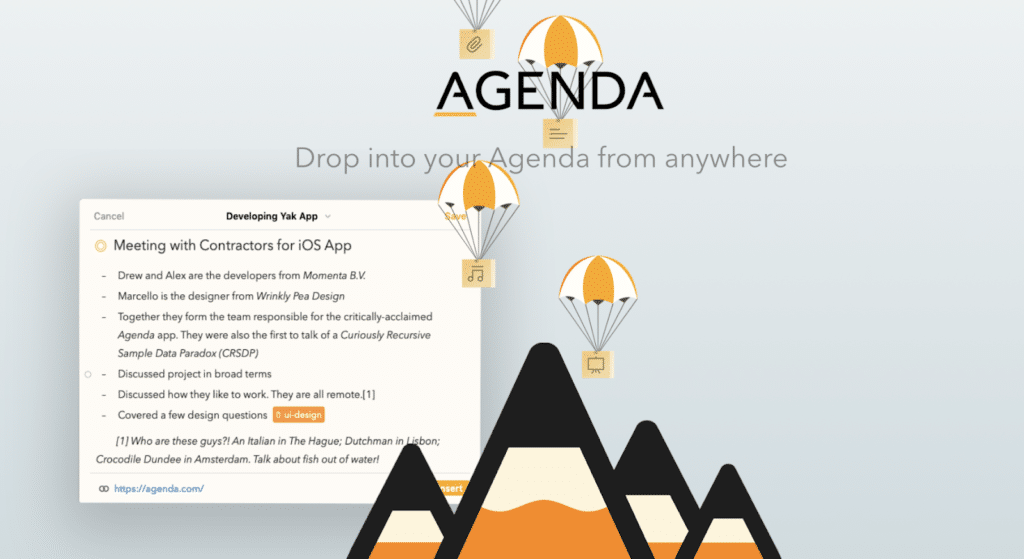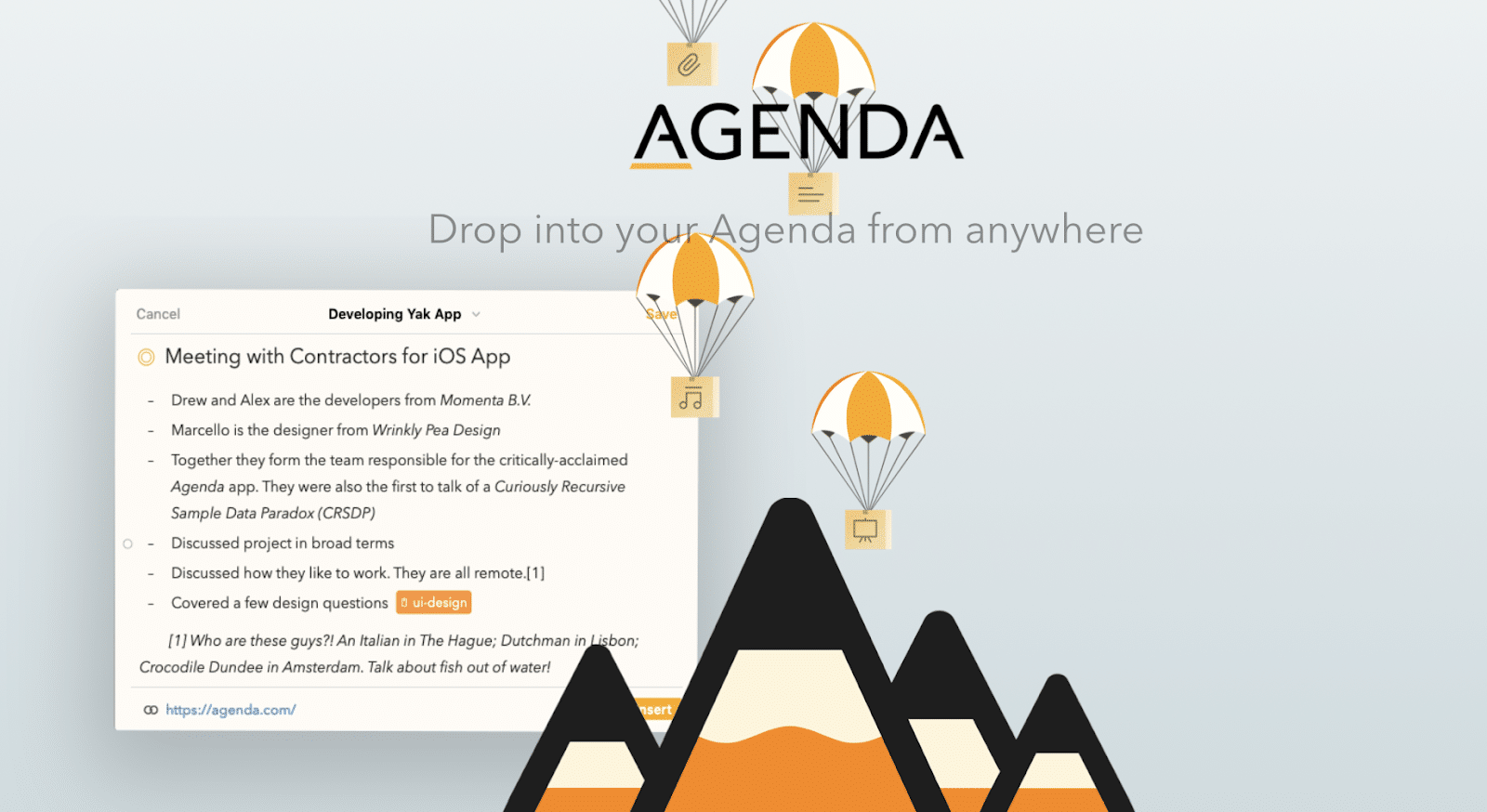 3. Clockify
You might be surprised by how something as simple as tracking your time can totally change your mindset. If you want to maximize productivity, it's incredibly helpful to analyze exactly how much time you spend on each task and project—and that's what Clockify is built for.
Clockify is especially helpful for freelancers or anyone who charges by the hour, as it allows you to categorize time entries by project and client. This takes the guesswork out of calculating rates. All you have to do is download the desktop app or open Clockify in a browser tab, and switch it on and off before and after every work session.
"I use Clockify to keep track of every single second I spend on anything related to work. It helps me to determine which projects are the best use of my time, and to know when I need to negotiate a better rate. I couldn't live without it." – Daphne Binioris, freelancer and co-founder of VeraContent
Pro tip: You can also integrate Clockify with Todoist.
4. Pocket
You know all those fascinating articles you bookmark for later, only to forget about them or get too overwhelmed to read them? Pocket is the solution. This app lets you save links to articles and other online content in one place, and even creates offline versions for you.
You can use it on various devices and download the browser extension to save things with just one click. Pocket also has a great newsletter that aggregates content on diverse topics. After all, productivity isn't just about crossing things off your to-do list; in order to achieve creative objectives, you need to draw inspiration from a variety of sources.
"I used to always have a ton of tabs open with articles that got pushed aside in favor of work, and they would just sit there stressing me out. I use Pocket now to keep them tucked away in a safe place, then spend a few hours each weekend diving into inspiring content." – Melissa Haun, freelance content creator (and author of this post)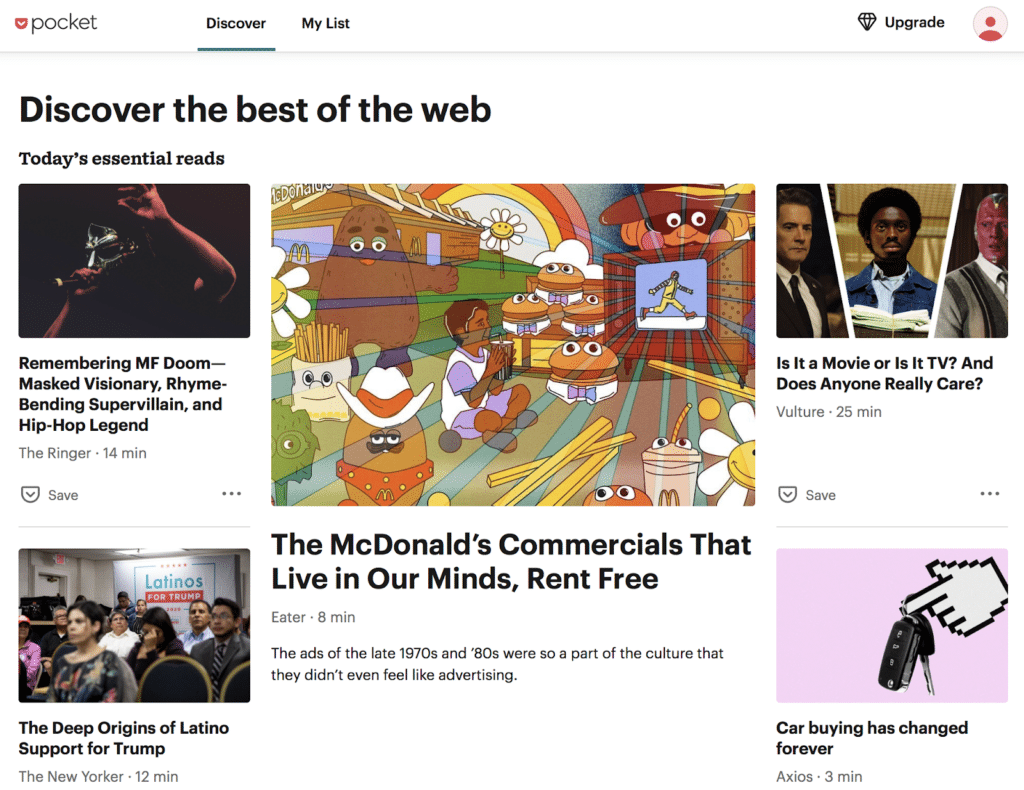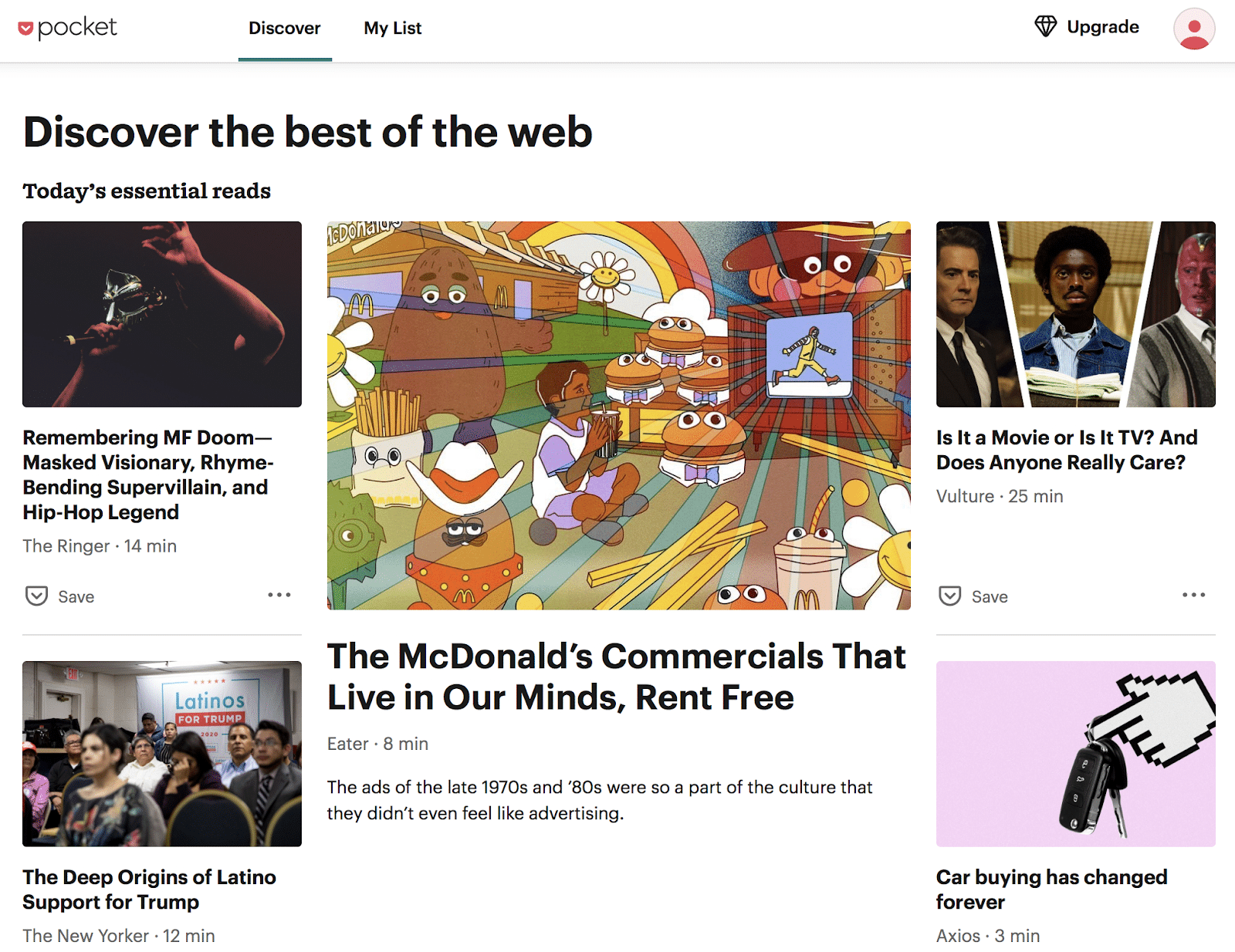 5. Trello
Trello is a visual collaboration tool that draws on the concept of kanban boards, with cards that represent different tasks and columns that represent the stages of a process. Trello brings this system to the masses with a colorful, user-friendly interface and extra features.
We've long used Trello at VeraContent to organize projects among teams. But some employees (myself included) got hooked, and now use it for personal projects too. It's a great way to organize all the steps to get something done, making it one of the best productivity apps available.
"I'm a big fan of Trello, because it combines two important elements. One is simplicity and ease of use, and the other is that it allows you to streamline a lot of processes. Content is time-consuming in the best case scenario, so having a strong process can save you a lot of time." – Ilia Markov, content marketing manager at ChartMogul
6. Evernote
Launched way back in 2000, Evernote is a classic note-taking app that's evolved over the years into a comprehensive tool. It's versatile, streamlined and visually pleasing, allowing you to add text, images, audio, scans, PDFs and documents right into your notes.
Another great feature of Evernote is its capacity to integrate with other productivity apps like Slack, Microsoft Teams, Salesforce, Gmail and Google Drive. It also has cool features like multilingual handwriting recognition and Web Clipper to save online content. The basic version is free, with Premium and Business plans also available.
"I'm a superfan of Evernote because I love to scroll through lots of content online. It allows me to tag things and save them for the future, so that I can revisit them or share things that I find inspirational with my team." – Carlota Feliu Argila, global markets marketing leader at HP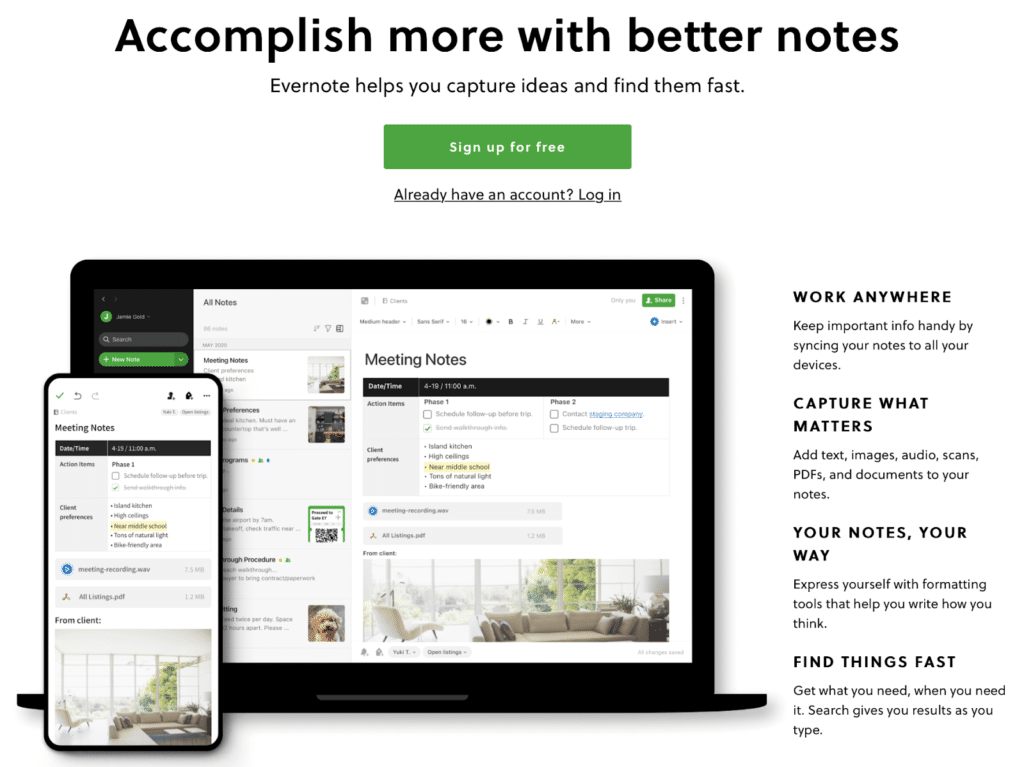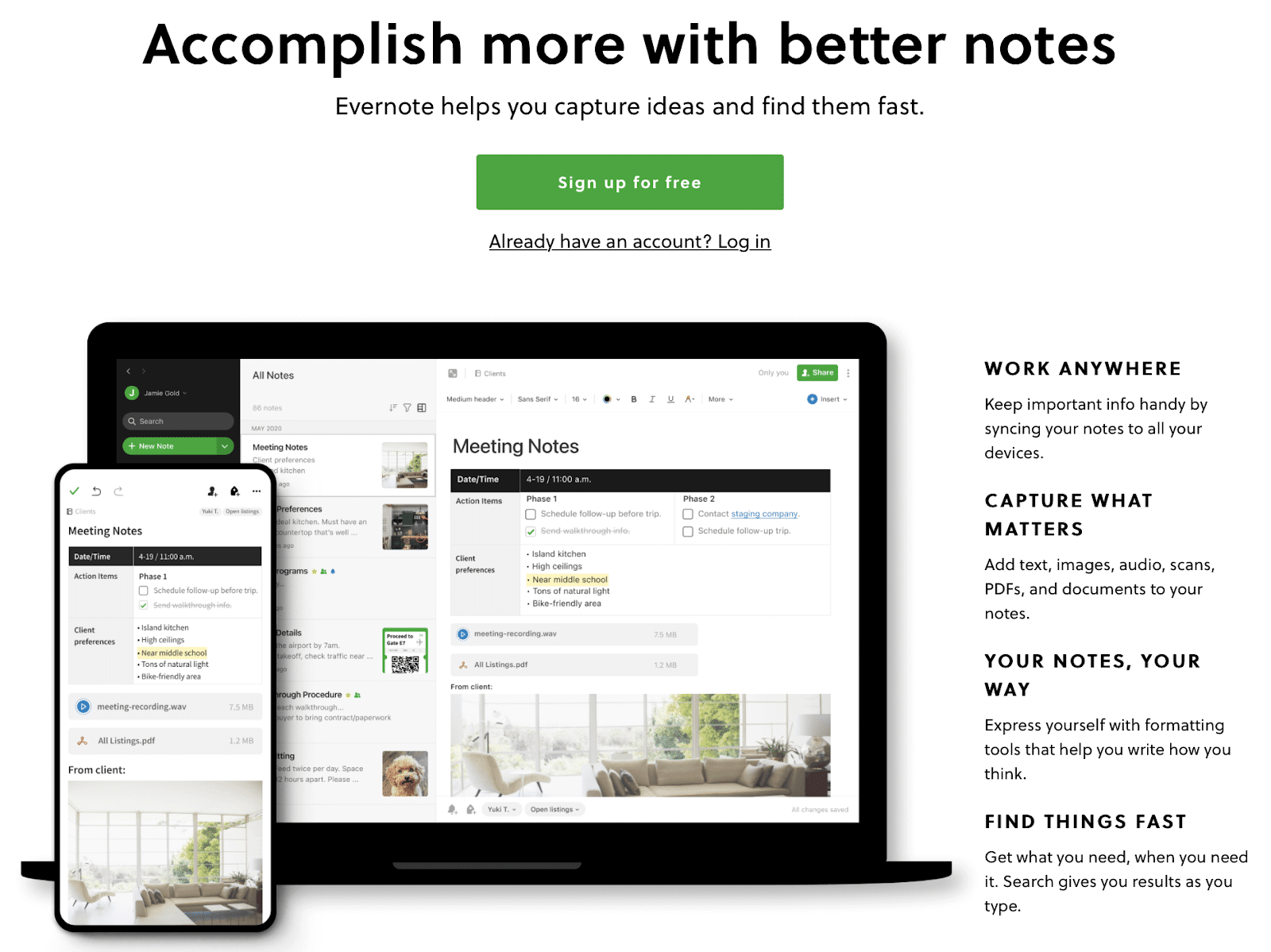 7. Sloth
Ah, time management. It's the key to making the most of each day and progressing toward our goals, but it's also notoriously hard to master. Luckily, Sloth is here to help. It's a simple task manager app that allows you to set a timer for each task on your list.
Sometimes you don't need a million fancy features or a crazy complex interface; you just need a tool that works. Sloth might not look like much, but the basic concept of creating to-do lists with preset time constraints is a great way to create routines that you'll actually stick with.
"I'm a huge fan of productivity hacks, and what Sloth allows me to do is segment my day, set my priorities and time each activity. It really helps me focus on what needs to be done instead of wasting time." – Jaime Lee, head of content strategy at AdRoll
8. Notion
For people who work closely with others, productivity is all about effective collaboration. Getting everyone on the same page is essential to ensure that nothing gets lost in translation or forgotten among a million different apps—and Notion helps to make it happen.
This innovative all-in-one workspace combines note-taking, task management and a team wiki to put all the info you need in one place. Create to-do lists, save important documents and communicate with colleagues on the desktop app or web version.
"It's basically an app for taking notes, but really it's so much more than that! It combines notes, wikis and databases in one place. It's color coded and super organized, so if you're into making lists and organizing stuff, you'll love this app." – Xenia Muntean, co-founder and CEO of Planable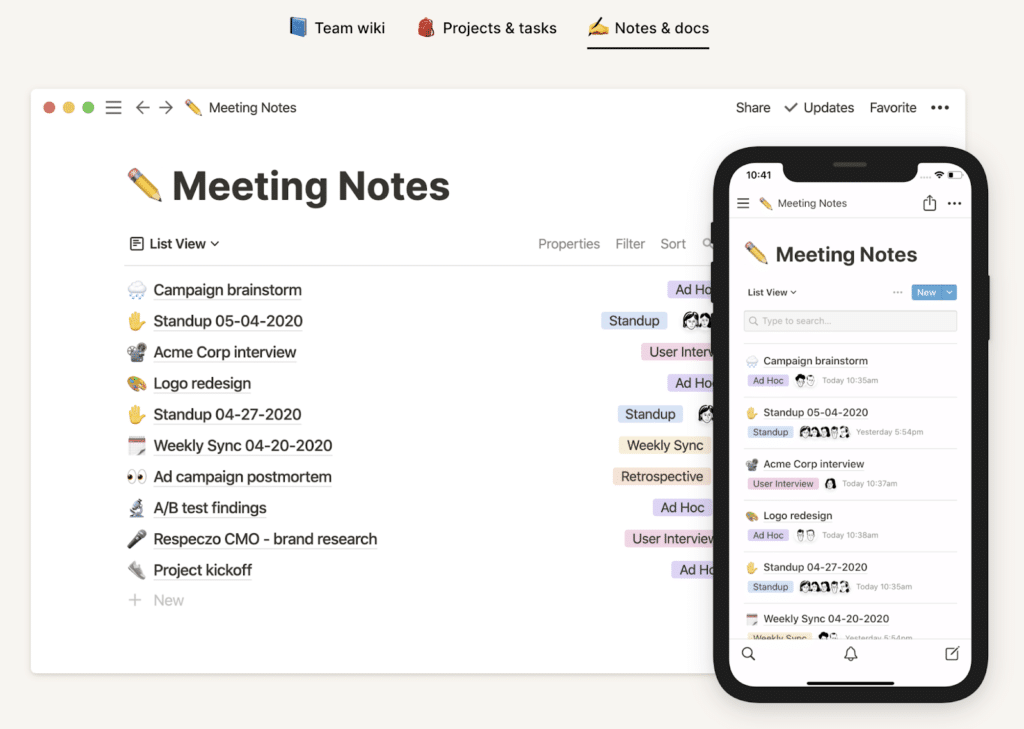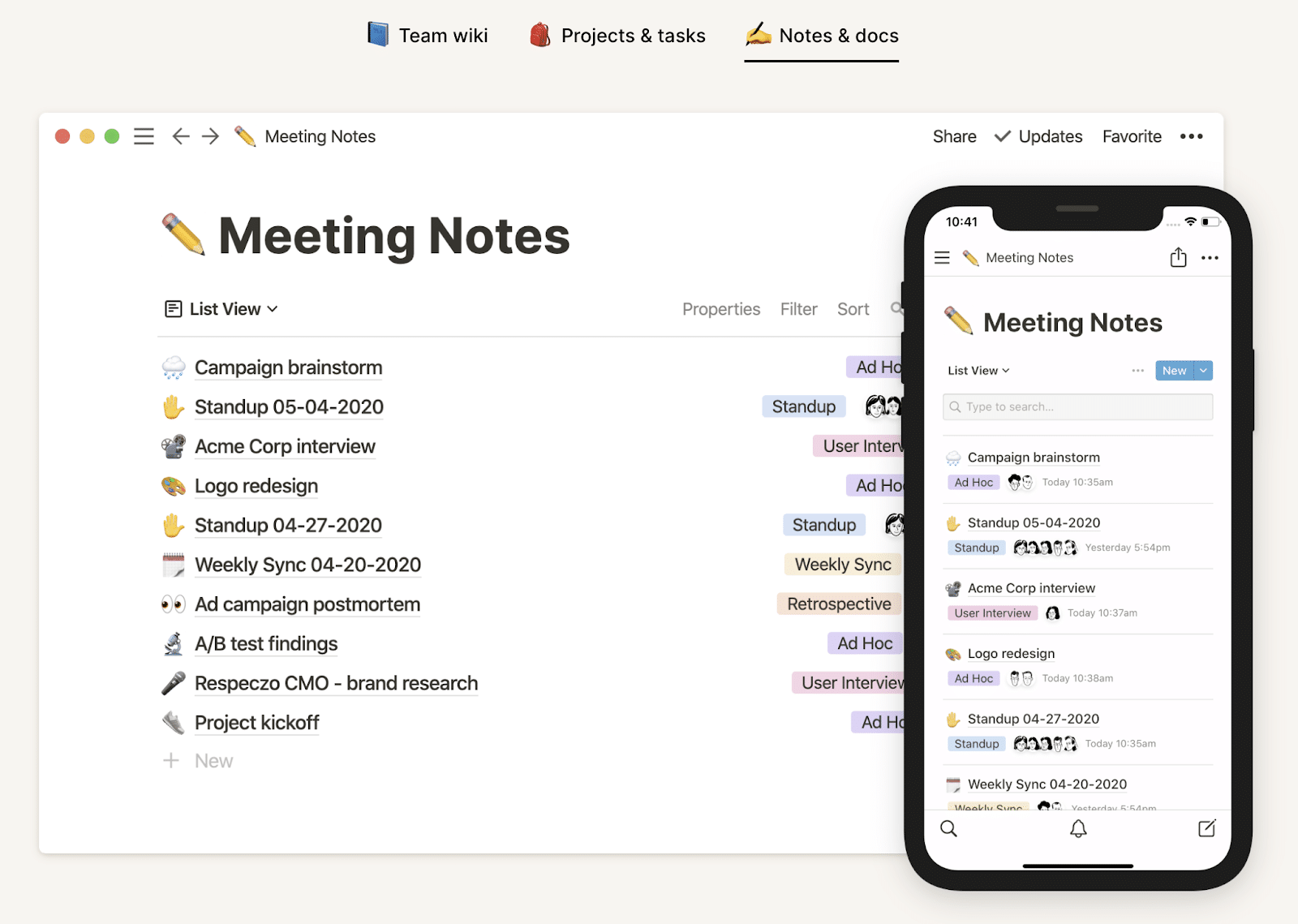 For more recommendations from industry experts in Europe, check out:
Got any more tips for the best productivity apps? Let us know!