In today's episode, co-hosts Shaheen Samavati and Kyler Canastra chat about creating content at scale and share their tips for companies looking to increase their production of high-quality content.
Shaheen and Kyler have a great deal of experience working on complex content operations with VeraContent's diverse client list. With so many moving parts, they say the key to creating a lot of good content, and being consistent, is having airtight processes.
During their conversation, they chat about selecting and evaluating writers, creating solid briefs, setting up content calendars and establishing strong communication and editing processes.
You can watch the full conversation in the video above or on YouTube, listen to the podcast on Apple or Spotify, and read a recap of the conversation below!
What are the main processes that help with creating content at scale?
There are four main parts to the content creation process:
Talent selection. This involves finding the right people to work on your projects—in this case, writers and editors. It also requires managing their availability to ensure you always have people on hand when projects come in.
Managing the content calendar. This refers to the processes around content planning, creation, editing and publishing.
Feedback and quality control. This means ensuring that your team has everything they need in order to produce the best content possible—namely, detailed briefs and regular feedback.
Implementing best practices. This includes following brand style guides to ensure content is up to par while ensuring the whole content production runs smoothly.
Finding the right writers isn't necessarily the hard part. According to Shaheen, the biggest challenge comes in putting clear processes in place:
"Having super clear processes and instructions in place for writers and having the criteria for what type of writers you need for each project is essential for creating content at scale." – Shaheen Samavati
How do we select writers at VeraContent?
It's important to test writers to ensure they're the right fit for your project. Depending on your time, you can do this in various ways. The most common method is to ask for previous work samples and evaluate from there. However, all published work is likely to have undergone some level of editing. So it's not a foolproof way to truly evaluate a writer's skills.
It's common practice to send a writer a test assignment. If you've already started the project, you can share a real brief for something you need, and then have an editor already on the project to check it.
If you haven't started the project yet, you can create a test assignment based on a real-life scenario.
"A test assignment is a fair way of evaluating writers while giving them an opportunity to actually perform, rather than just sending a few examples." – Kyler Canastra
If you want the freelancer to prioritize the assignment, it's a good idea to pay for it, even if it's not the full rate. Just be clear about your rates and what the writer can expect from the beginning.
How do you evaluate writers in a language you don't understand?
It's essential to have trusted editors in each language that can evaluate writers and provide feedback to you in your language. Of course, it takes time to build a team in which you're 100% confident. And if you're starting from scratch, you'll have to take a chance on a few people.
Beyond writing style, there are other ways to evaluate writers even if you don't speak the same language.
For example, you can see how thorough someone is on an assignment, how much time they've spent on a project, and if they considered the style and tone guidelines provided. You can also evaluate how perceptive they are to feedback and their responses in communication. These competencies are universal and easy ways to tell whether a person is professional.
See also: 5 ways to ensure a quality language localization – even if you don't speak the language
How can you manage availability in a team?
If your workload varies, it's tricky to manage content creators' availability.
At VeraContent, we make sure to keep our talent database up to date so we know what writers we have available at any time. We also work with retainer freelancers and in-house editors who have higher availability for us to jump onto projects when we need them.
What makes a great brief? 
"A brief is an essential part of the process as it's how you set expectations for what you want." – Kyler Canastra
Here are a few tips for creating a great brief:
Make sure it's well organized and in an easy-to-follow format. For example, use bullet points where appropriate and make it visually pleasing.
Define the specifications that are important for the project. For example, writing style, content aim, words to use/not use, word count, language, SEO considerations, etc.
Add supporting resources that point them in the right direction.
Include previous examples they can use as a reference point.
At VeraContent, we have a style guide for each client that we link to the brief, so the writer knows everything they need to know about writing for the client.
"The clearer you are in your instructions, the better the results will be. And you'll have less back and forth." – Shaheen Samavati
What's the best way to set up a content calendar?
The basic premise of a content calendar is to outline the different stages of content production, the status of each assignment and the people responsible for each task.
You can use many different tools to do this. Spreadsheets work well for most content calendars, but if you're working on creating content at scale, you may benefit from using more sophisticated software. Either content calendar-specific tools like Buffer and monday.com or project management tools like Trello.
The important thing is that everyone knows how to use these tools and what information needs to be included with each assignment. The project manager also needs to be able to get an overview of everything.
It's a good idea to plan your content calendar in advance—we usually work a month ahead. There should be an approval process once the calendar is set up before implementing each month, so make sure you have enough time while also leaving room for slotting in more timely content when relevant.
If you're managing multiple languages, you may want to have separate calendars for each platform and/or language.
Related episode: How to scale up content production with AI & automation tools
How can you make communication easier with your team?
When managing various writers, it's important for there to be smooth communication.
Make sure to let writers know how and when you're available for communication. Transparent and easy communication helps build relationships with freelancers, which goes a long way in having successful projects.
Different projects require different communication styles. For example, blog posts likely require less urgency, so email would usually suffice. While social media or more timely content creation may require faster responses, making Slack or other instant messaging tools useful.
Related episode: The secret behind managing remote teams successfully
Download our checklist for hiring, onboarding and nurturing relationships with freelancers: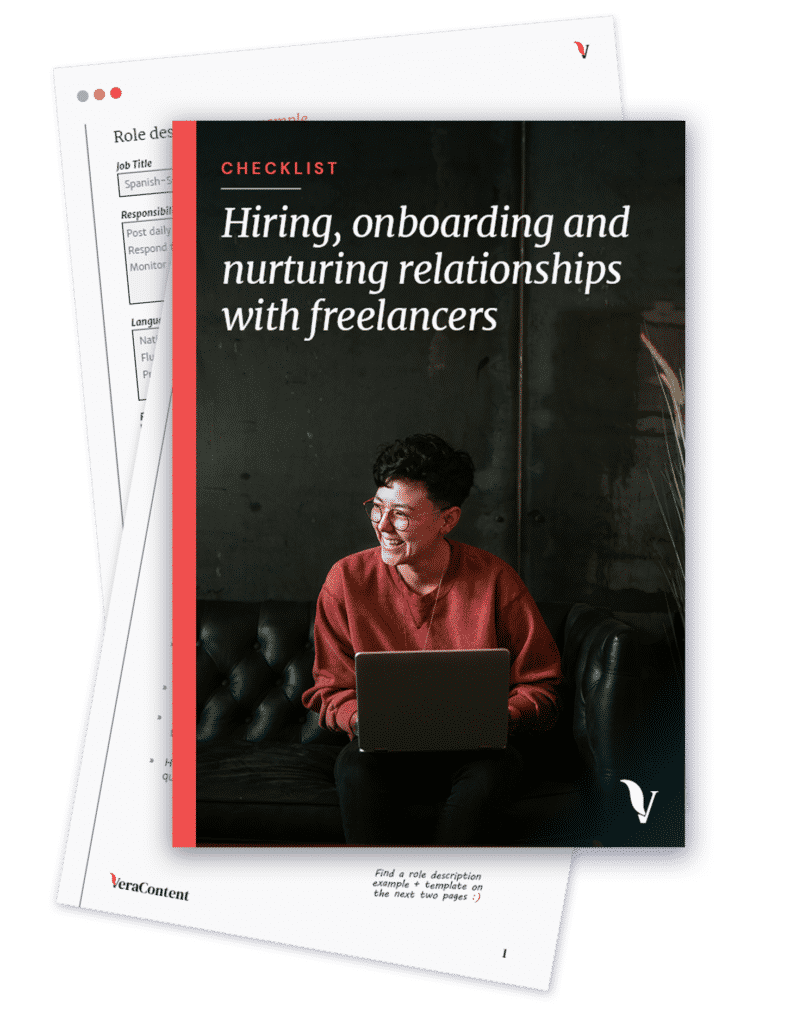 Get your free guide by filling in the form below!
How important is it to have a good editing process?
The editing process is how you close the loop and ensure you're constantly improving.
"It's really important to have different editing stages. You need to put certain checks in place to ensure the work you're putting out is consistently good." – Shaheen Samavati
At VeraContent, we not only ask editors to edit but also provide qualitative feedback to the writers. Writers receive the editors' feedback straight away along with a monthly report combining all feedback for them to get an overview of the quality of their work, and to notice patterns and areas where they can improve.
From a bigger-picture perspective, we also regularly ask for feedback from our team and freelancers to find areas where we can improve as a company. Having that feedback loop is so important to identify where issues are and to be able to keep improving.
Tune in to one of our previous episodes where we went deeper into editorial processes: How to create a strong editorial process for your content marketing.
You can check out Shaheen and Kyler's speaker profiles if you'd like to have either of them speak at your next event or be a guest on your podcast.
Check out more posts on content creation processes:
To read the full transcript, click on page number 2 below.
Want more insights from the content and marketing community in Europe?