Content marketing generates three times as many leads as traditional outbound marketing and costs 62% less. It's no secret that developing a solid global content marketing strategy is one of the best ways to scale a business.
High-quality content has the potential to build traction and drive long-term results. But ensuring this effectiveness expands across global markets can be challenging. Keep reading for more on what a global content strategy is and how to create an easily scalable one.
What is a global content strategy?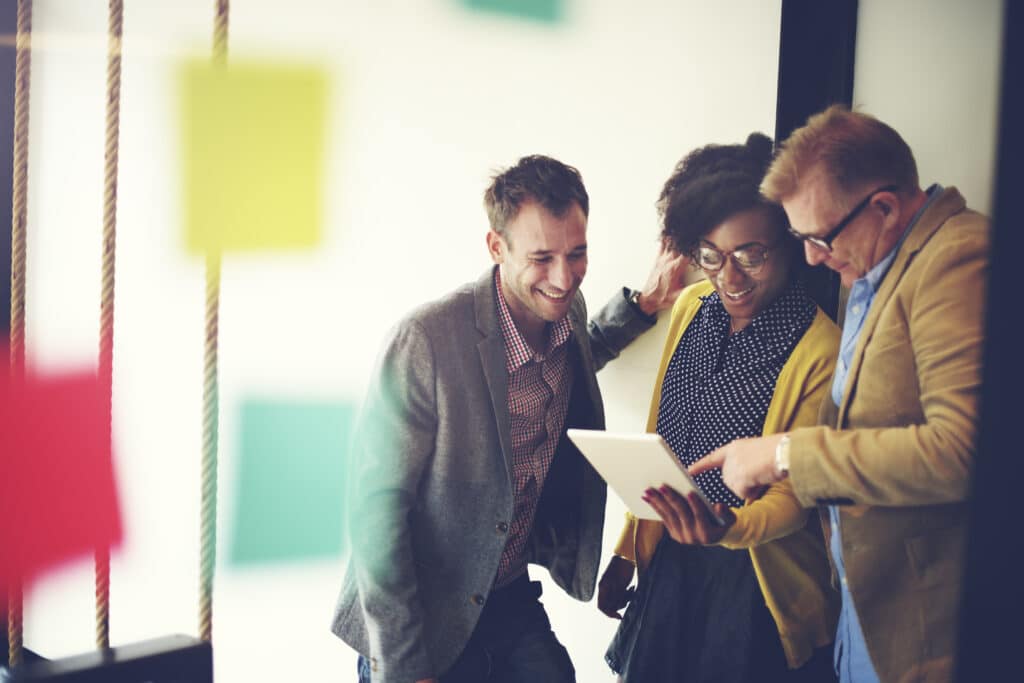 The need for content is universal. But if your brand is operating in different markets, you'll need a global content strategy that caters to each audience's specific language, context and culture.
Global content strategies outline a framework for creating and managing content in multiple languages and regions. They cover more than content planning but things like governance, user journeys, workflows and performance metrics.
It's important that your global strategy not only focuses on creating content to highlight your brand and the problem you solve, but also how that content can be adapted to be relevant to global audiences.
Adapting and creating content for different markets is an incredibly detailed process that takes time and careful evaluation to get right. It's well worth putting in the effort during the beginning stages of your global content strategy to make it easier to scale as you launch into different regions.
"I believe brands are built on content nowadays, especially with social media being so strong. You need content as a brand." – Thiago Kiwi, head of marketing & communications at Headspring Executive Development
If you need help with adapting your content to local audiences, download our free, interactive worksheet below: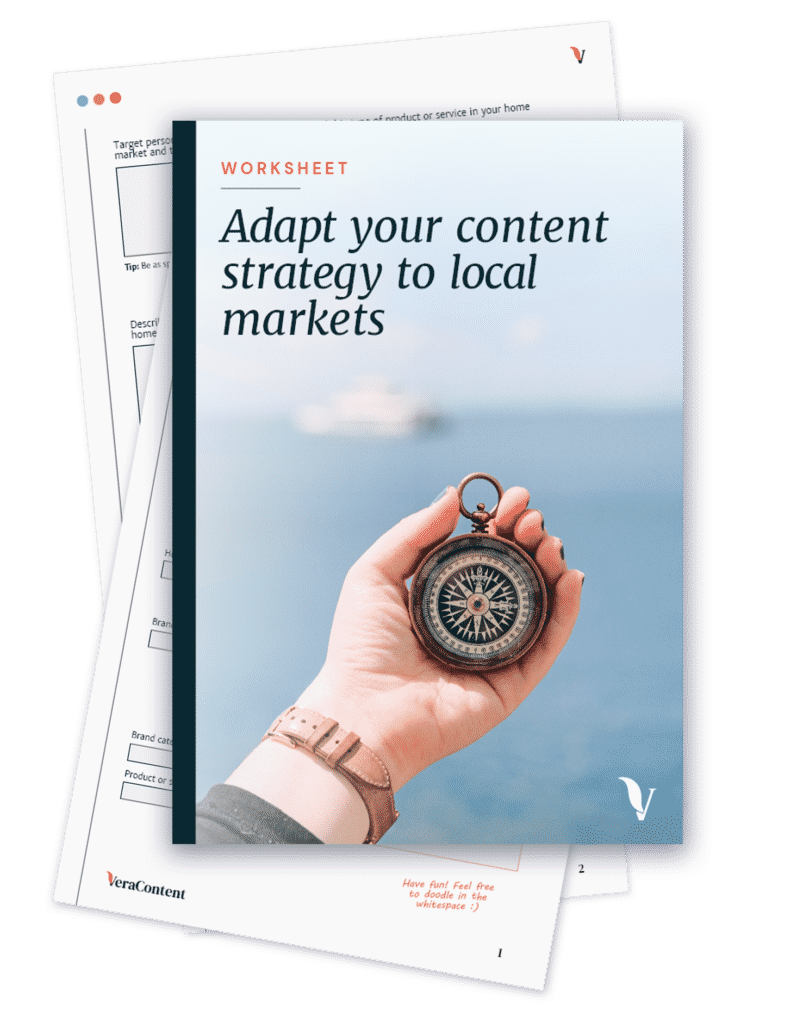 Get your free guide by filling in the form below!
How do you create a scalable global content strategy?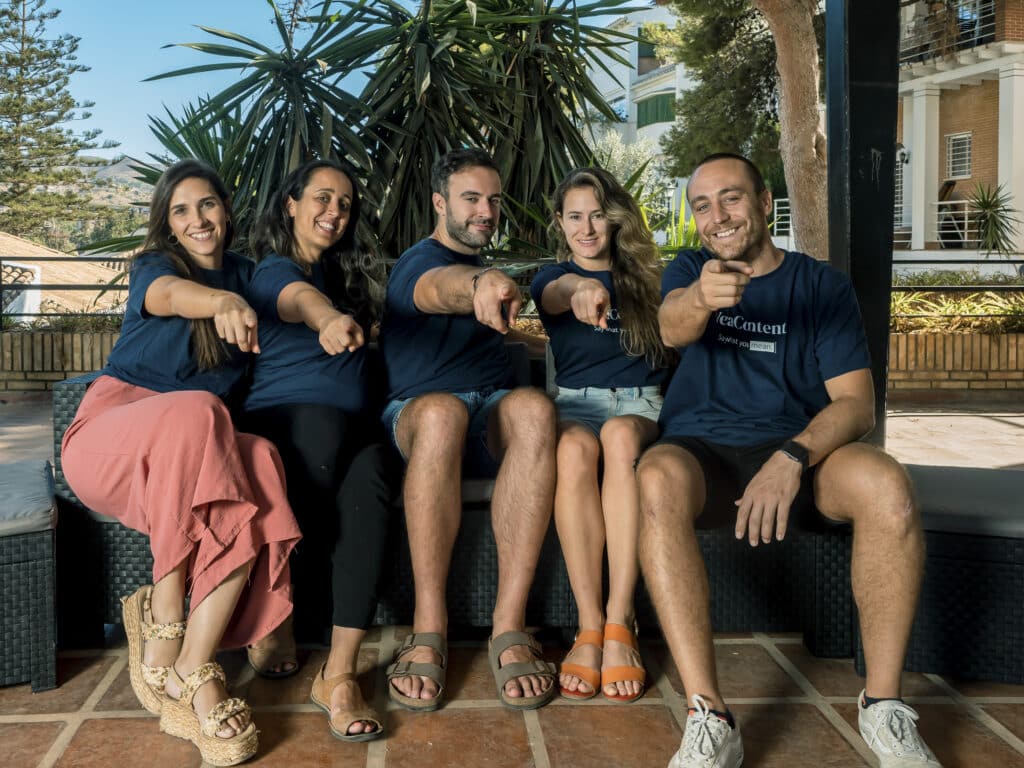 Setting up and maintaining a successful content strategy is much more manageable when you break it down into steps.
Here are eight steps to follow when creating a scalable global content strategy:
1. Get clear on your goals and lay out a content roadmap
As with any strategy, it's essential to always start by outlining your goals. When doing so, include the people responsible for implementing the strategy. Even better, consult locals in each region. They'll help you figure out the best route for achieving your goals.
At this point, you'll also need to decide whether to take a localized or standardized marketing approach. That means deciding whether your strategy will be standardized across all countries or if you'll tailor it for each region. Each method has its pros and cons, but we usually recommend localizing your content marketing—at least in each of your key regions.
Once your goals are clear, start planning. Lay out a roadmap with timelines, milestones and responsibilities. If you're starting with one new market at a time, plan when you want to add more regions into the mix—and what you want to achieve by each milestone.
Remember, a content roadmap isn't set in stone. You'll likely veer off course at points, but it at least provides you with direction and goals to work towards.
2. Set up a clear global content management structure
Implementing a global content strategy involves many people—especially as more languages and regions are added. That's why it's important to decide how best to manage your global content.
For example, who will be responsible for creating, publishing and maintaining the content? Will you do so centrally, or will you opt for a decentralized model where each region maintains its content?
Another option is to maintain a centralized global content leadership team and outsource a global content marketing agency to create and manage content for each region.
3. Select and properly set up a multilingual CMS
A well-structured multilingual content management system (CMS) is essential for implementing your global content strategy. Your CMS is where your content lives and if it's not organized and set up correctly, it can become a nightmare to scale as your strategy expands.
Ideally, you want a CMS with the capabilities to publish content in all required languages. With a multilingual CMS, you can easily implement different language versions of your site and also provide a consistent customer experience across your website(s).
Popular multilingual CMSs include WordPress, Joomla, Drupal, Squarespace and Adobe Experience Manager.
See also: Multilingual content management: 5 tips to upload posts effectively
4. Incorporate AI, automation and project management tools into your workflow
"Right off the bat, automation offers time-saving." – James Scherer, VP of growth sales at Codeless.
In order to scale your content marketing, you must incorporate some form of automation into your workflow. Automation paired with AI and project management tools is the most efficient way to create content at scale. It's worth exploring various AI content tools to assist with tasks like creating content outlines, research, SEO, image creation and machine translation.
Automation is a great way to ramp up your productivity by automating tasks like social media scheduling, email marketing and publishing blog posts. Project management tools help pull everything together—keeping your workflow organized and transparent for everyone to be kept in the loop.
Whenever possible, select tools that serve global teams. For example, tools that support multiple languages and alphabets and can handle country- or region-specific barriers, such as firewalls or data protection regulations.
See also: 23 AI marketing tools to transform your workflow right now
"Automation will save you a lot of time, and it's not that big of a financial investment. It's worth looking at how you can incorporate some of these tools, even for those working with small-scale content production." – Shaheen Samavati, CEO at VeraContent
5. Document all processes
While each market may have its own content strategy, that doesn't mean you can't replicate your processes in each region. To make this possible, it's essential to document your entire workflow. That way, the process of onboarding new team members or even assembling entire local teams is much easier.
Well-documented processes ensure that scaling your global content strategy is done as seamlessly as possible. This includes documenting your customer personas, style and writing guidelines, content calendars, approval and publishing processes and content tracking.
"Having super clear processes and instructions in place for writers and having the criteria for what type of writers you need for each project is essential for creating content at scale." – Shaheen Samavati, CEO at VeraContent
6. Create user personas that are easily adaptable to each market
All content strategies need to start with a clear understanding of your target market. This includes knowing exactly who you're creating content for and how best to connect with them. While you'll undoubtedly have similarities in each market, it's important to create specific customer profiles for each region.
Start with creating a detailed customer persona for your primary market and then adapt them to each country. It's essential to consult locals when localizing your customer personas as they're in the best position to understand the market and target audience on a deeper level.
"Take the time to interview as many people as possible to find out what your audience wants in terms of content. During those interviews, you really need to pull things apart and look deep into every aspect to better understand your audience—as sometimes they don't even know why they chose your brand." – Josh Saxon, freelance content marketer
7. Build local teams
We've touched on this point already, but it's so important to incorporate local knowledge into your content production—especially when building a content strategy in regions you have less experience in.
This could mean working with local freelancers in each region. Or, as each region grows, you can start putting together local teams to manage the entire content production in each region.
Another option is to work with a global content marketing agency to handle everything from the strategy to the creation and implementation of your global content.
See also: Native language marketing: The benefits of local knowledge
8. Don't get hung up on localizing and translating everything
Consider what types of content will have the most significant impact in each market, and focus on localizing that content. Not everything is going to work in each region. And it's important to not get caught in the trap of thinking you have to start translating absolutely all of your content marketing for each region.
Having a combination of both adapted and unique region-specific content is a great way to ensure that you're giving each market the attention it deserves—and not simply translating content for the sake of it.
See also: Content localization: A how-to guide for global brands
Ready to take your content strategy global?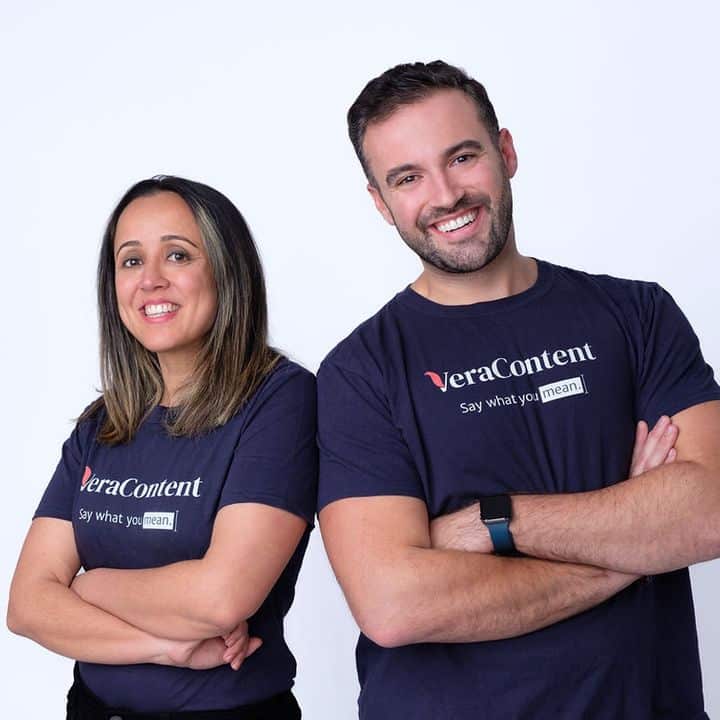 If scaling your business is on the cards, it's important to build a content strategy that's easily expandable. This starts with developing a solid content strategy in your home market while considering global expansion from the start. Putting the right processes and strategy in place early on makes it much easier to replicate and adapt for new markets.
At VeraContent, we help global brands develop strong content strategies across multiple markets. We assist with everything from global content strategy to content creation, translation, localization and management. Get in touch to find out if you qualify for a free content consultation.