Creating a multilingual blog with the right SEO strategy is one of the best ways to expand your brand's reach abroad.
But how do you do that while maintaining your carefully curated brand voice? How can you tell if your content is accurately adapted into new languages that you don't even speak?
And how can you ensure your multilingual blog ranks high on Google with content that's relevant for each target market?
It can be a complicated process, to say the least.
Not to worry—we'll cover all these points below so you can break into new markets successfully.
Why is it a good idea to create a multilingual blog?
The global B2B e-commerce market size was valued at just over US$ 6,880 billion in 2021 and is expected to expand by 19.7% by 2030. The number of internet users globally is also set to grow to 5.3 billion by 2023. It's clear there's a massive potential market out there for brands looking to expand into new markets.
While the potential is there, it's important to remember that English speakers represent only 26% of worldwide internet users. If you want to reach a global audience, you need to consider incorporating different languages into your global marketing strategy—which is where multilingual blogging comes in.
Adding multilingual content to your website helps you connect and build trust with new audiences by making your content more accessible and relatable.
If you already have a strong core brand at home, those same brand values and messages need to be communicated to new markets in an authentic and relatable way.
See also: Global content marketing: Make your brand known worldwide
Is a multilingual blog right for your global marketing strategy?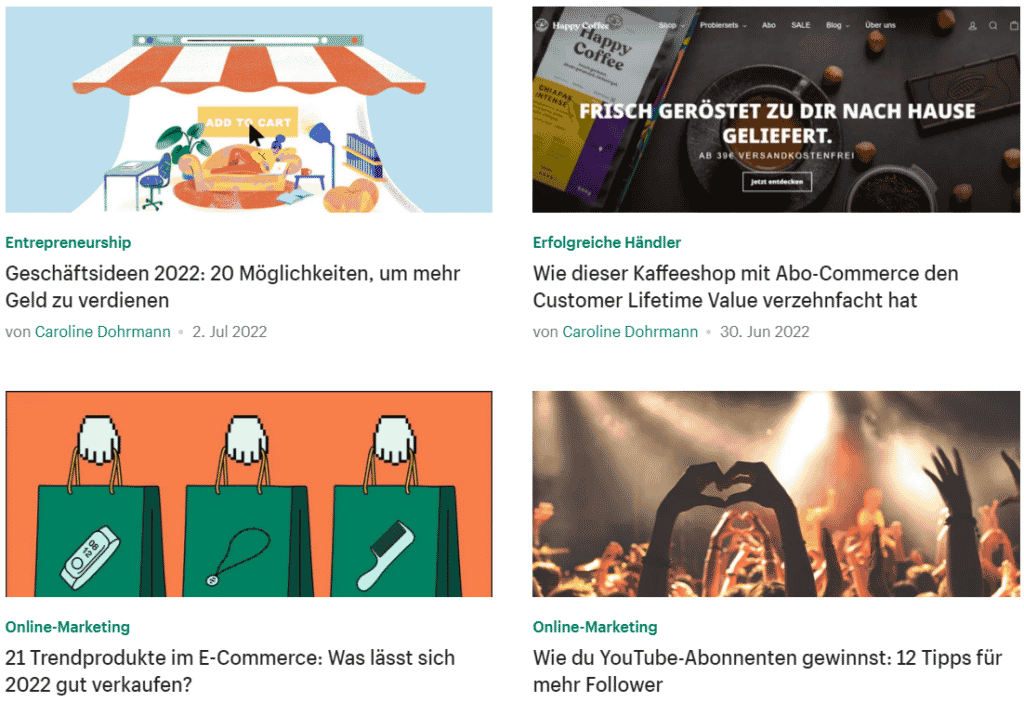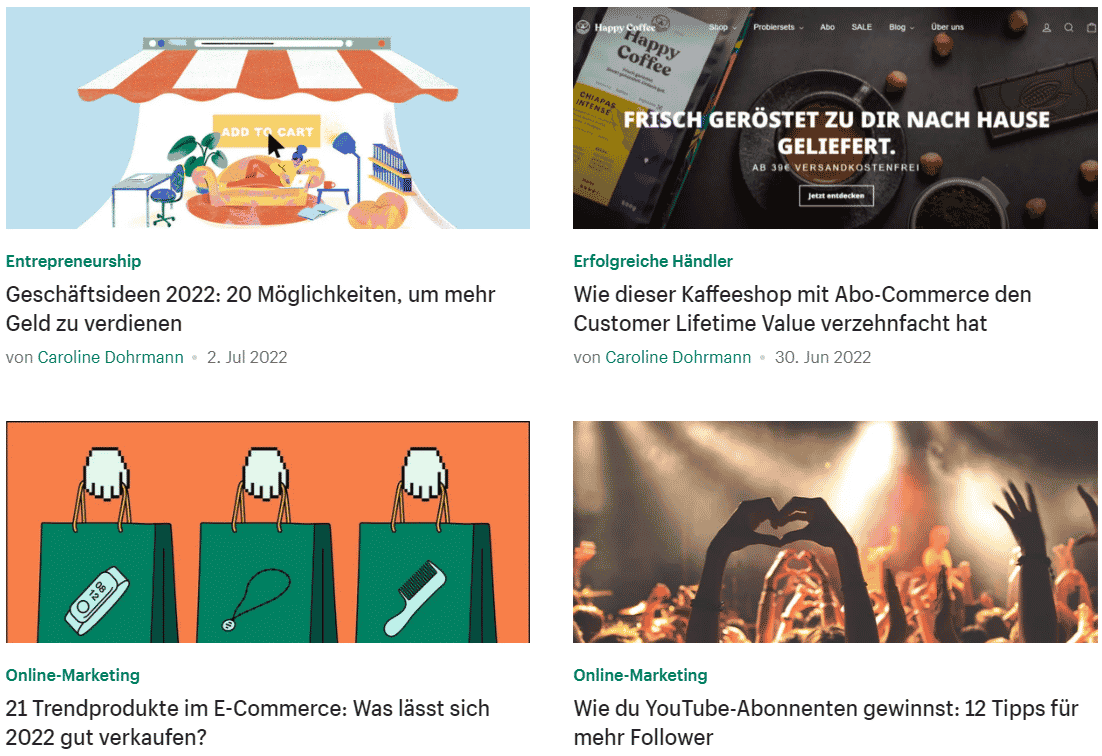 Before setting up a multilingual blog, weighing the pros and cons is essential. Any marketing localization initiative will cost money, so you need to know that it's right for your company.
For example, multilingual blogs are great for brands that naturally have a lot of storytelling and educational opportunities. Meanwhile, more visually focused brands may see more results localizing their social media.
Let's look a good multilingual blog example.
Spotahome is a property portal that has expanded across Europe, tailoring its content into the six different languages they work with: English, Spanish, Italian, German, French and Portuguese. They hired our agency, VeraContent, to help localize and create SEO-optimized website content in all of these languages.
After only three months of their partnership, Spotahome saw a 30% increase in traffic to their websites tailored to landlords and a much higher ranking on Google for several of its targeted keywords.
Their multilingual blog features relevant content that users are searching for in each region:
"When looking for an apartment abroad, a lot of people search in the language of the market they're moving to, because they don't expect real estate websites to be in English," Mauro Agatone, former SEO Specialist at Spotahome

Conversely, another VeraContent client, Popsockets, decided that their brand is more image-led and less story-focused. So they asked us to create a multilingual social media strategy—*not* a blog—since short captions and images seemed the best way of marketing their products.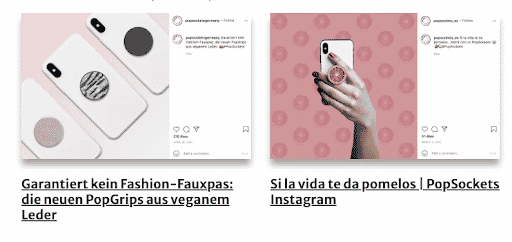 What is multilingual SEO?
If you want audiences from different countries to find your multi language blog, you need to incorporate multilingual SEO into your strategy.
Multilingual SEO localizes all keywords and keyword phrases to your new language and market. Using the keywords in your home market won't necessarily work, as words and expressions can differ depending on the language and region. Localized keywords and phrases need to be well researched to help your potential new audience find your site.
The same goes for the target audience in the new language. Your strategy needs to clarify who they are and how they search for content.
"Each country has a unique audience that should have its own SEO strategy—and this is before you consider throwing different languages into the mix." – Neil Patel, SEO Expert
Pro tip: A specialized multilingual SEO agency can ensure no stone is left unturned when it comes to your SEO blog strategy.
Where to start your multilingual blog strategy


Before launching your brand in a new market, it's imperative to conduct a wide-reaching study, including your local competitors and whether you already have a lot of traffic from the region.
It's also a good idea to use a VPN to Google words from the country you're targeting and use Ubersuggest or other SEO tools. The latter is Neil Patel's tool that can be used for different countries and even for different languages within the same country, e.g. Catalan in Spain.
Tip: Use Google Analytics to take a deep dive into your current user geographic locations and check what language your users' browsers are set to. To do this, go to the 'Reports' tab and scroll to 'Audience > Demographics.'
See also: 8 best tools for running an effective multilingual blog
Consider cultural differences in your target country when creating your blog. For example, Western countries tend to be more informal, whereas Asian countries often place a lot of importance on protocol and ceremony. Keep that in mind when designing your multilingual website's customer service strategy and tone of voice.
Colors can also have different meanings depending on the country. Humor also differs—what is considered funny in one place could be taken as offensive in another. Make sure you do your homework on what is and isn't appropriate.
See also: Cultural marketing: Going beyond simple translations
How to manage a SEO blog in two languages (or more)
Managing a multilingual blog in various languages, perhaps across different time zones and countries, can take some serious planning! It's imperative to have everything organized and accessible to all on your team.
Localization is key. You may be able to re-use a lot of your original content from your initial blog, but it will need to be re-targeted and re-framed for a new audience. Get input from people in your new target language or country to find out what works there and use that information to fill in your multilingual editorial calendar.
A multi language blog editorial calendar should also include:
Types of content you intend to publish—from new articles to repurposing old content
Languages your content will be in—make sure it's clearly tailored and thought-out for each target country
Assigned team members—whether it's writers, translators or editors. Content may need to be tagged to social media managers or graphic designers, if relevant.
Dates for when content needs to be created, edited and published—using a workflow app like Trello might help keep track of scheduling
See also: How to set up a design workflow for global social media accounts
Tip: When building a multilingual site, it's important to also consider what happens in the back-end. For example, make sure to set up hreflang tags so that Google correctly indexes the pages in more than one language. WordPress is a great multilingual content management system with plugins that make this process super easy.
Download our worksheet for an interactive step-by-step guide on adapting your content strategy to local markets: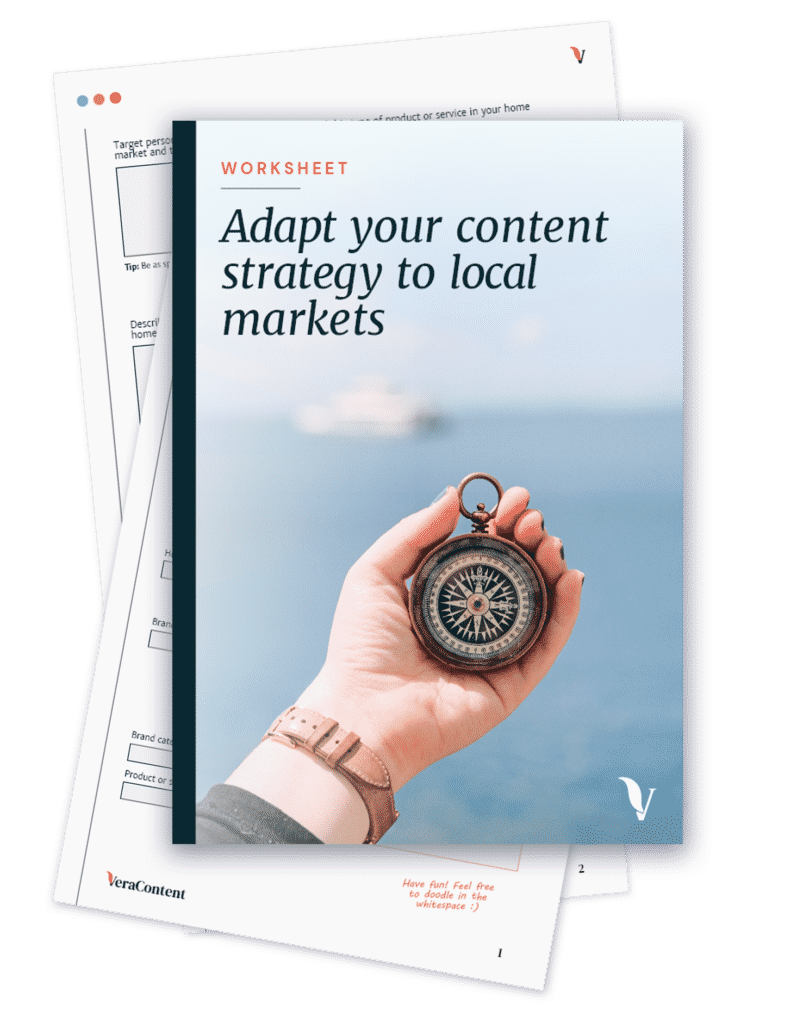 Get your free guide by filling in the form below!
Multilingual blog writing: 5 top tips
Once you've researched your audience and the type of content they'll relate to, follow these five tips to pull it all together.
1. Work with native writers
Ideally, you should hire native writers to adapt and create new content for your multilingual blog.
At VeraContent, we specialize in offering all-round content marketing translation, social media localization and content localization services that can be targeted to your new market, with texts written and checked by native-level professionals.
While you may think automatic translation tools will do the job, it's always a better idea to hire a professional translation service. That way, you'll have peace of mind knowing that your words and brand have been put into the new market's language in their truest form by local experts.
2. Create an online presence in each market
It's important to build a presence in your new market, so consider reaching out to local media and businesses, or investing in the following:
Backlinks: Consider offering a reciprocal deal with websites in your new market—this will help build SEO confidence in your multilingual blog
Local shares: Encouraging people in your new market to share your content is a great way to get your name out there—perhaps offer a discount code for your services or product
Target the local region with Facebook Ads or Google pay-per-click ads
See also: How local influencers can help you grow your brand globally
3. Use the right platforms to promote your blog posts
Make sure that the right social media is used in each region to promote your multilingual blog posts. There may be other services besides Facebook or Instagram that are more popular with your target audience—such as ​Weibo ​in China and Orkut in Brazil.
Tip: Don't forget to create an editorial calendar that reflects each country's key dates and celebrations.
See also: How to do a full audit your multilingual digital presence
4. Create a glossary of brand terms in each language
Create a glossary of SEO terms to follow in the new language. This way, your company's brand and core values will be easier to follow when multilingual blog writing.
It also helps to use the translation memory and a term base feature offered by translation tools like Memsource. This feature slowly builds up a database of how you usually translate specific terms to help speed up the process.
"If I'm translating for a client that we have an ongoing relationship with, as they start sending me new documents, Memsource will pop up with messages like, 'this is how you translated this before for this client? Do you want to use it again?' In most cases, I'm saying absolutely, yes. This saves so much time." – Meag Gardner, translator
5. Add calls to action
The main aim of all blog posts is to encourage your audience to do something.
It's important always to clarify what next steps you want your readers to take. Whether it's to sign up to a newsletter or take part in a promotion, the success of your multilingual blog depends on getting traction from your audience. Engage them!
Ready to launch into new markets?
Launching a multilingual blog requires plenty of planning, from researching your market, audience and SEO keywords to creating a tailored content strategy that reflects your brand's core values.
If you follow all these tips, your multilingual blog will connect with new audiences in a meaningful way, enabling your business to really make a mark in the world.
Get in touch with us today to learn more about our services and discover how we can take your business to new heights.