What makes you a successful content marketer? Is it imagination? Creativity? Work ethic?
Sure, those all help, but after speaking with hundreds of content marketers across Europe on The Content Mix podcast and asking them for their top productivity hacks and planning techniques, the crux of their success came down to one thing: their habits.
We've pulled together 18 daily habits to help you stay productive, get out of a creative funk and create more engaging content—while maintaining a healthy work-life balance. We hope that you can adopt a few in your content marketing strategy and daily routine!
18 habits for success—recommended by content marketers
Here are the top daily habits that our guests on The Content Mix podcast and team members at VeraContent attribute to their success and productivity.
1. Maximize your calendar and to-do list
Finding the best way to organize your calendar or to-do list is key to being more efficient and productive. With good planning, you'll make sure you're getting everything you need to get done.
Some of the best tips our podcast guests have shared with us include color-coding your calendar, blocking out times in your day for specific tasks, and adding a social element to your to-do list.
Here are two of our favorite pro calendar and to-do list tips:
Set achievable goals in your to-do list: "I always start the week with a to-do list of things that I want to achieve that week. And every morning, I see what I want to achieve that day, without overwhelming myself, because that only leads to more stress. Setting achievable goals for the week and the day ahead helps boost productivity." – Natalia Bochenska, UK-based senior strategic marketing manager at Somo Global.
Send emails to yourself. "I send myself an email every morning with the things I want to do that day. My inbox sometimes has more emails than other people because I use it as my kind of task manager. I've found that sending emails to myself is a very effective way to prioritize my own tasks and not just what other people request from me." – Gaston Tourn, London-based CMO at Appear Here.
Check out our full article on 8 ways to plan your work day (and personal life) better!
2. Work while you walk and get outside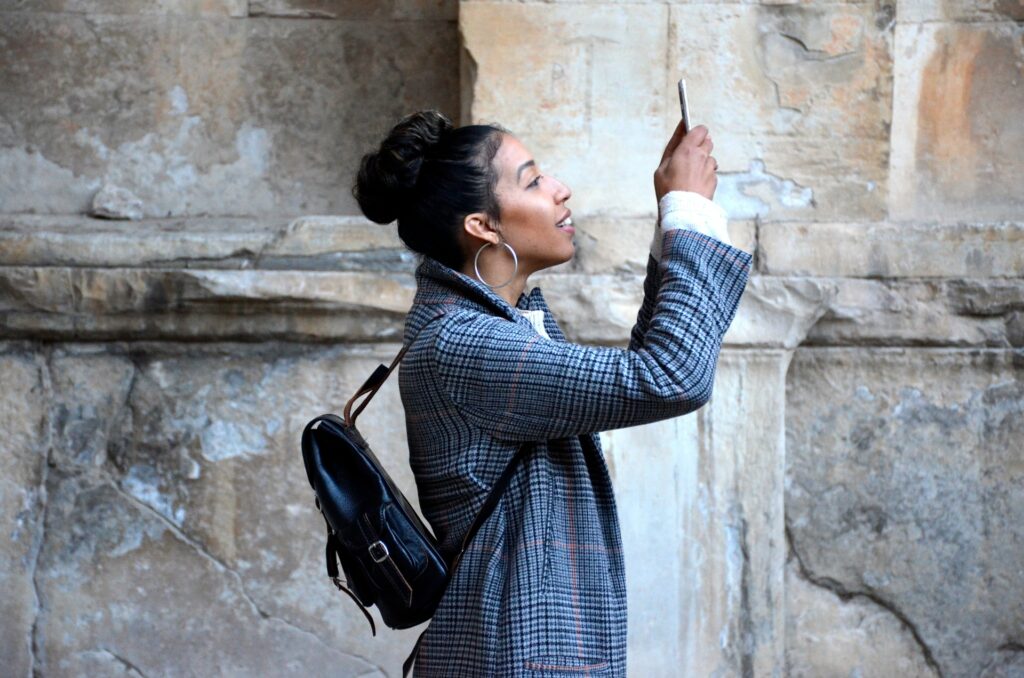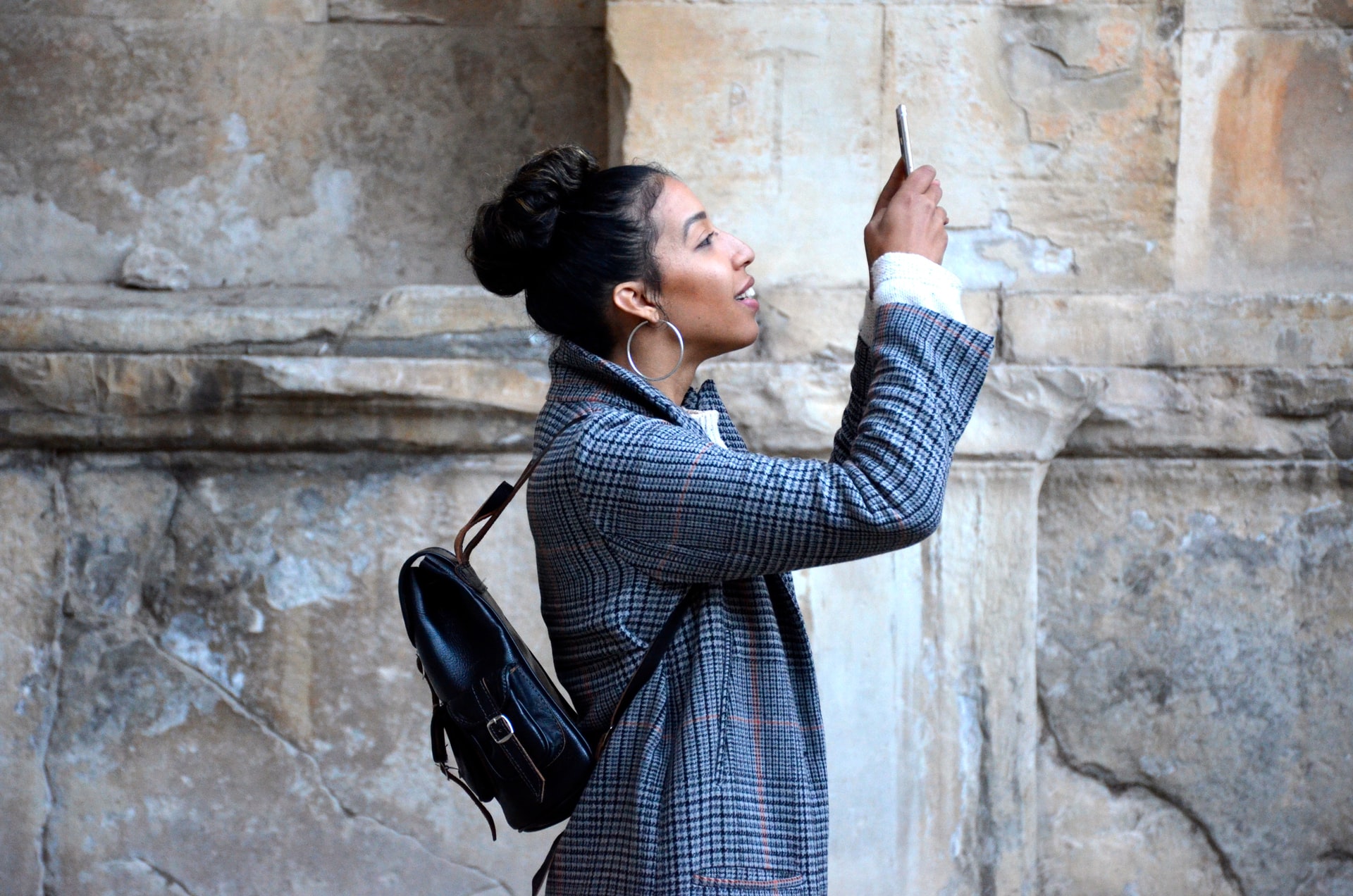 Who says that we have to have meetings while sitting down? In fact, it can be highly beneficial to stand up and walk around a bit while having a virtual or in-person meeting—especially now that we're working from home more than ever and our bodies are craving some movement.
"My productivity hack is to 'walk and talk.' It's good to get out for a walk—you don't really have to stay in front of the computer all day. You can be online anywhere. Right now, productivity hacks mean blending personal life with professional life and not getting stuck in a routine." – Irina Cardos, Romania-based global marketing communications manager at ABB.
The same goes for your personal brainstorming sessions:
"Now that everyone's working remotely, it really helps to get up and get some fresh air, especially when trying to brainstorm. It reduces distractions, gets the blood flowing and brightens up your day." – Sharon Cronin, Ireland-based marketing manager at Schneider Electric.
See also: 15 expert tips for making remote-work life enjoyable and effective
3. Stay healthy, exercise and take breaks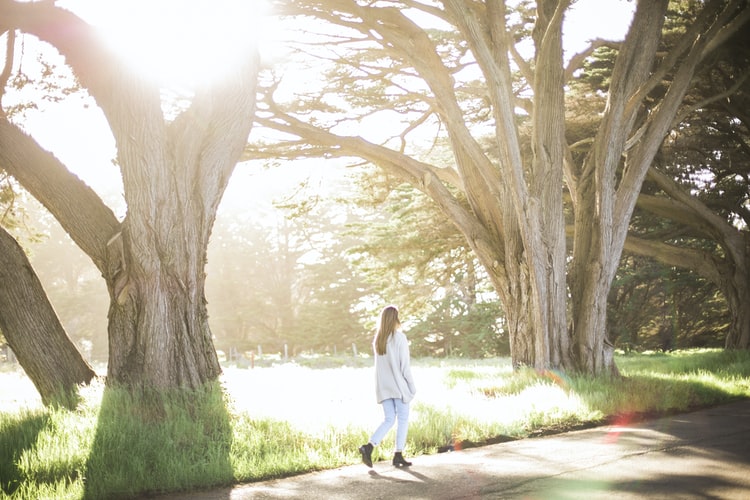 Eating healthy, exercising, taking breaks and sleeping well is good for productivity across the board. After all, if you're not getting enough sleep and dozing off in front of your screen, there's a point where no productivity hack will help. When you're healthy, you feel good. And when you feel good, you're a better content marketer.
Jeroen Corthout, Belgium-based co-founder at Salesflare, suggests reading "Why We Sleep" by Matthew Walker:
"In the first chapter, it talks about the importance of sleep, along with eating well, exercising, staying balanced… and how these things influence your productivity, mood and stability. It all starts from there, and if you don't respect this and go with a work-all-day-and-night kind of philosophy, it will not be sustainable. And you might work really hard for a bit, but then everything will come crashing down."
Check out our full post on how to stay healthy and productive when working from home for more tips!
4. Repurpose and update your content as much as possible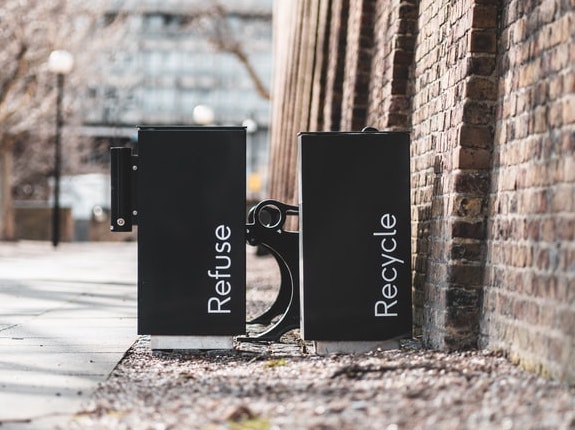 When you create content, you need to think about all the possible ways to use it. There's always more than one use.
Optimize the content that you've already worked so hard to create by repurposing and recycling it in as many channels and ways as possible.
For example, if you've conducted a video interview, you can: create short clips for social media, extract quotes to make images, and turn it into a blog post (like this one!).
"Make the most of what you've got. If you take the time to organize and stream a live event on Facebook, then turn that into a podcast or a blog post or five social media posts. You'll make your life a whole lot easier." – Alex McNab-Lundbäck, Denmark-based chief communications officer at Handiscover.
Apart from streamlining your content creation process with repurposing content, it's also a good idea to continually optimize and improve what you already have.
"There's often way more value in taking a step back and improving things than running faster and doing more. It's not necessary to churn out an enormous amount of articles. It's better to focus on improving the content you already have—optimize SEO titles and CTAs to get more traffic, update existing content and repromote it."– Jeroen Corthout, Belgium-based co-founder at Salesflare.
5. Dedicated focus time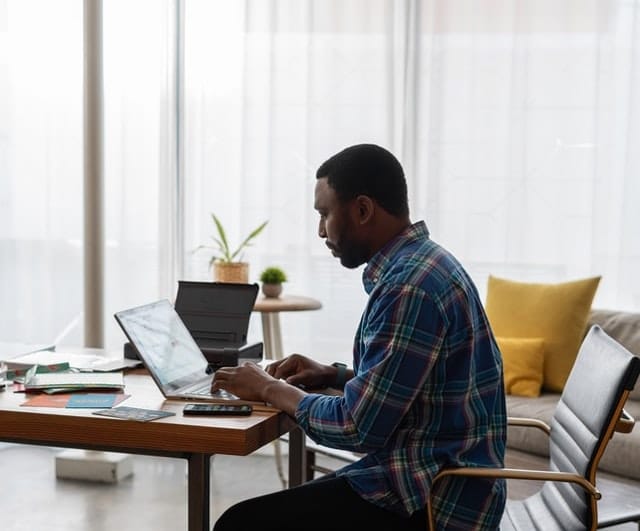 Sometimes you just need to sit down and focus. To help curb the procrastination that so easily creeps into our day, be strict about dedicating certain hours of focus time each day. Whether it's blocking out your calendar for the first few hours each morning or dedicating a few hours in the afternoon for deep focus—figure out what works best for your schedule.
To really focus, you need to remove all distractions—close your emails and all communication apps on your laptop and put your phone on silent (or in another room completely).
"Whenever I feel like I've hit a wall and just can't focus, I set a 25-minute timer on my phone—inspired by the Pomodoro Technique—block out any possible interruption and just start crossing things off the to-do list until the alarm rings. Works every time." – Daphne Binioris, co-founder and creative director at VeraContent.
6. Outsource and delegate
In the content world, everything we do is digital, and that means we can contact an endless number of agencies and people online who can work with us. And they often become an extension of our team.
What's more, we can't always do everything ourselves or in-house, thus it's essential to create long-lasting relationships with the freelancers and companies we work with, even if we never meet them in person.
"I am not a superhero, and I fully believe in delegation. So when it comes to localization, for instance, I thoroughly use companies that are located in that area, because they know the best. They have the tone of voice. You have to hire the right people. You can't do everything yourself. And they will bring that authenticity to your content." – Sorana Duca, London-based purposeful brand calibrator
Best of all, outsourcing projects and working with freelancers has less risk than hiring someone full time. You can hire professionals to work with you on a project- or hourly basis. And you can consistently reevaluate your agreement as your needs and circumstances change on both ends. Thus, you'll always have a mutually beneficial relationship.
"As someone who deals with content daily, I can't recommend freelancers highly enough. It can be difficult to predict the volume of work you'll have, and at times you simply need to offload." – Joss Burns, assigning editor at VeraContent.
Download our free guide to finding and working with freelancers—including questions to ask when hiring, steps to take when onboarding, and tips for maintaining mutually beneficial relationships.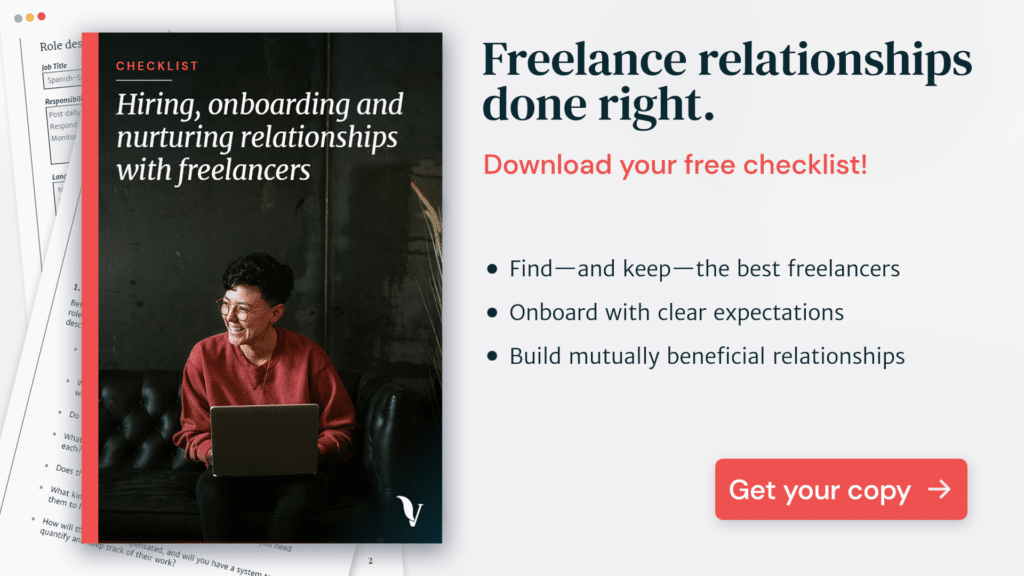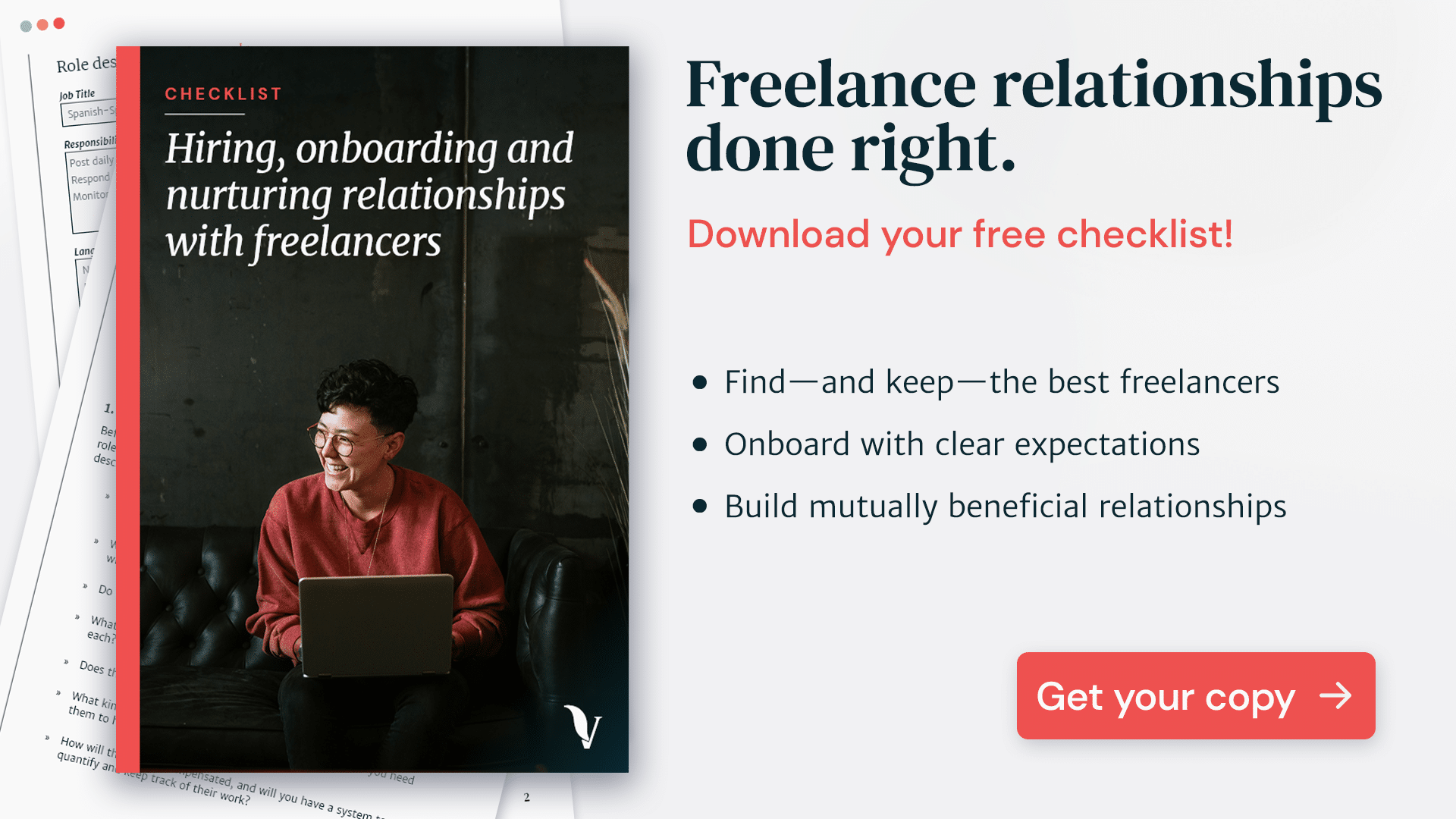 See also: How to build successful relationships with freelance community managers
7. Translate your goals into habits
This is one of our favorite tips from the podcast interviews. It's great to have goals, but the most effective way to actually reach them is to turn them into achievable habits.
For example, if you want to increase your web traffic, you need to outline steps such as "create one new optimized blog post per week, and update and reshare an existing post."
"We tend not to reach our goals if we don't translate them into habits. At Salesflare, we set goals, and then they become habits. And that's what we focus on during the year—if you don't focus on these habits, your goals are never going to happen." – Jeroen Corthout, Belgium-based co-founder at Salesflare.
9. Read, read, read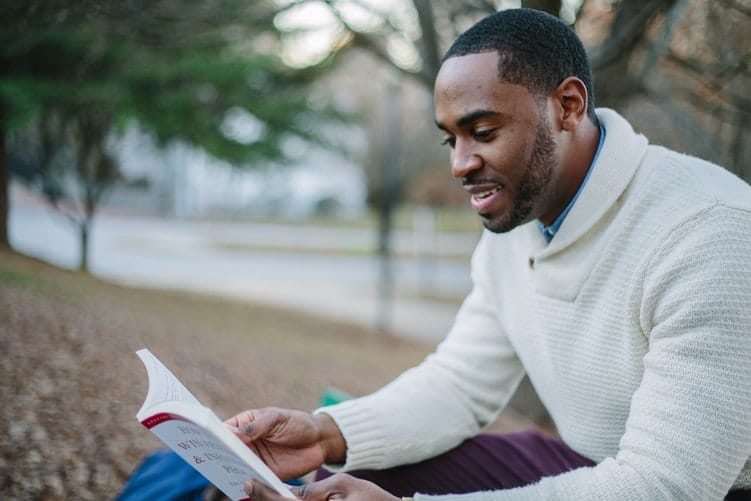 Reading more is always a good habit to have. Reading not only allows you to learn more about the world (which is great for content marketers), but it's also an excellent way to stimulate creativity and get ideas for your own content.
What's more, reading before bed allows you to unwind from your day and helps you fall asleep faster!
"To be a good content creator, you have to read everything—whether it's a flyer for someone to come clean your windows, a national ad or a nonfiction novel." – Zoey Cooper, London-based content and marketing brand director at Wordbank London.
A few books that we've heard a lot about include:
For more book suggestions, check out the best content and marketing books to read right now.
10. Keep a pulse on your industry—and the world in general
Savvy content marketers are always in the know about the latest trends in the industry. Keeping up to date with what's happening globally (not only content marketing) helps you remain relevant and engaged.
"I'd recommend spending a few minutes a day browsing the news sections of mainstream platforms like Google or Yahoo, so you understand what's happening in the world around you." – Jérôme Logie, France-based EMEA Marketing Manager at Pall Water.
Tip: Podcasts, like The Content Mix, are a great way to keep up with the current trends in the content marketing industry. But you can also draw inspiration from any industry or topic. Here's what one of our recent guests even recommends:
"I like starting each week by listening to a new podcast, especially on topics unrelated to content marketing. I do this just to learn new things." – Hristos Fleturis, Austria-based digital marketing manager at Scott Sports SA.
11. Be passionate about what you do
It's no secret that passion is the secret to being better at anything that you do. And it's particularly relevant in content marketing. Bringing passion to your work allows you to think bigger and more creatively.
"Don't study marketing; study anything that you're passionate about and then bring that passion to marketing." – Gastón Tourn, London-based CMO at Appear Here.
Not only does passion make you a more successful content marketer in the professional sense, but it also makes you a happier person as you're doing something that you love every day.
"You need to be passionate about what you do. You cannot settle. Since we work so much, the amount of stress, demand and deadlines are so high that if you don't have a true passion for what you're doing, it's a disaster waking up in the morning. You don't want Monday to come on Sunday night because you don't want to start another working week. If that's how you feel, you're in the wrong spot." – Davide Pagliaro, Italy-based marketing director EMEA at Merit Medical Systems, Inc.
See also: The value of transferable creative skills in the marketing world: 10 inspiring stories
12. Be curious about other people and things outside of work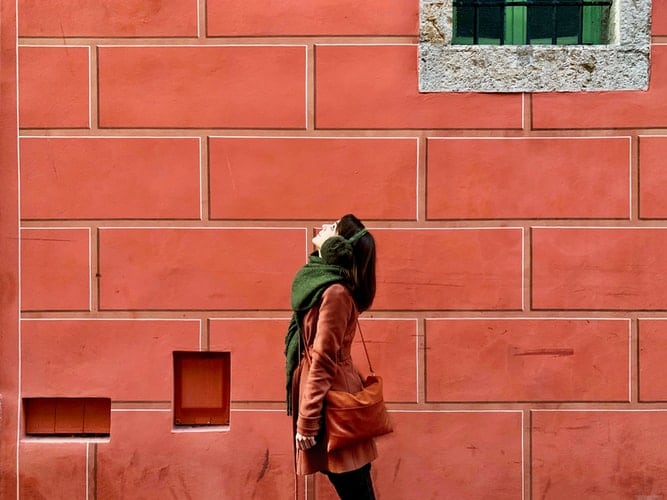 Being a good content marketer means understanding people—how they think, act, speak and interact with each other. Being curious about other people and activities outside of your work allows you to have a deeper understanding and appreciation for different people.
"You need to be curious. If you're not curious, you're missing out on some of the biggest aspects of our job. Ultimately, our job is about talking to people. So being curious about people, what they do, what they care about, what society is, where it is going, what are the tensions that we're seeing, and how we behave. This is something that you need to be a good marketer." – Bertrand Serrano, Paris-based marketing manager at Danone.
Fuel your curiosity by doing more things outside of work—join a pottery class, watch a live musical/dance performance, visit a museum and watch content that you don't usually watch.
"In marketing, a sense of curiosity is very, very important. There's a lot to be learned in the day-to-day stuff, and from what's happening outside. I always try to get inspired by music, sports, design… things across the board can fuel creativity." – Patrick Neyret, Paris-based head of marketing at Danone.
See also: How to boost your creativity as a content writer
13. Take risks and try new things
The best marketing campaigns and content often happen when you take a risk and try something completely new. Don't be afraid to take a chance now and then!
This point actually goes for anything from trying new career paths to testing different creative pieces.
"Don't be afraid to try things. It's great when things work, but there's always learning to be had when things don't work. And it's important to understand why they didn't work and what you could potentially do differently to tweak that. There are very important insights you can take away from this." – Rob McGlanaghy, Dublin-based global marketing campaigns program manager at TIBCO.
14. Be consistent: Stick to your long-term strategy & publishing schedule
It's so easy to get distracted by new things like current trends or new social platforms, but it's important to stick to your long-term content strategy. Good things take time—and consistency.
"I really believe that content marketing is a long-term game. It's like building a long-term value for the business through an engaged audience. And you can't do that in three, six or nine months. It takes years. It's all about building the trust and relationship with an audience to get them to come back to you over and over." – Simon Blake, Munich-based advisor at ASSIGNO.
In content marketing, it also helps to be consistent and stick to a schedule.
"Get your audience used to a certain schedule. So if it's every two weeks, then at least people would know that. It can also help you make the content on time as well. If you keep the regularity, then, for example, you can make 10 videos now that you post over the next six months. " – Hristos Fleturis, Austria-based digital marketing manager at Scott Sports SA.
15. Listen to people and network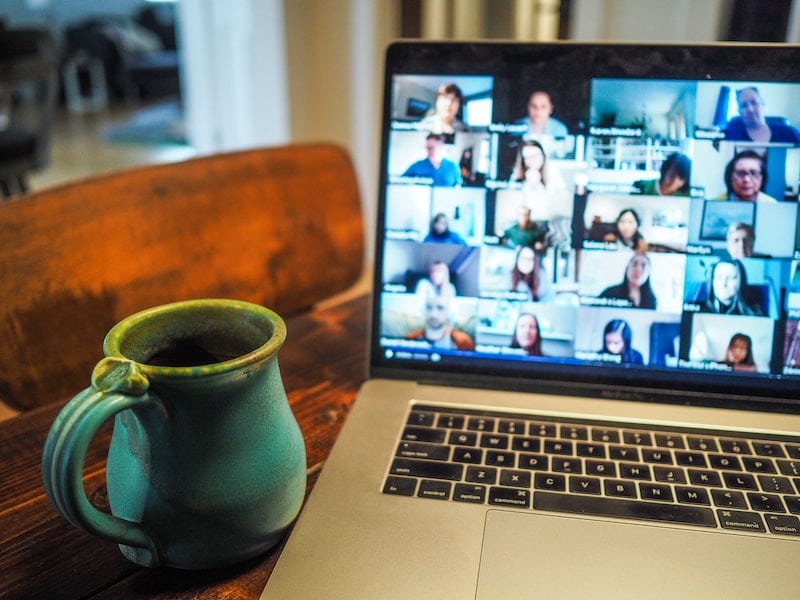 As a content marketer, your job is to tell stories and engage with people—so what better way to get better at your job than to speak (and listen) to more people?
Going to networking events (virtual and in-person) is a great way to connect with potential clients, interview subjects and other professionals in your industry. Plus, they're an excellent way to find new content ideas and inspiration!
"If you work in marketing, you have to tell stories. And the best stories come from speaking with other people. So make sure that you network. Use LinkedIn or use any other tool you prefer. Join content marketing groups. Network with the intention of using conversations for new stories and new ideas." – Avinash Srivastava, India-based product marketing team lead at HighRadius.
16. Work with web developers & SEO specialists
Creating great content doesn't happen in a silo—many elements come together to present the final result. As content writers, it helps to both understand and work with great web developers and SEO specialists.
"Content writers—no matter what they write—are trying to get their work shown to people. You could write the best thing in the world, but if you do it on the slowest website that has images flying and shifting everywhere, no one's ever going to read it. What ties SEO content and developers together is being on the same page and working towards the same thing—especially if you want the same results in the end." – Jake Peterson, US-based content and SEO specialist at Atiba.
17. Don't let your ideas fly by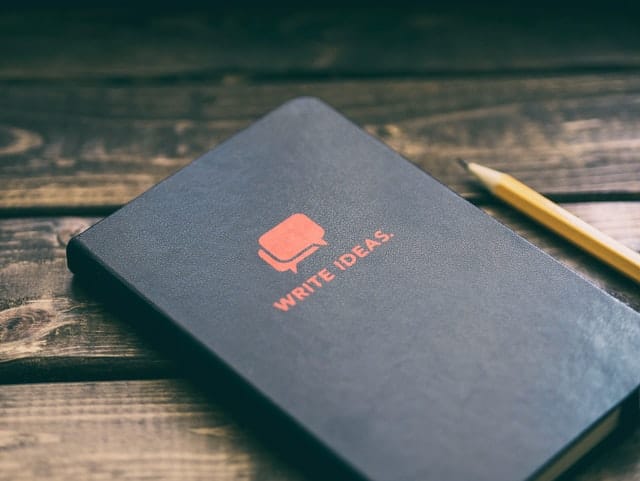 Let's be honest, creative ideas don't flow on demand. Often, we get our best ideas while we're cooking, at the gym, in the shower or as we're drifting off to sleep. Get into the habit of jotting these ideas down straight away—whether it's in a notebook or on a notes app on your phone.
"I have a little notebook on the side of my bed, and I write down ideas of content, posts, articles as they come to me. In the morning, I write them as notes on my phone, and then they transfer to my computer. When I do this, I end up having an endless inventory of thoughts and content ideas." – Sorana Duca, London-based purposeful brand calibrator.
18. Engage with your audience
It's so easy to hit publish on a post, share it once on social media and then forget about it. But creating the content is just the start! The best way to get leads out of your content is to engage with your audience actively.
Make it a daily habit to like, share and comment on other content creators' posts.
"It's much, much better to comment on other people's LinkedIn posts. My recommendation is for every post you want to publish, you should at least comment four times on other people's stuff." – Oliver S. Bauer, Germany-based senior digital marketing manager EMEA at Allianz Global Investors.
Ultimately, being a successful content marketer comes down to building relationships, organization skills, passion and curiosity
A successful content marketer knows their job goes beyond creating content. From finding content ideas to pitching, networking, testing, constantly learning, researching, compiling, editing, strategizing, publishing and promoting—there's a lot that goes into pulling off a great content marketing strategy and team. You really need to bring your A-game to work every day—which is where good habits come in handy.
For more tips on how to be a successful content marketer: